Here it is! A new series where I'm highlighting the nourishing ingredients that go into the delicious dishes I create. And what better way to start it off than with the ultimate seasonal produce for savoury dishes, onion and garlic. At least, they are a must-have in my kitchen because I run through these root vegetables like no other produce.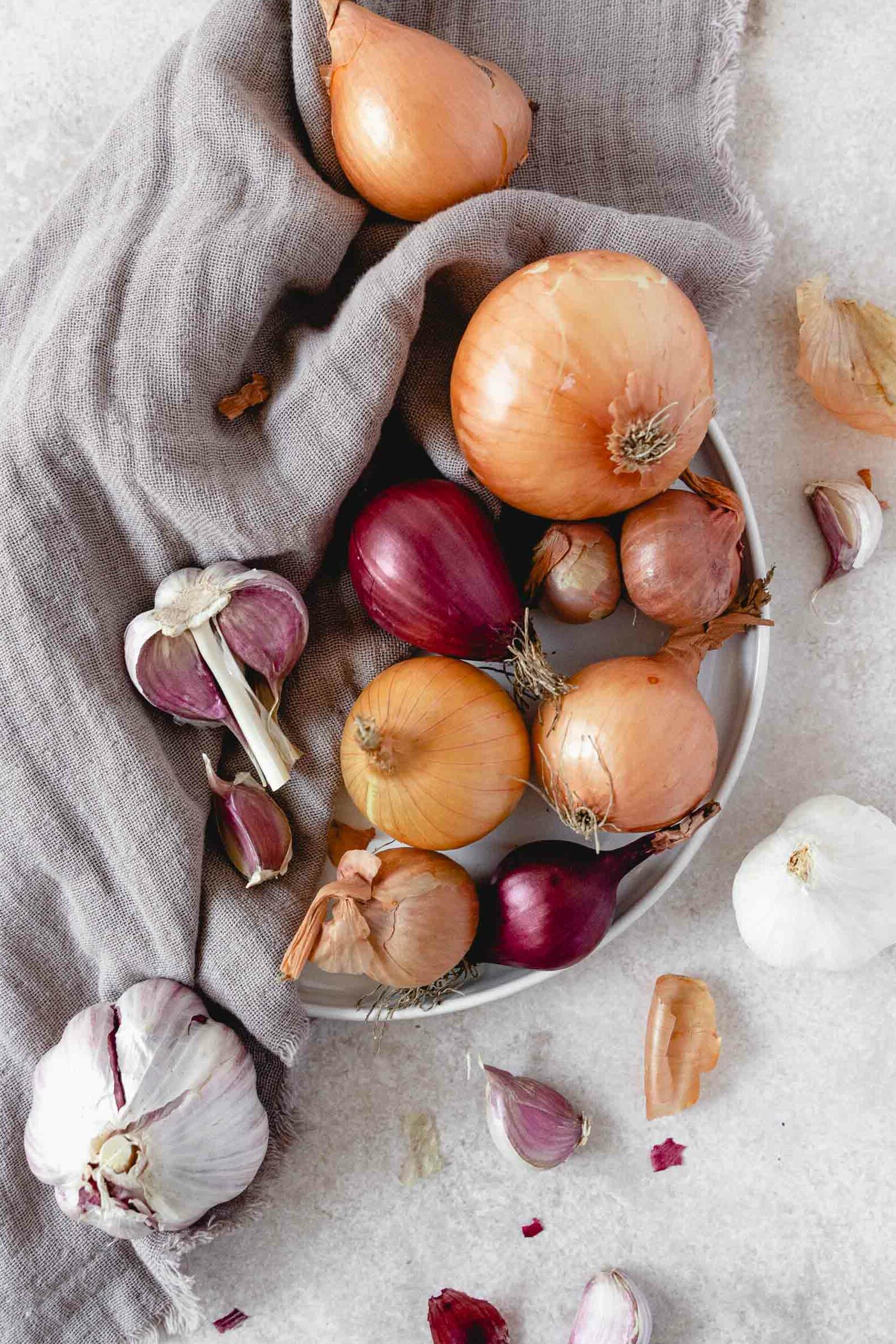 I root for root vegetables...
...especially when they are such a flavourful staple in my dishes. I use onions and garlic in almost every hearty meal I cook. The aromatic root vegetables carry a ton of flavour, so let's dive into this beautiful produce in season now but available all year round.
Seasonal Produce: Onion & Garlic
Onions
The ultimate flavour base to make dishes come alive! There are many types of this bulb vegetable like yellow onions, red onions, shallots and scallions to name the most popular. Depending on the dish, it makes a difference in flavour which type you use.
Types of onions
The yellow onion is the most used type, and its flavour profile says it all. Not mild and not too strong, it has the ideal balance to create a base flavour for an array of savoury dishes. Finely chopped and sautéd, they make soups, stews, roasted meat and veggies taste as delicious as they do.
The smaller bulbed shallot with its slightly milder taste than the yellow onion is a mainstay in classic dishes like risotto and silky pasta sauces. Try them sautéed with peas for a quick and veggie-forward side dish.
For a milder taste and bright green colour, scallions are a great option. They are best when used raw and don't leave the green parts out. They contain even more flavour and are too precious to throw away. Use them in all kinds of salads as an ingredient or as a crunchy topping on bowls and dips.
Red onions have a beautiful purple and colour and a more bright and sharp flavour. Use raw in salads, wraps and tacos. Or caramelize them and serve as a side for the right amount of sweet and tangy.
The versatile vegetable has a lot of flavourful types, but it doesn't stop there. It is also said to have antibiotic and anti-inflammatory properties. This makes it a home remedy for colds and even insect bites. Moreover, they pack a bunch of vitamin C, B6, B9 and potassium, amongst others and can help boost the immune system. What's not to love?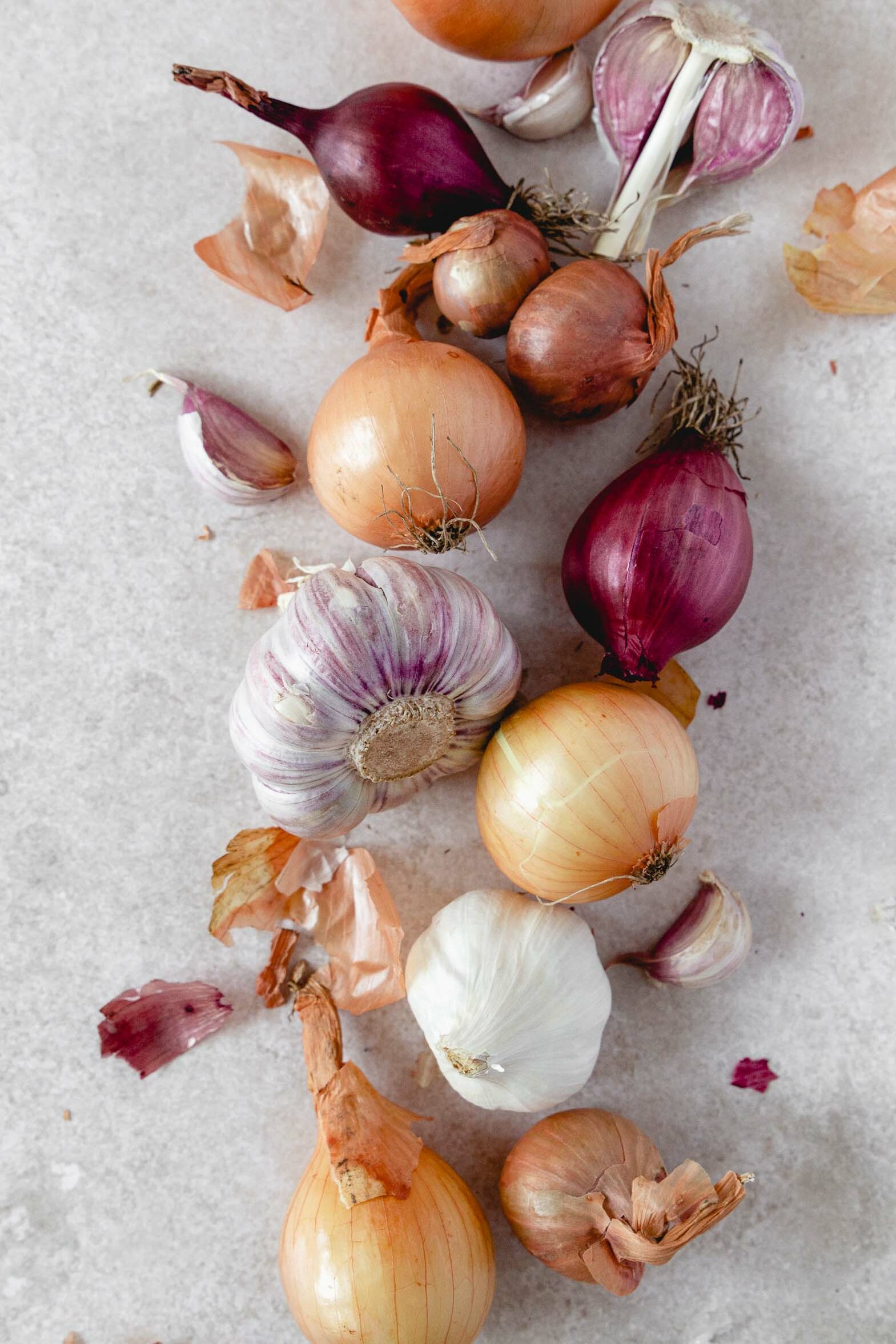 Garlic
A close relative to the onion, garlic is coming in hot with a strong flavour, that aids to the taste of many hearty dishes.
Garlic infuses the flavour of meat and vegetable dishes when roasted. When I think of hearty stews, soups or roasts, garlic is a must-have ingredient. But it is also an absolute pleasure when used raw and adds an even more intense flavour. What would be a pesto without a generous amount of garlic? I also love to add them to salad dressings and all kinds of sauces as well as dips. Hello, hummus.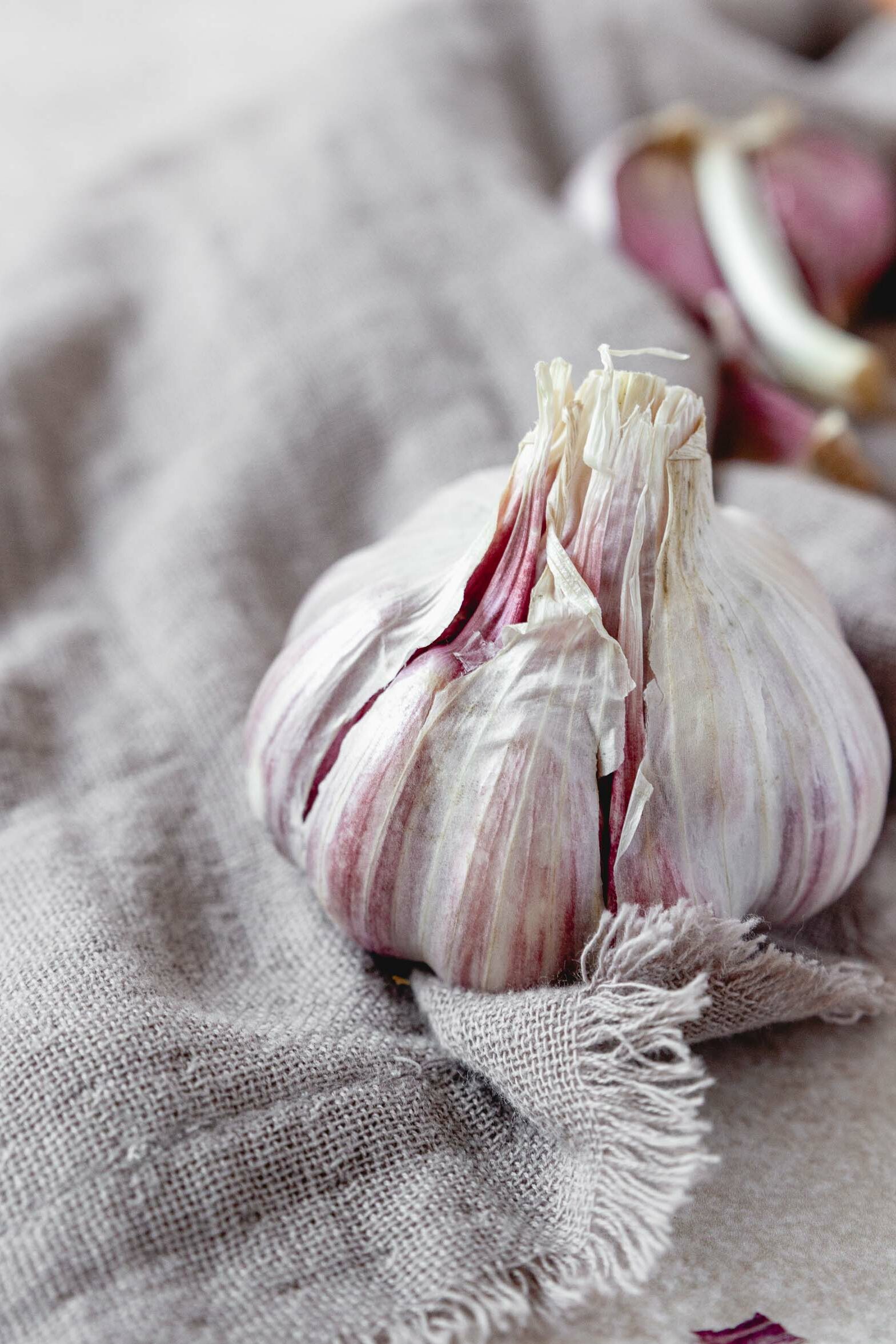 Next to the distinct flavour, garlic packs a ton of vitamins and minerals. Like onions, it contains vitamin C, Bs and potassium. These properties make it a powerhouse to strengthen the immune system and fighting colds and flu.
Scroll down to discover some recipes using these flavourful seasonal vegetables.
Recipes with onion and garlic
A staple in my cooking routine, onion and garlic give these delicious and balanced dishes that depth in flavour that make them delicious:
Breakfast
Soups
Main Dishes
Snacks & Sides
Did you like this post?
Let me know and leave a comment below. I also love to see your recipe creations. Tag  @encore_more and #encoremore when you share them on Instagram.