The seasonal produce pomegranates are called a superfood for a good reason. Read all about the ruby-hued fruit here and get some delicious and balanced recipe ideas.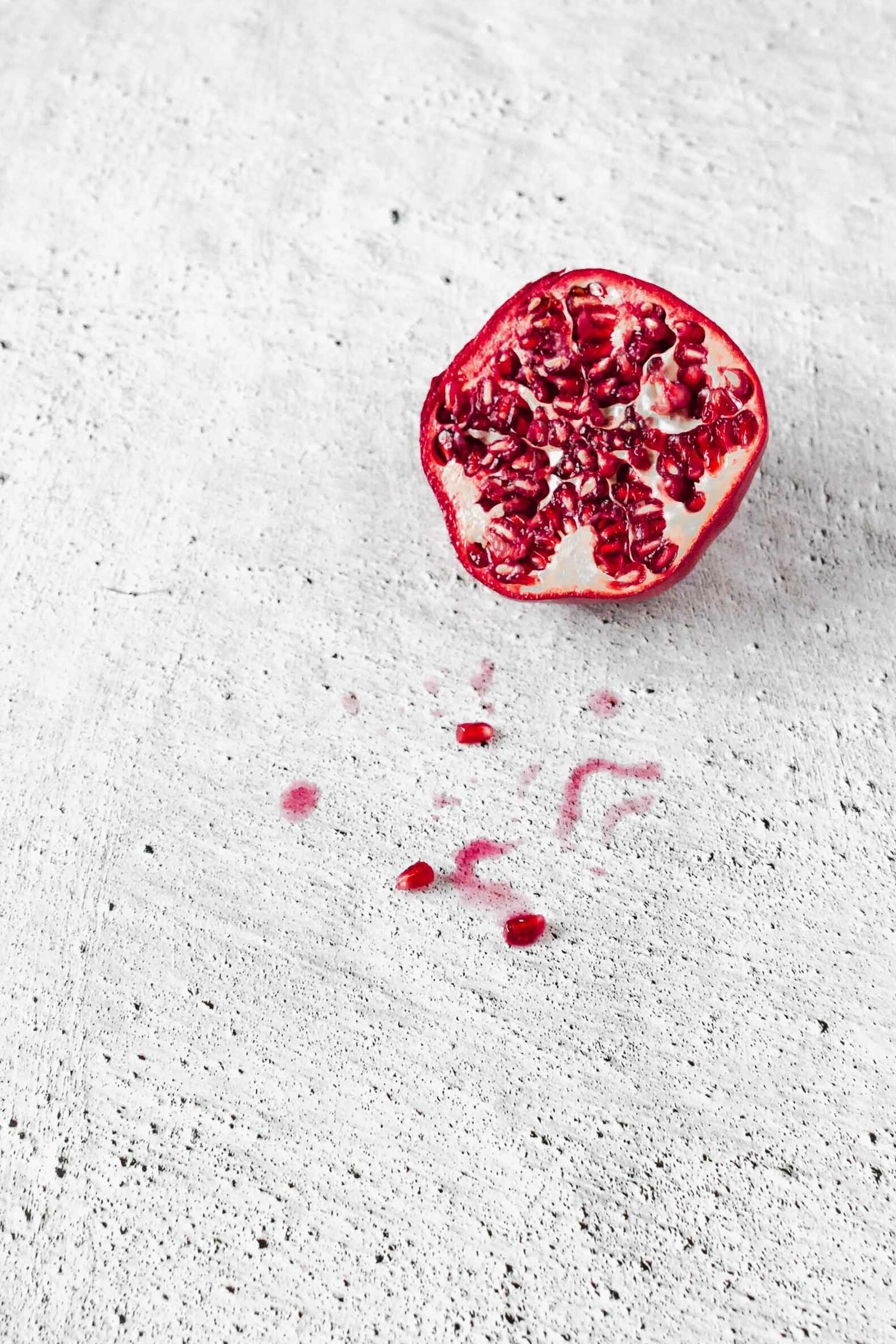 Seasonal Produce: Pomegranates
The ruby produce is one of the most ancient fruits and probably originates from Persia. Cultivation spread quickly through the Middle and the Far East to India and China. Some believe it was a pomegranate that Adam and Eve ate, which led to their eviction from paradise. Its bright red flowers are considered a symbol of love and fertility and therefore called the food of gods.
Pomegranates have a thick red pink-hued skin, white flesh and vibrant seeds. The juice is a delicious ingredient in smoothies, fruit juices and (virgin) cocktails. The crunchy seeds, known as arils, are a healthy snack and true superfood. Read on the discover why this vibrant produce should be a regular when in season.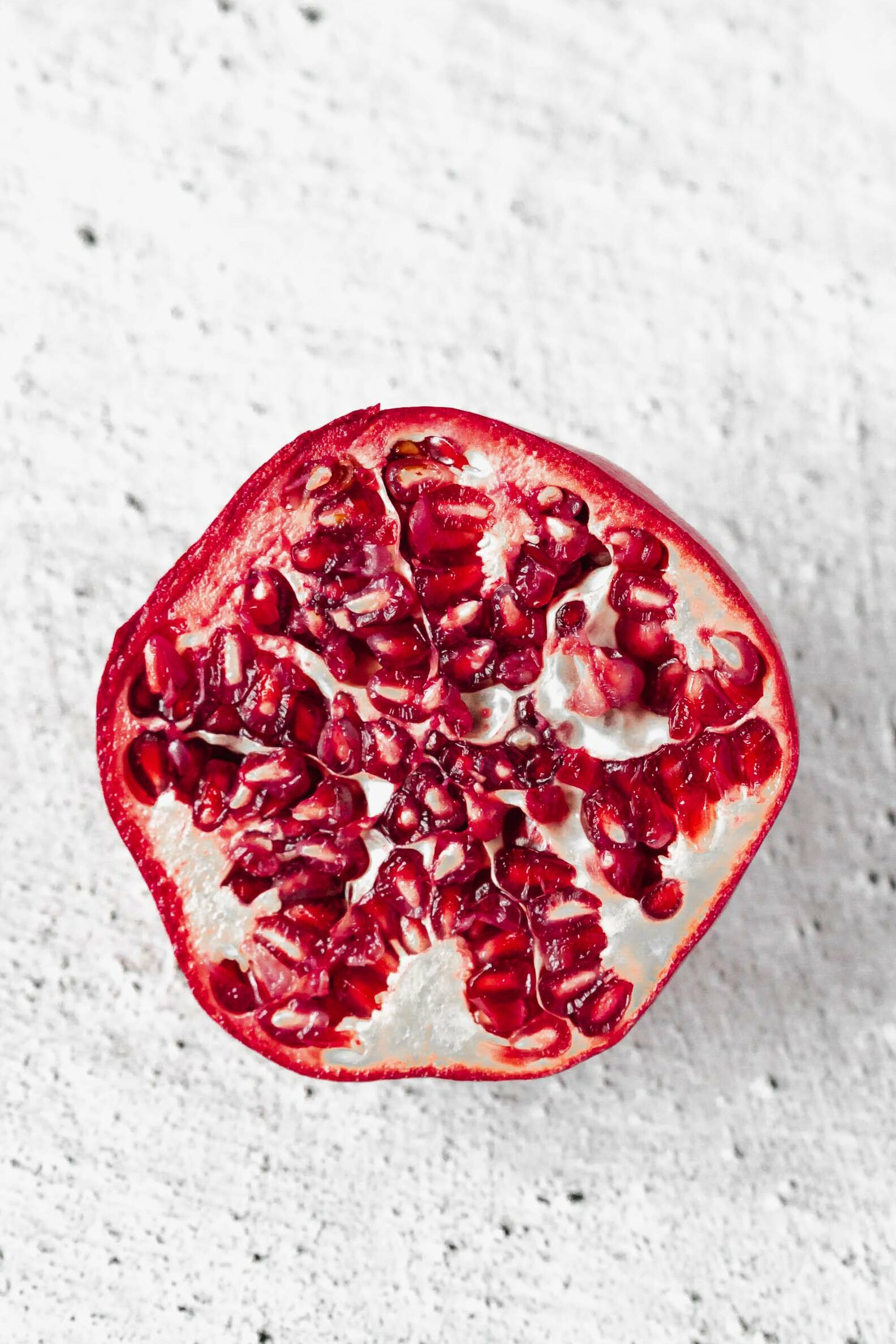 Nutritional ruby fruit
The rich and nutrient-packed fruit is always one of the first to name when talking about superfoods. While the skin is not eatable, the juice and seeds provide potent health benefits.
Pomegranates are rich in fiber, vitamin C and K, making them a healthy ingredient to add to your meal plan. The delicious juice also has potent anti-inflammatory properties. Reducing inflammation lowers the risk of diseases like diabetes and cancer. Studies have also shown that a regular intake of pomegranates can help lower blood pressure and lower the risk of heart diseases.
Read more about the health benefit of pomegranates here.
Where to buy pomegranates?
A couple of years ago, it was way harder to get pomegranates outside of areas where they are grown. You usually had to go to speciality stores to get the ruby fruit in Austria. When pomegranates became increasingly popular, they became more prominent in supermarkets too. Now, you can usually buy them at well-assorted supermarkets and farmers markets. Also, look for urban farmers who can order organically grown pomegranates from over the internet. It is a great way to support sustainable farming and get the best quality fruits.
What to cook with pomegranate?
The delicious fruit is very versatile when used in delicious dishes. Squeeze out the juice and drink it with sparkling water or add to freshly pressed juices, smoothies and (virgin) cocktails. Also, try adding it to savoury sauces for a fruity twist. Moreover, the crunch seeds are a delicious snack eaten on their own or used as a topping for all kinds of sweet and savoury dishes. Sprinkle over meat and vegetable bowls as a fruity topping or add to oatmeal, chia seed pudding and more for some extra dose of nutrition.
Recipes with pomegranates
Try my Middle Eastern Style Beef Chili topped with pomegranatates or make this sparkling Pomegranate Gin Tonic, perfect for the holiday season.
North African-Style Beef Chili
Spicy and oh so flavourful! This North African-Style Beef Chili is a delicious twist on the classic chili con carne. Ready in 35 minutes, it is the perfect hearty treat to serve a crowd.
Make this recipe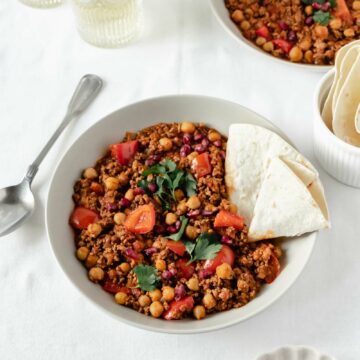 Pomegranate Gin Tonic
Fruity, sparkling and fresh,this drink has it all. Taking the classic gin tonic to the next levelwith all the goodness of pomegranates and a flavourful gin, making itthe perfect cocktail for your happy hour at home.
Make this recipe