Need a party appetizer to excite the tastebuds? Look no further than these Sardine, Tomato and Red Onion Bruschetta, topped with fresh parsley. Serve with champagne or wine for the ultimate party starter.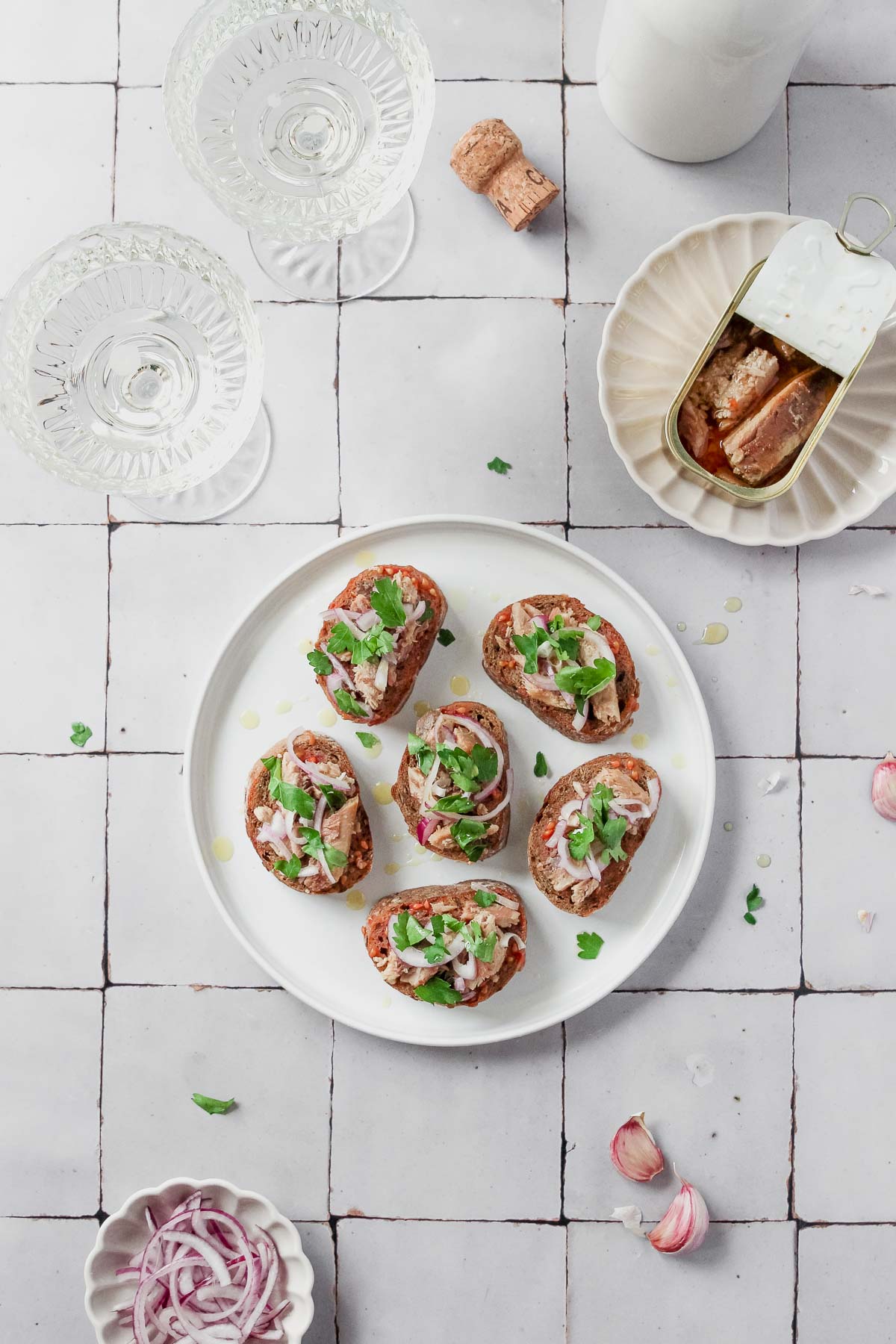 What is bruschetta?
If you haven't heard of bruschetta yet, you're in for a treat. Because this Italian appetizer comes with various textures and flavours to excite your tastebuds. Bruschetta is a crispy small sliced baguette topped with vegetables, fish or meat to serve as an appetizer. It consists of a toasted baguette slice, rubbed with olive and fresh garlic, and topped with chopped and seasoned tomatoes.
Bruschetta is often referred to as crostini outside of Europe and even in Italy. A crostini is also a crispy sliced bread or baguette. Topped with typical crostini toppings like marinated vegetables, cheese, fish or meat. The crostini topping options are endless, like with the bruschetta toppings.
Bruschetta is an easy and delicious no-cook appetizer recipe, perfect for serving at parties and get-togethers. With gaining popularity over the years, the bruschetta toppings got more creative. Toppings like seared mushrooms, cheese and spreads were a welcoming change for the tastebuds.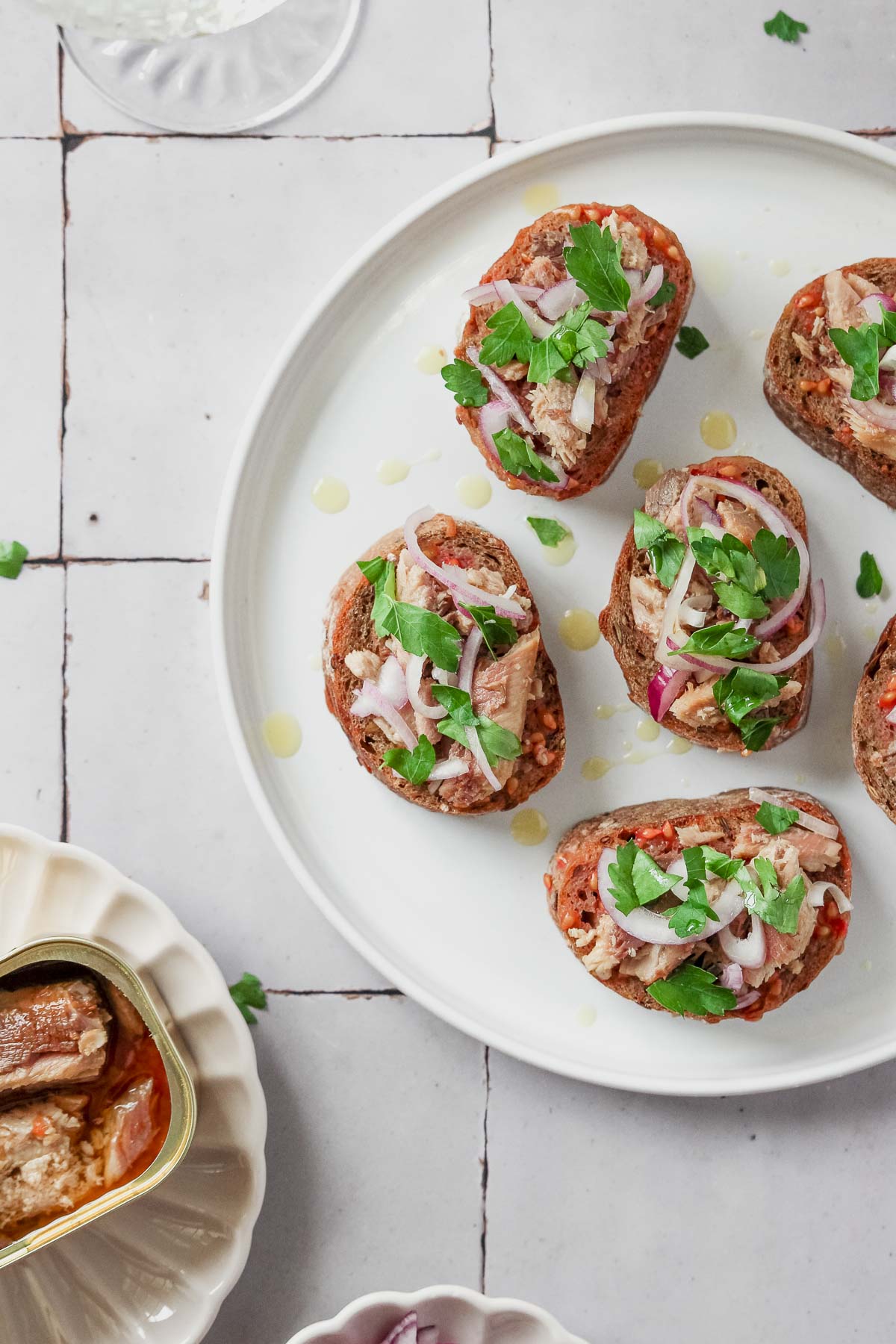 Sardine, Tomato and Red Onion Bruschetta
Bruschetta is a super easy treat to make and perfect to start a party. I serve the delicious snack regularly when friends come over when we want to nibble on something while having drinks.
This bruschetta recipe takes the classic treat for a bruschetta twist by topping it with the melt-in-your-mouth Nuri sardines preserved in oil, sweet red onions and fresh parsley. Served on a crispy whole-wheat baguette infused with fresh garlic and tomato, it is a nourishing and flavourful snack, ready to be devoured.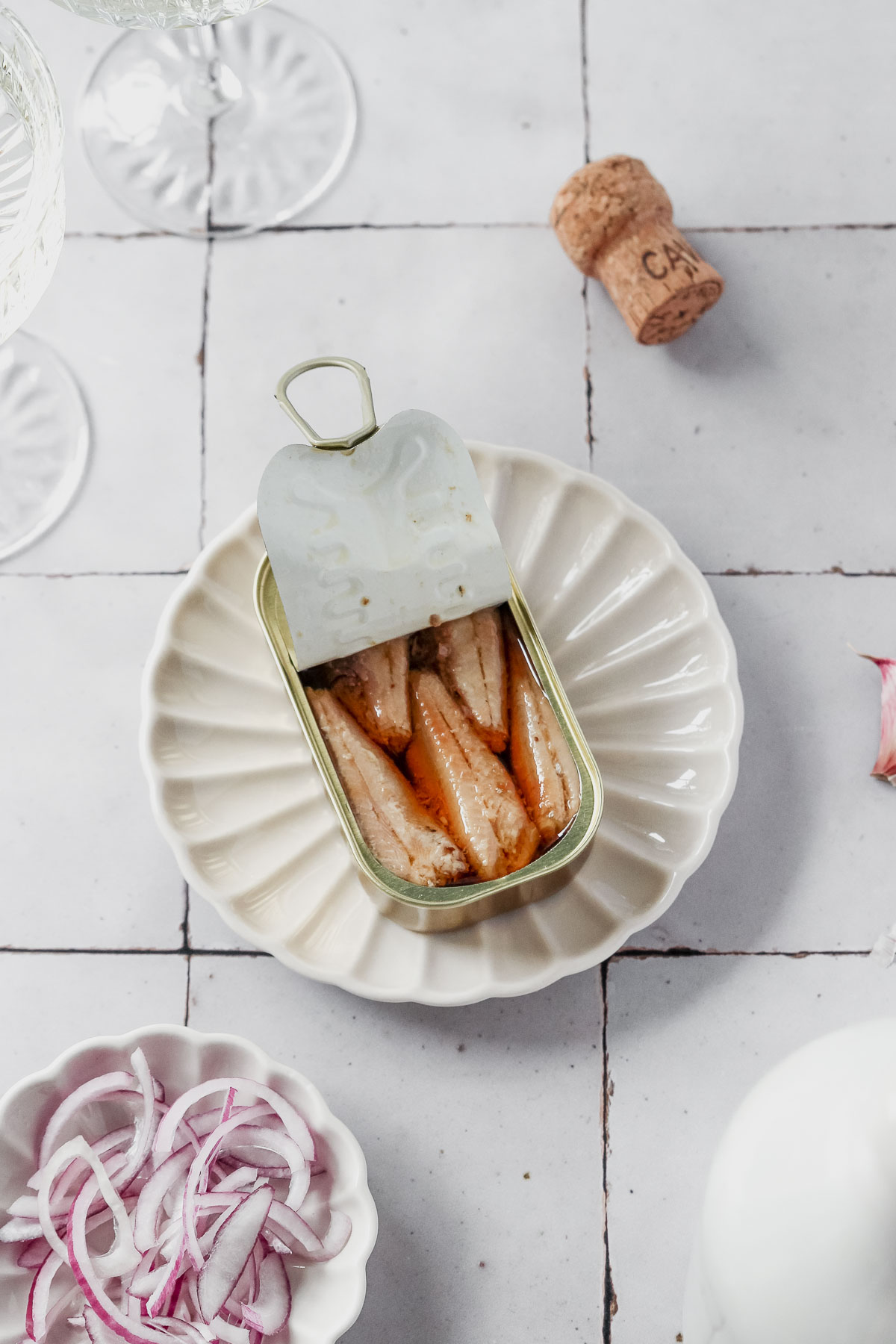 How to eat canned sardines
I think sardines are such an underappreciated ingredient. They are a flavourful treat you can always have in storage because they are best eaten canned. The versatile little fish can be used in cooked dishes like pasta or stews, in salads and eaten pure as a snack. In this easy bruschetta recipe, I use the delicious fish as a topping.
Are sardines healthy?
While the highly perishable fish can be eaten fresh, it is delicious eaten canned. This makes them the ideal healthy pantry staple when hunger strikes. Sardines come with health benefits, so they shouldn't be overlooked in the supermarket.
They contain omega 3 fatty acids and are rich in vitamin B12 and vitamin D. The little fish is also a good source of calcium, magnesium, iron, potassium and zinc. With their vitamins and minerals, sardines boost the immune system, help build strong muscles and bones and nourish from within.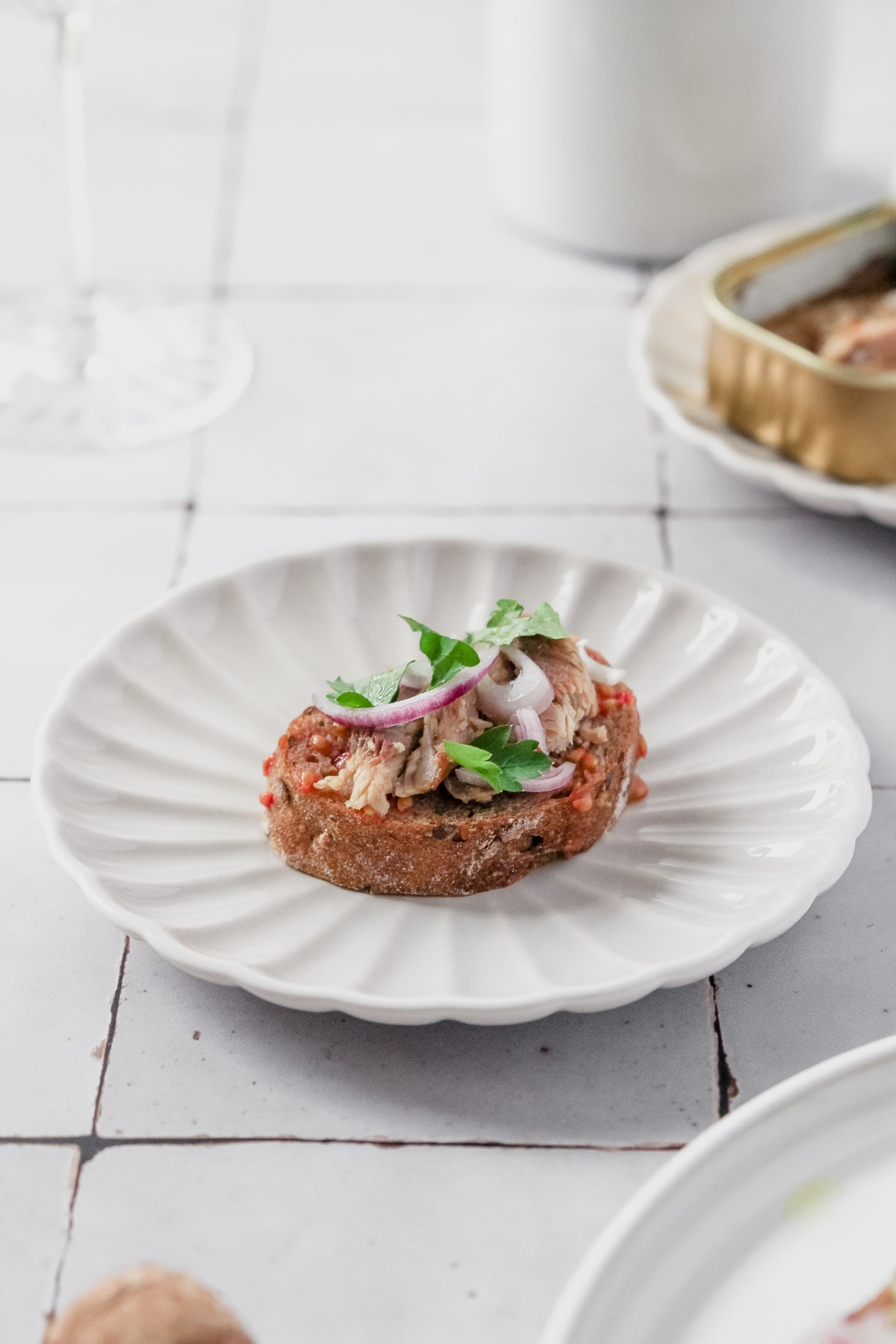 Tips for making this easy bruschetta recipe
Use high-quality sardines. The quality of the ingredients makes all the difference, especially when eaten raw.

Rub the baguette slices with the garlic and tomato right after they come out of the oven. The heat helps absorb the flavours better and infuse them into the bread.

Serve the Sardine Tomato Bruschetta right after making it to keep the baguette crispy.

Double the ingredients to serve more people.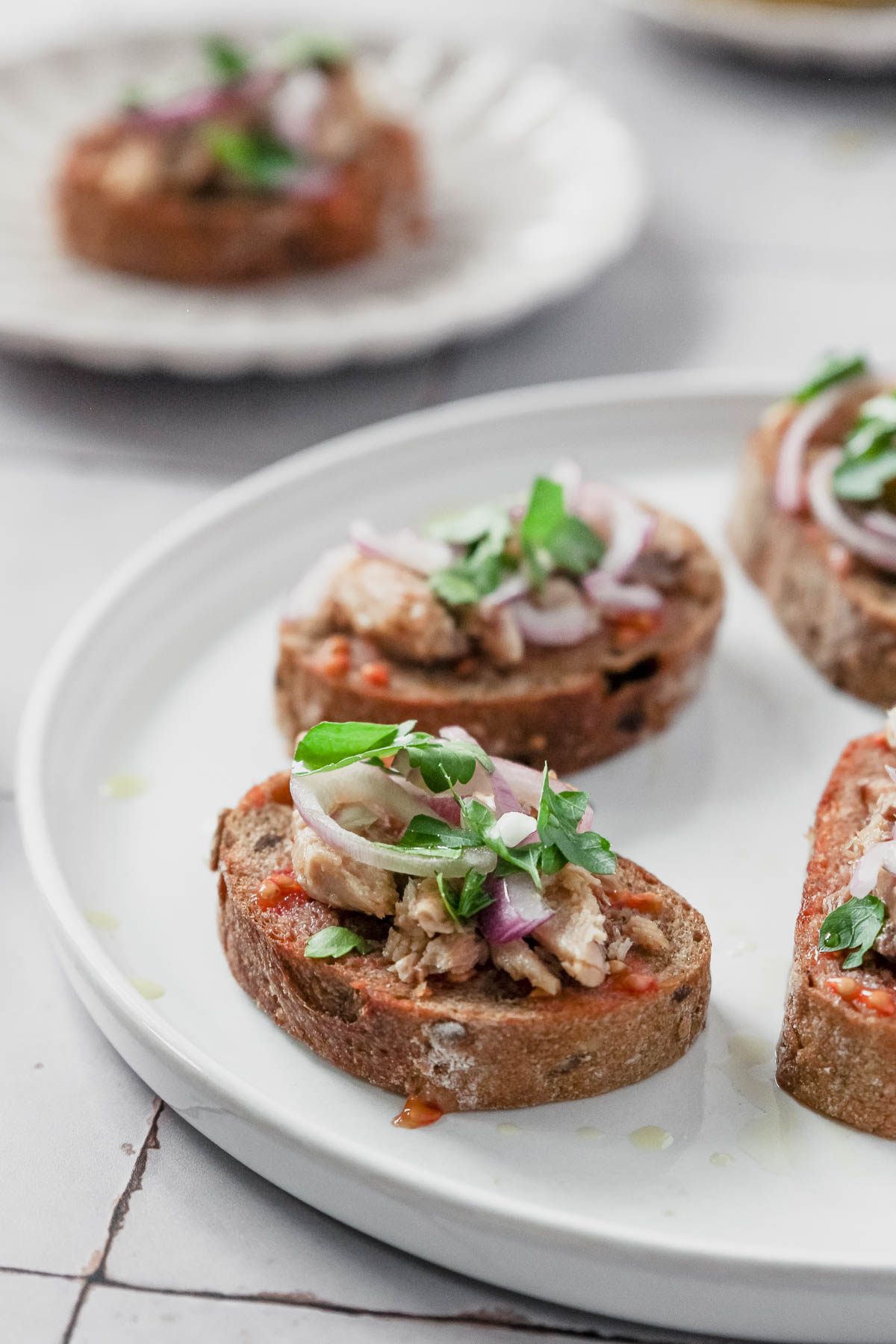 More healthy and no-cook appetizers
White Bean Pomegranate Crostini
Smoked Salmond Salad with Herb Vinaigrette
Sardine, Tomato and Red Onion Bruschetta
Need a party appetizer to excite the tastebuds? Look no further than these Sardine, Tomato and Red Onion Bruschetta, topped with fresh parsley. Serve with champagne or wine for the ultimate party starter.
Ingredients
6

(whole-wheat) baguette slices

1

can

sardines in oil

1

tomato (very ripe)

½

red onion

1

garlic clove

2

tablespoon

olive oil

salt and pepper to taste

parsley to garnish
Instructions
Preheat the oven to 220°C. Drain the oil from the sardines, roughly chop and set aside.

Peel and halve the garlic and finely slice the onion. Wash and roughly chop the parsley.

Slice the baguette, brush with olive oil and arrange it onto a baking tray. Bake for about 3-5 minutes until crispy.

Take the slices out of the oven and rub with the garlic and tomato until soaked into the bread.

Top with sardines, sliced red onions and chopped parsley. Drizzle with olive oil, season with salt and pepper, and serve.
Nutrition
Serving:
1
piece
Calories:
139
kcal
Nutritional values are estimates only calculated with the recipe calorie and nutrition calculator provided by verywellfit.com. The author of this website is not a nutritionist nor a doctor. All nutritional data provided in the recipes and correspondent blog posts are for informational purposes only. Do not use the information as nutritional or medical advice.