Summertime is salad time! Looking for a flavourful and easy dressing to drizzle over? I got you covered with this Simple Herb Vinaigrette, sure to elevate your next salad.
Everyday flavourful salad dressing
Ok, I'm going to admit something. I'm not a big salad eater. I almost always rather pick some cooked food, than opting for a salad. But with a heatwave like that in Austria right now, even I am choosing a fresh and cool dish over producing more heat on the oven.
And right there, my go-to Simple Herb Vinaigrette comes into play. Herbs are such a flavour boost to any dish and I love to play with them enhancing different recipes. In this vinaigrette, they play the main role by bringing in all the flavour. Three different herbs are combined into a tangy and fresh topping which is prepared in just five minutes and elevates any savoury summer salad.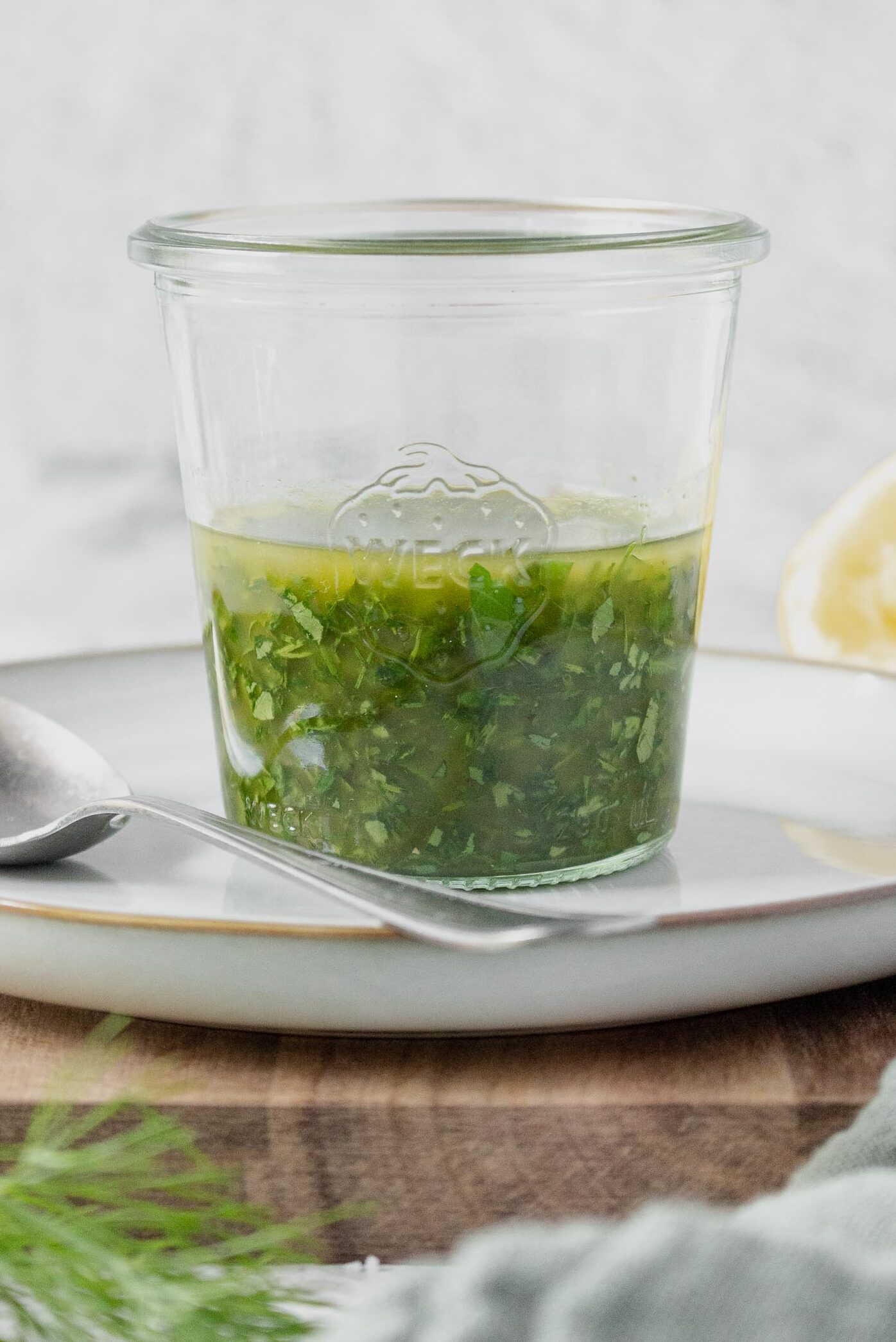 What you'll need for this Herb Vinaigrette
Parsley:

This herb is my go-to and I sprinkle it over practically every savoury dish I'm making. Parsley for me is the most versatile herb with its fresh and earthy taste, making it a great ingredient for this recipe.

Chives:

My second favourite herb is also included in this easy vinaigrette, bringing in some mild onion and garlic flavour without the need to use them as extra ingredients.

Dill:

Last but not least in this herb trinity I used dill, which brings in some grassy, sweet and anise-like flavour. Use sparingly in this vinaigrette to not overpower the parsley and chives flavour.

Extra-virgin olive oil:

For dishes that are not cooked or roasted I always use good quality extra-virgin olive oil because its flavour is very prominent in the vinaigrette and you can really taste the difference.

Lemon:

Instead of vinegar I also like to use freshly squeezed lemon juice in dressings

to make them taste fresh and zesty.

Salt and Pepper:

Use freshly ground sea salt and pepper to round out this tangy dressing. Use according to taste.
How to use this Herb Vinaigrette
This salad dressing can be drizzled on just about every savoury salad you're thinking of. I especially like to pair it whith green leafy salads or fresh cucumber and serve it as a side dish. You can also drizzle it over roasted or grilled mixed veggies or simply potatoes and serve as a zesty side dish.
For lunch or dinner I like to enhance my salads with some lean protein, like salmon as well as veggies and top it off with this herby vinaigrette. Find the quick recipe for my favourite balanced summer salad here:
Smoked Salmon Salad with Herb Vinaigrette
This Spring forward smoked salmon salad is full of flavour and done in just 10 minutes. Serve with whole wheat bread for a nourishing lunch or dinner.
Make this recipe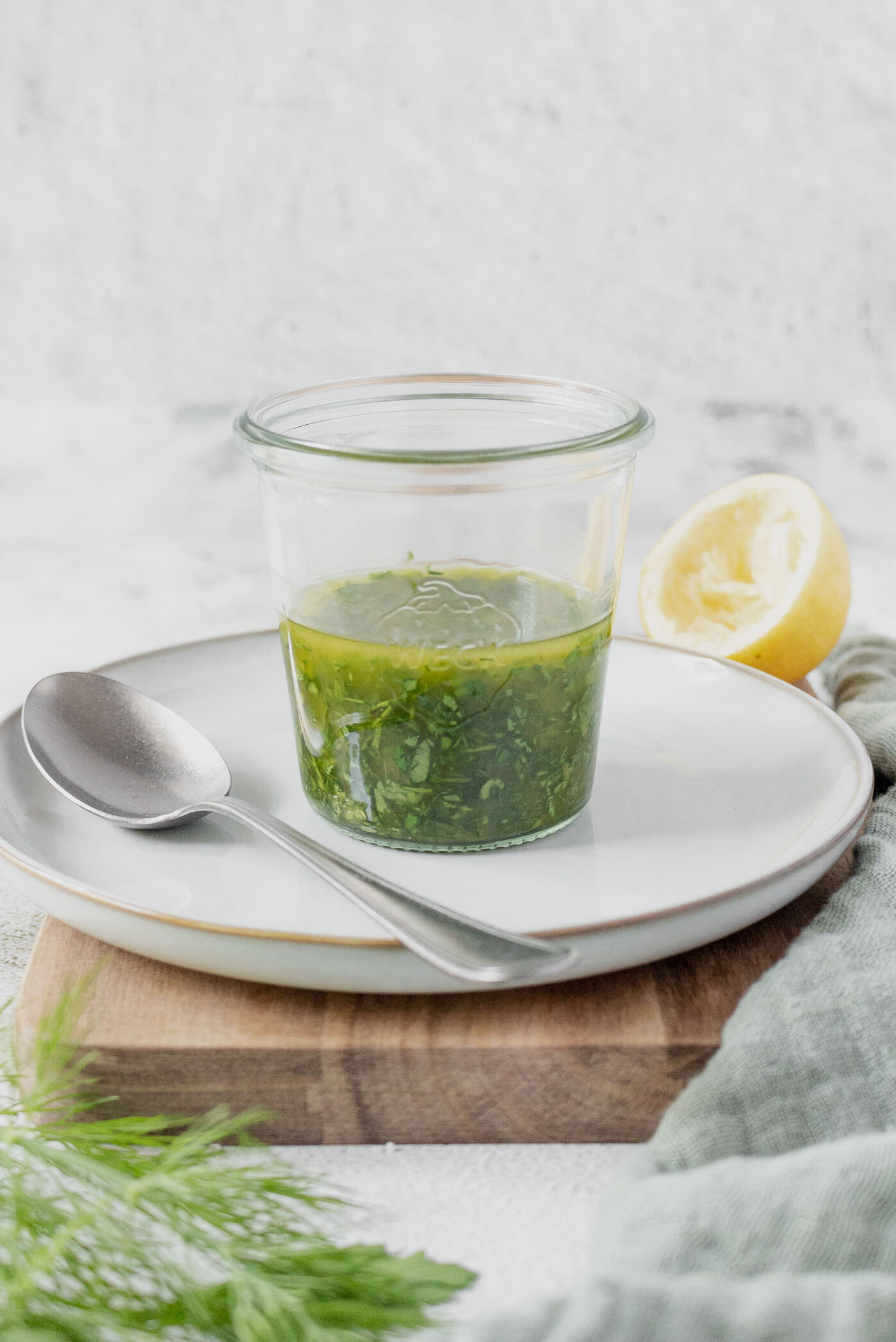 Simple Herb Vinaigrette
Summertime is salad time! Looking for a flavourful and easy dressing to drizzle over? I got you covered with this Simple Herb Vinaigrette, sure to elevate your next salad.
Ingredients
100

ml

olive oil (½ cup)

extra virgin

1

lemon

freshly squeezed

20

g

mixed herbs (½ cup)

parsley, chives, dill

sea salt and pepper

freshly ground
Instructions
Finely chop herbs and combine in a jar with olive oil and lemon juice. Seal with a lid and shake well.

Season with freshly ground sea salt as well as pepper to taste and shake again.

Use right away and drizzle over your favourite salad or store in an airtight container for up to 4 days.
Notes
Use less dill than parsley and chives in this recipe to not overpower their flavour.
Nutrition
Nutritional values are estimates only calculated with the recipe calorie and nutrition calculator provided by verywellfit.com. The author of this website is not a nutritionist nor a doctor. All nutritional data provided in the recipes and correspondent blog posts are for informational purposes only. Do not use the information as nutritional or medical advice.