This recipe gives the traditional Austrian sweet side a healthy spin. The Healthy Plum Compote comes without refined sugar but all the flavour, thanks to warming spices like cinnamon, clove, and vanilla. The best part? It only takes 20 minutes to prepare this balanced sidekick.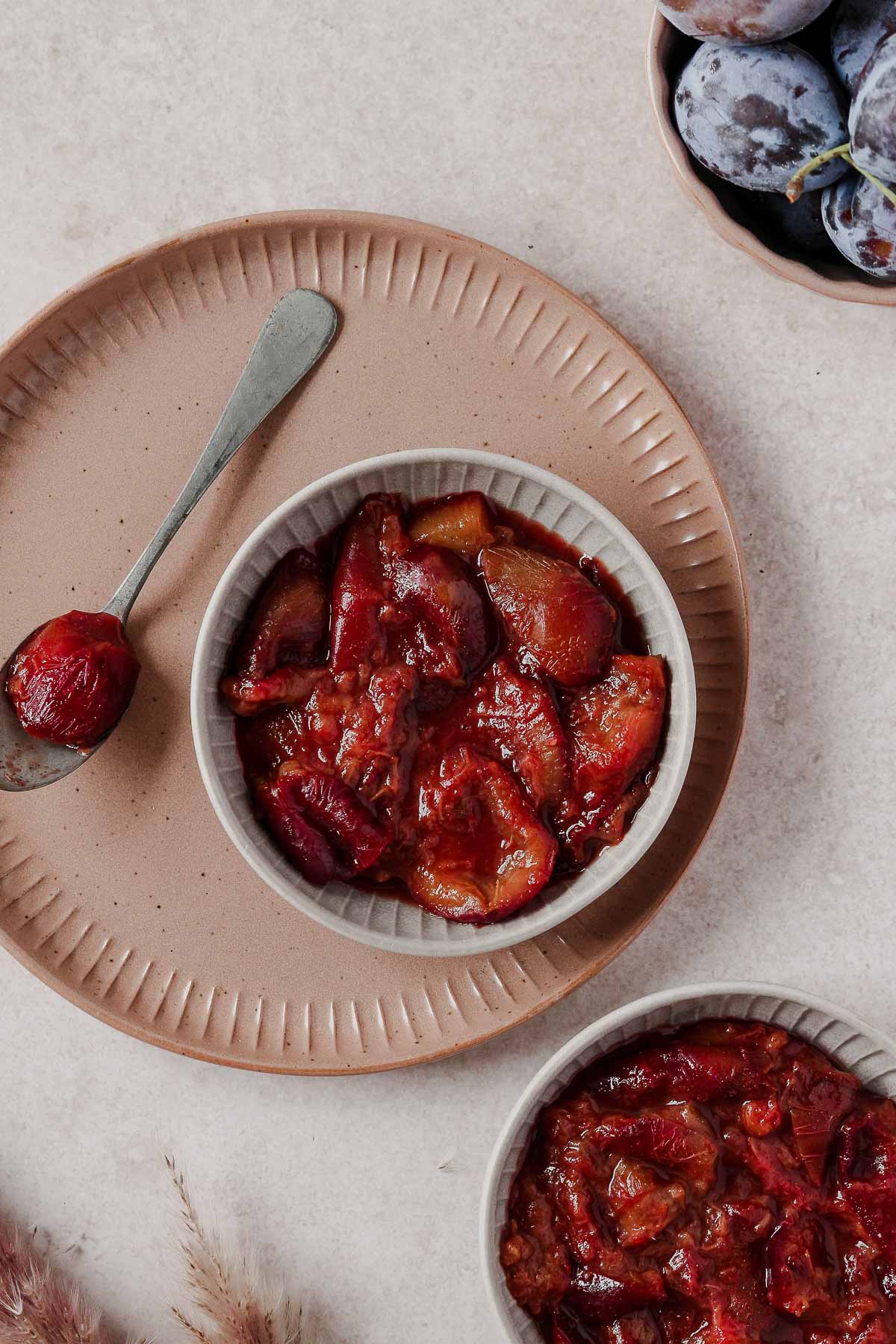 Jump to recipe
What is compote?
A compote consists of fruits cooked with a sweetener and spices until they are broken down. Unlike jam, compote still has chunks of fruit in them. Moreover, compote is easier and quicker to make than jam. But this also makes jam last longer than compote.
Classic Austrian dishes like Topfenknödel (curd dumplings) or Kaiserschmarren (sliced thick pancake) would not be complete with a side of plum compote. Or, as we like to say in Austria: Zwetschkenröster.
When reminiscing, I always have my strongest memories when they include food. I remember helping my grandma make dumplings and other doughy sweets as a child to serve with the traditional compote. It always fascinated me how she turned simple ingredients into uber delicious dishes. I learned from an early age that the quality of the ingredients is key to getting the best result when cooking or baking. When making this plum compote, try choosing the fruits and vegetables in season right now and buy local if you can.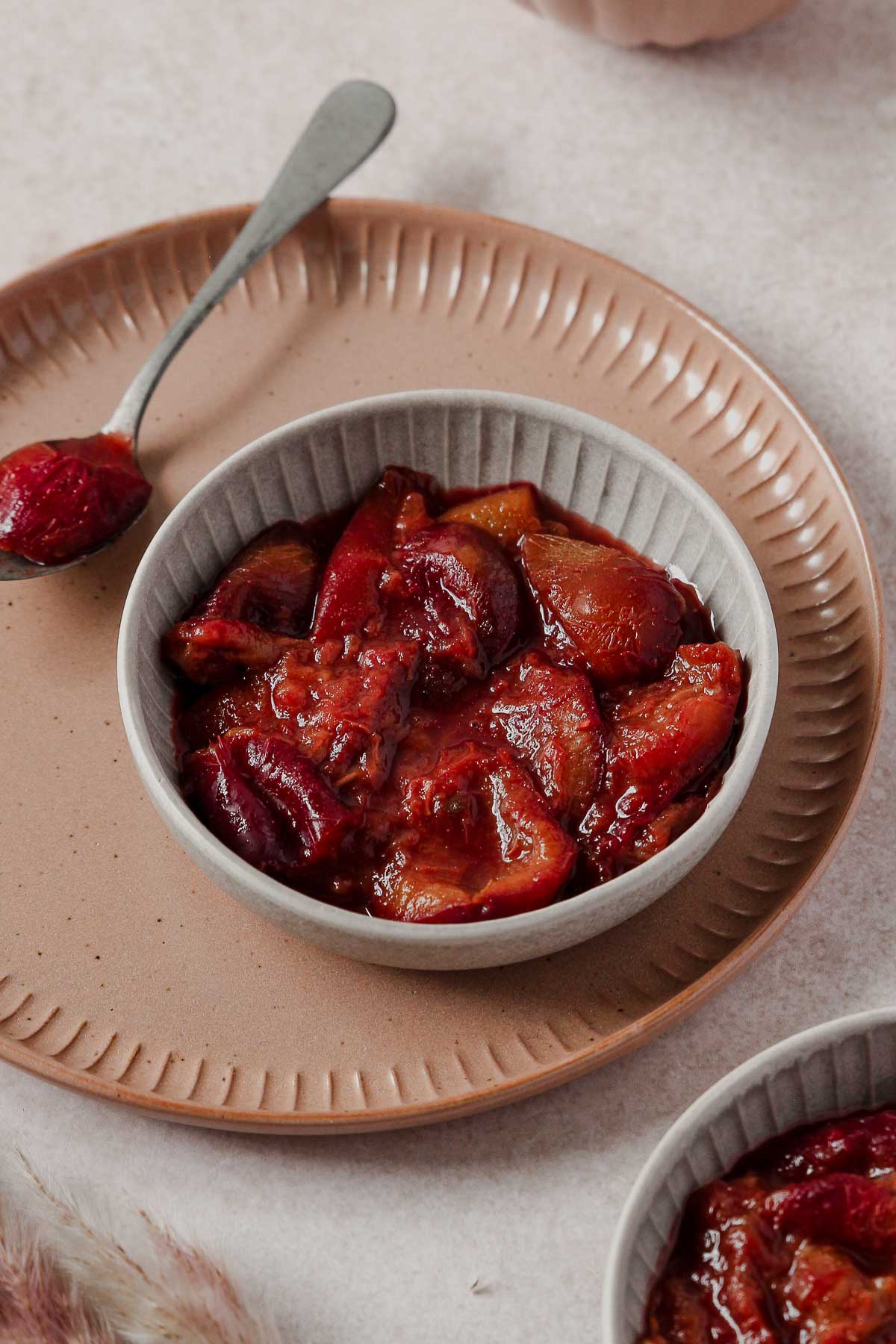 Is this plum compote healthy?
While I like the taste of this sweet side, I am not a fan of the amount of sugar the traditional recipe calls for. When it comes to sugar, plum compote is a heavy hitter. So, I was experimenting in the kitchen to make a healthy version of the flavourful dessert.
For this plum compote, I skipped refined sugar entirely and replaced it with just a bit of agave syrup. It provides the right amount of sweetness without being too overpowering. This way, you can better taste the fresh plums cooked to perfection.
Also, use riper fruits if you like the compote to be sweeter. The natural fruit sugar will do its part. Warming spices like cinnamon, cloves, and vanilla take care of the rest regarding flavour. I promise you won't miss the refined sugar after trying this healthy version of the traditional sweet side.
Why you'll love this recipe
reaps all the benefits of seasonal produce
tangy and sweet
refined sugar-free
easy to make
ready in 20 minutes
nourishing topping for breakfast foods like pancakes, oatmeal, chia seed pudding and more
Ingredients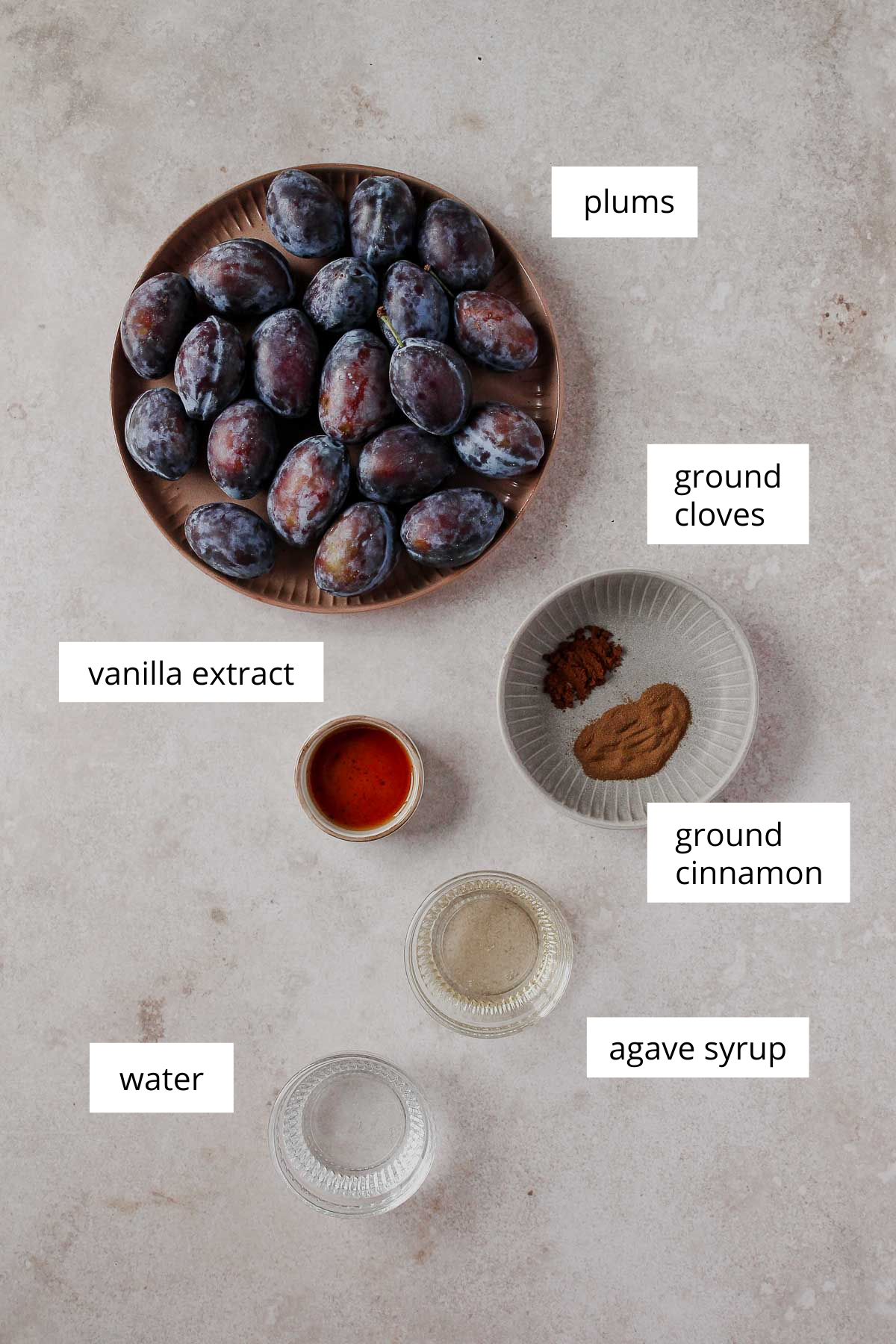 This delicious plum compote does with just a few ingredients and is ready in 20 minutes. Here is what you need:
Plums – Use organic and ripe plums. The riper they are, the sweeter the compote will be. Also, try to buy plums when they are in season. Then they have the best taste.
Vanilla extract – I love to use vanilla extract when making desserts. It rounds out the tangy taste of the plums.
Agave syrup – This plum compote does without refined sugar. A bit of agave syrup is enough to give it the right amount of sweetness without being too sweet. You can also use maple syrup instead of agave syrup.
Ground cinnamon – Instead of ground cinnamon, you can also use a cinnamon stick for this recipe.
Ground cloves – In combination with cinnamon, ground cloves make a heavenly flavour. Don't have ground cloves? Use 2 whole ones, and remove them after cooking.
Instructions
Cut plums and remove the pit. Add to a pot with vanilla extract, cinnamon, cloves, agave nectar and water.
Bring to a boil, cover with a lid and let cook and low to medium heat for 20 minutes.
Equipment
chopping board
knife
pot with lid
cooking spoon
Tips and Substitutions
Skip peeling the plums. The skin is delicious to eat with them. Moreover, the plum peel contains vitamins and minerals too.
Try this delicious compote recipe with other fruits too. Softer fruits will have a shorter cooking time, while firmer fruits will take longer to cook through.
Instead of agave syrup, you can also use maple syrup or honey. As these sweeteners come with their own taste, the compote will have a slightly different taste when made with agave or maple syrup.
It depends on the variety of plums you use, which colour the compote will turn out.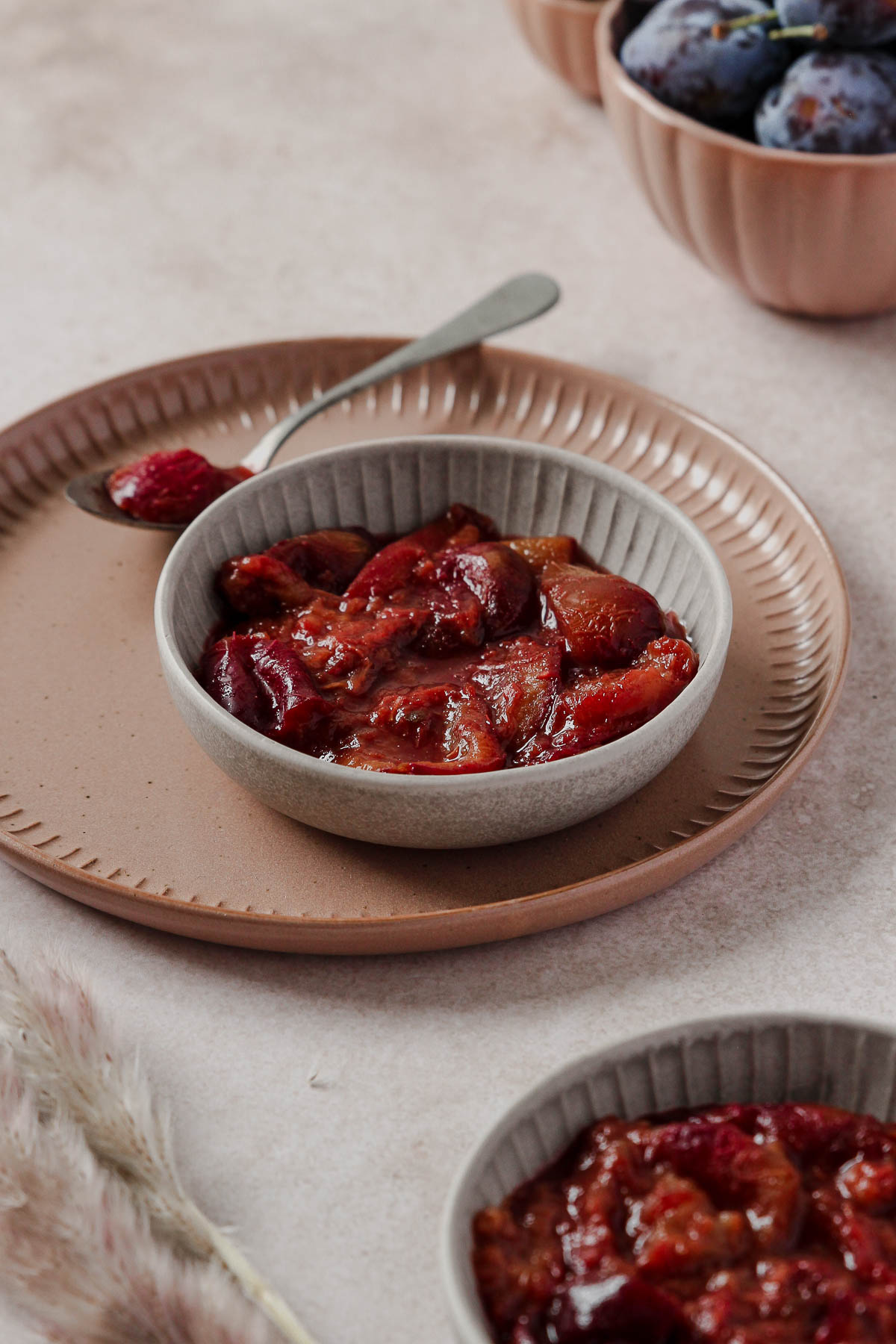 Recipe FAQs
How do I store this plum compote?
Let the compote cool and store it in a sealable jar or airtight container.
How long does this plum compote keep?
When stored in an airtight container, the compote will keep in the fridge for up to one week.
Serving ideas
I already mentioned the traditional Austrian dishes served with plum compote, like Topfenknödel and Kaiserschmarren. But this plum compote is also delicious eaten with other breakfast and sweet treats:
pancakes
waffles
cheesecake
More healthy Summer fruit recipes
Healthy Mixed Berry Compote
Plum and Apple Crumble
Raspberry Orange Chia Seed Jam
Stone Fruit Salad
📖 Recipe
Plum Compote (Zwetschkenröster)
This Plum Compote recipe gives the traditional Austrian sweet side a healthy spin. It does with only 5 ingredients and comes without refined sugar. Thanks to potent spices like cinnamon, clove, and vanilla.
Equipment
chopping board

knife

pot with lid

cooking spoon
Ingredients
500

g

plums

1

teaspoon

vanilla extract

1

tablespoon

agave syrup

½

teaspoon

ground cinnamon

¼

teaspoon

ground cloves
Instructions
Wash the plums, cut them in half and remove the stones. If you have bigger plums, cut them into quarters.

Heat a pot over medium heat. Put in the plums along with the ground cinnamon, ground cloves, agave syrup and vanilla extract. Add 2-4 tablespoons of water and stir. Cover with a lid.

Cook the compote over medium to low heat for about 15 minutes until the plums are soft and the compote thickens, stirring occasionally.

Serve warm or let cool and serve cold with pancakes, waffles, oatmeal, chia seed pudding and more.
Notes
It is as delicious served warm or cold, as you like.

The plum compote will get thicker when it is cold.

Serv

ing ideas:

yoghurt

& granola

, oatmeal, chia seed pudding and other balanced breakfast and sweet treats to enjoy this delicious fall fruit.
Nutrition
Nutritional values are estimates only calculated with the recipe calorie and nutrition calculator provided by verywellfit.com. The author of this website is not a nutritionist nor a doctor. All nutritional data provided in the recipes and correspondent blog posts are for informational purposes only. Do not use the information as nutritional or medical advice.