The perfect nourishing side dish for fall! This Quick Herb Roasted Butternut Squash delivers a mouth-watering flavour combination of herbs and spices you want to make again and again.
Quick Herb Roasted Butternut Squash
Pumpkin season is here, and I appreciate the orange fruit vegetable in all its glory. In October, my kitchen is full of different pumpkins waiting for their time to shine in all kinds of dishes. Whether I make pumpkin soup, incorporate pumpkin into a stew, or serve it as a delicious side dish, the seasonal favourite never disappoints.
In this case, I used butternut squash and took it for a roast in the oven to create an easy and nourishing side dish perfect for the colder season. But this roasted butternut squash is unlike the other recipes you might know. I paired the slightly sweet flavour of the butternut squash with fresh rosemary and sage, some savoury spices and garlic for a delicious twist. The result is a golden brown and caramelized baked butternut squash with a spicy touch I love.
The best part? This uber delicious side takes just 20 minutes in the oven to roast, so this nourishing side dish is ready in no time.
Scroll down for some tips on how to peel and cut a pumpkin and get the easy recipe.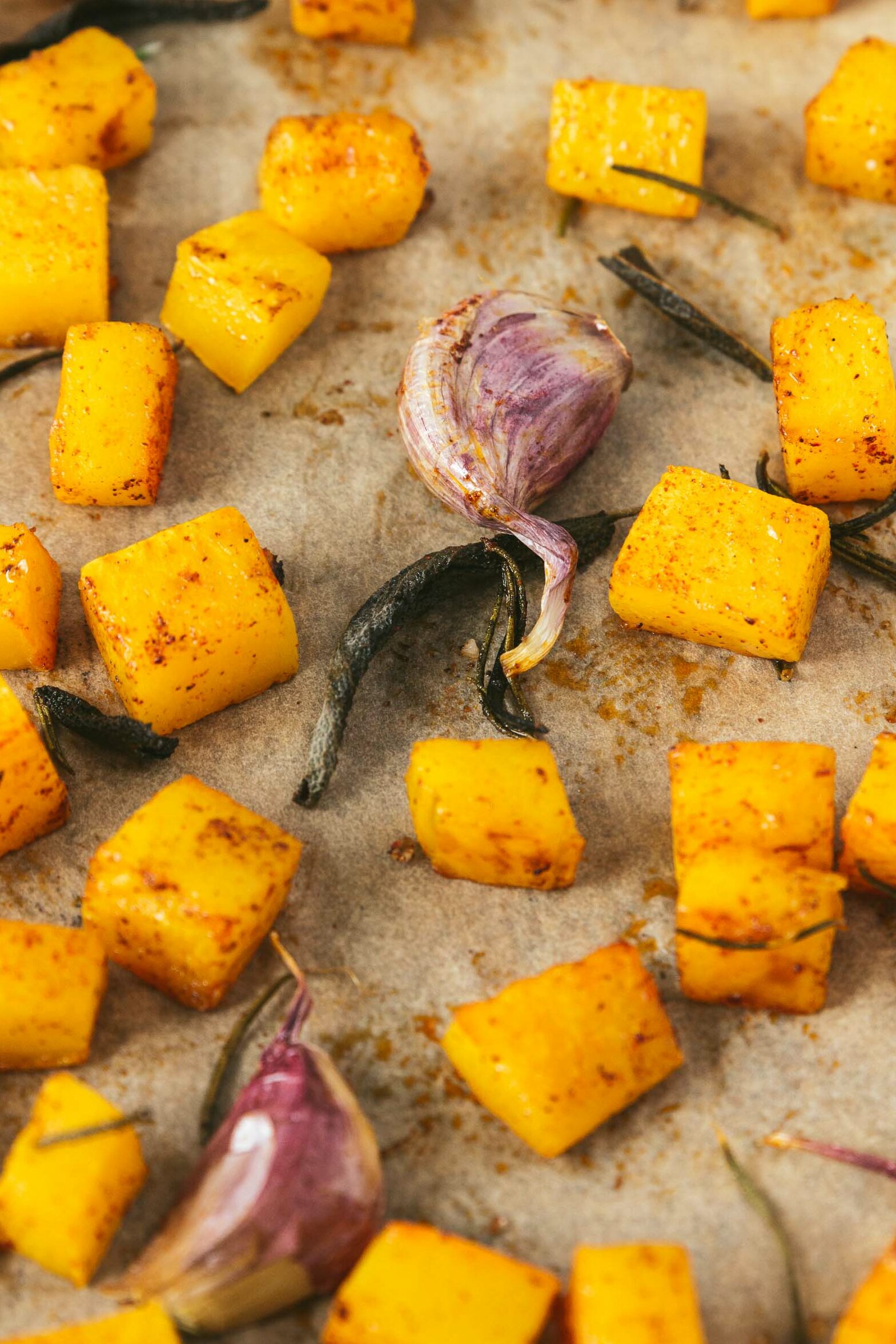 Nutritious butternut squash
While I love butternut squash because of its taste and versatility, I also appreciate the nutritional benefits this fall vegetable has to offer. Pumpkin is low in calories and full of beta-carotin, which aids in healthy skin, hair and good vision. The fruit vegetable is also rich in vitamin C, vitamin A, magnesium and potassium and comes with a dose of antioxidants, supporting your immune system and fighting free radicals. Pretty impressive, right?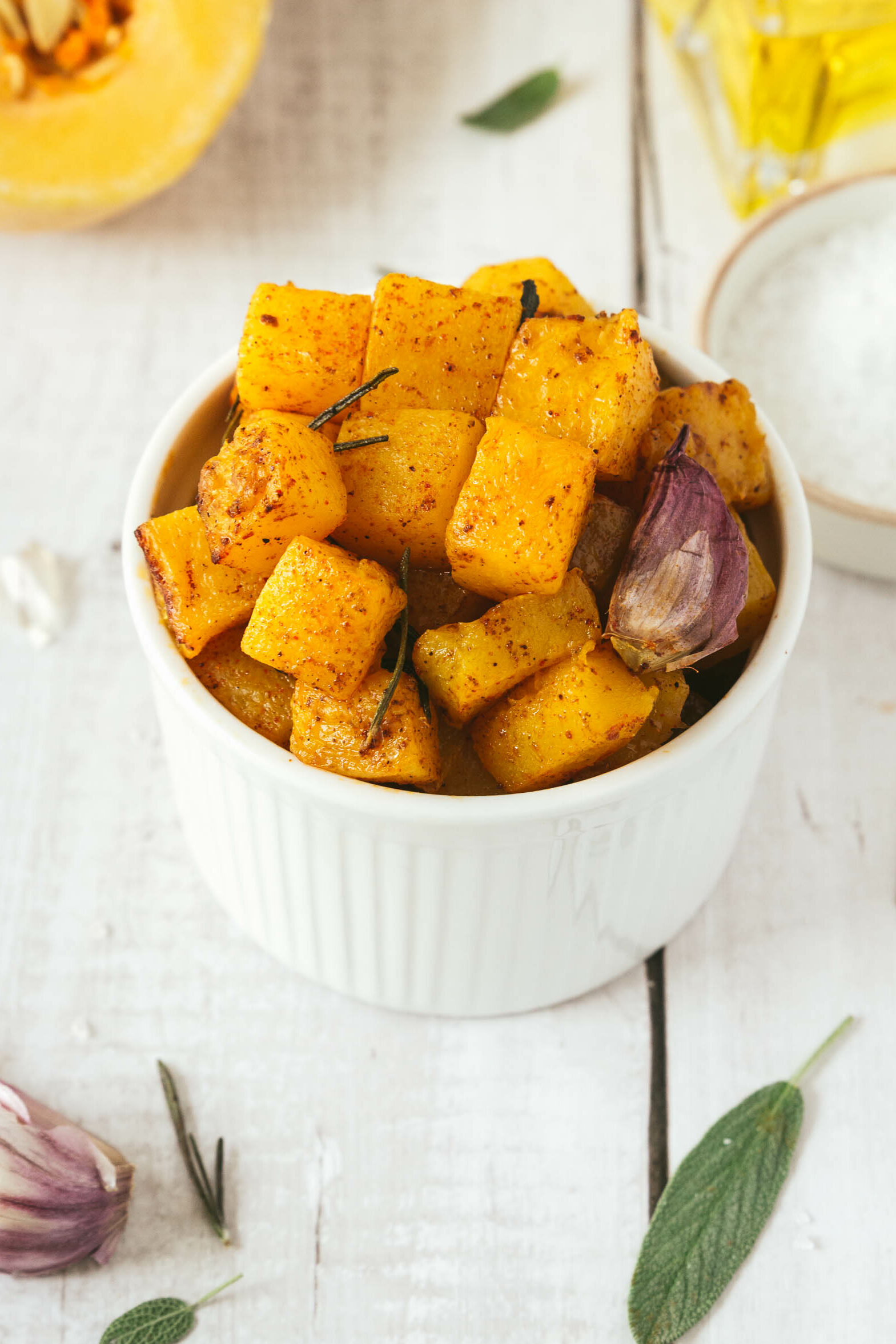 Tips for making this roasted butternut squash
Peel the butternut squash with a vegetable peeler. I found this the quickest way to get rid of the skin. Cutting the pumpkin into large chunks also helps to make the peeling easier.

Use a big and sharp knife to cut the hard pumpkin flesh.

Use a spoon to scoop out the seeds of the pumpkin. Discard the seeds or dry them and eat them afterwards if you like.

Cut the pumpkin pieces close in size to ensure they cook evenly.

Don't overcrowd the baking sheet when distributing the butternut squash cubes. If the tray is too crowded and the cubes overlap, they rather will be steamed instead of roasted.

Take the roasted garlic out of the skin after baking and eat with the pumpkin. The caramelized garlic goes so well with the roasted butternut squash.
More savory side dishes
📖 Recipe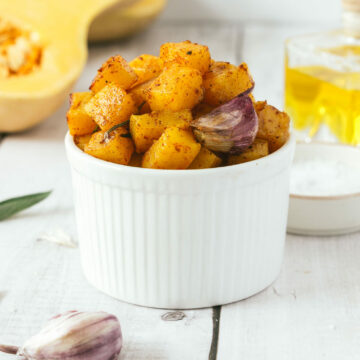 Quick Herb Roasted Butternut Squash
The perfect nourishing side dish for fall! This Quick Herb Roasted Butternut Squash delivers a mouth-watering flavour combination of herbs and spices you want to make again and again. 
Ingredients
½

butternut squash

4

garlic cloves

2

rosemary sprigs

6

sage leaves

1

tablespoon

olive oil

extra virgin

½

teaspoon

sweet paprika powder

¼

tablespoon

cayenne pepper (optional)

1

tablespoon

sea salt
Instructions
Preheat the oven to 200°C (440°F). Peel and cut the butternut squash into about 1,5 cm (½-inch) cubes and scoop out the seeds with a spoon.

Line a baking sheet with parchment paper and place the butternut squash evenly onto the tray, making sure to leave a little space between the cubes.

Drizzle with olive oil and sprinkle with paprika powder, cayenne pepper, rosemary, sage and sea salt. Roast in the oven for about 20 minutes until golden brown and tender.

Serve on its own or as a side dish with meat, fish, or tofu. Store leftovers in the fridge for 3-4 days.
Nutrition
Nutritional values are estimates only calculated with the recipe calorie and nutrition calculator provided by verywellfit.com. The author of this website is not a nutritionist nor a doctor. All nutritional data provided in the recipes and correspondent blog posts are for informational purposes only. Do not use the information as nutritional or medical advice.