If you're a fan of wild garlic, then you have come to the right place. The pungent-flavored plant is a delicious addition to meals and boasts a range of health benefits. Here you'll learn everything about how to use wild garlic, tips for harvesting it, and deliciously easy recipes.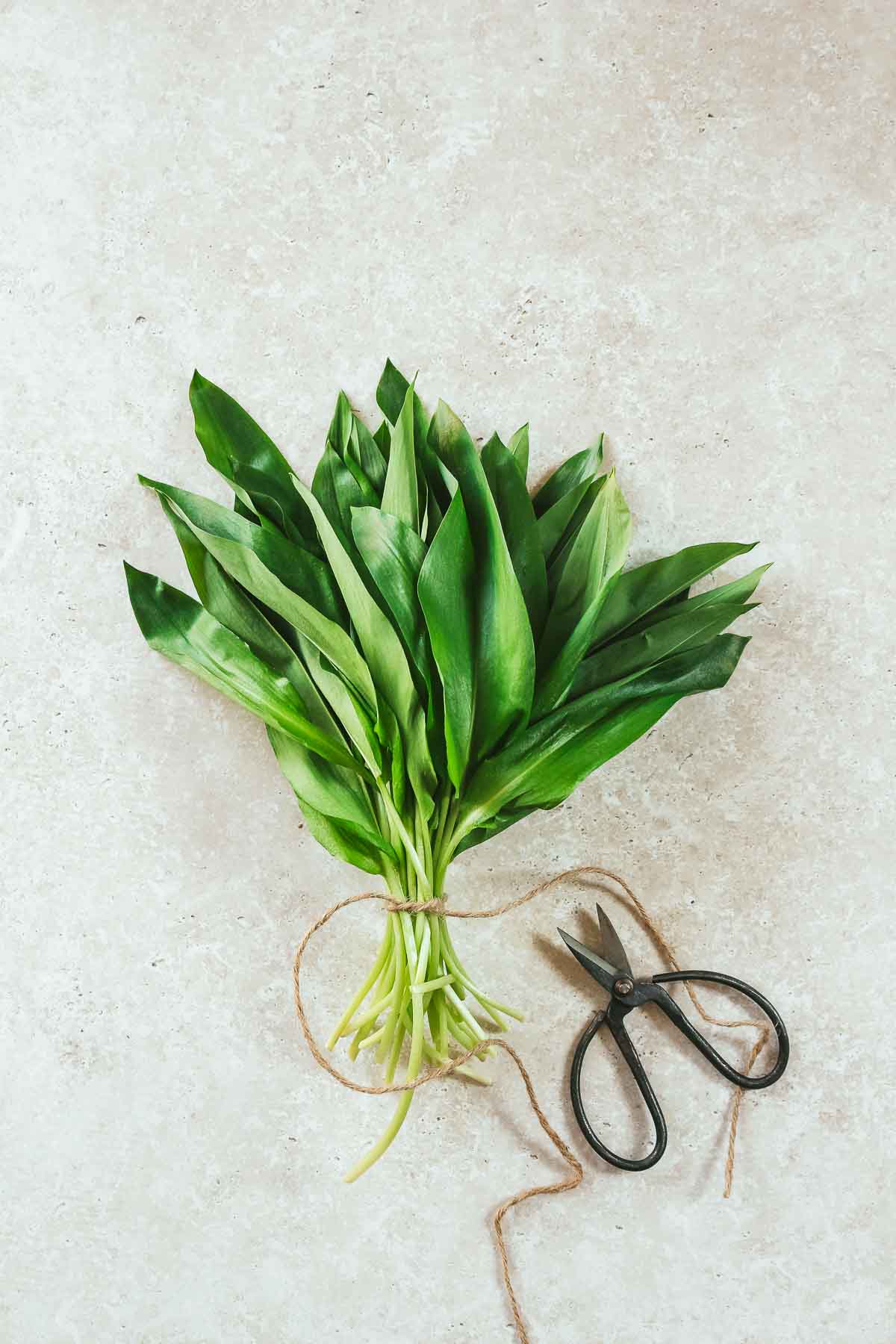 Jump to recipe
What is wild garlic?
Wild garlic, also known as ramsons or Allium ursinum, is a herbaceous perennial plant native to Europe and Asia. It belongs to the Allium family, also including onions, garlic, and chives. It commonly grows in damp, shady areas such as woodland floors and riverbanks.
The wild-growing plant has long, narrow leaves that are similar in appearance to the lily of the valley but with a distinctive garlic scent. Besides that, it produces clusters of small, star-shaped white flowers in the spring, which are also edible.
Wild garlic has been used in traditional medicine for its anti-inflammatory, antibacterial, and antifungal properties. It is also a popular herb to use in the kitchen and can be added to soups, stews, pesto, and salads. The leaves can be eaten raw or cooked and have a garlicky flavor.
Wild garlic vs. garlic
Wild garlic (Allium ursinum) is a wild plant closely related to garlic (Allium sativum) and belongs to the same family. Both wild garlic and garlic have a pungent flavor and are used for cooking and medicinal purposes.
However, there are some differences between them. Wild garlic has a milder flavor, with thinner and more delicate leaves. In contrast, garlic has a strong flavor and aroma. Moreover, its bulbs are larger and more compact than wild garlic.
Both wild garlic and garlic are low in calories but high in vitamins and minerals. However, garlic contains more allicin, a compound that has been shown to have antimicrobial properties and may help lower cholesterol and blood pressure.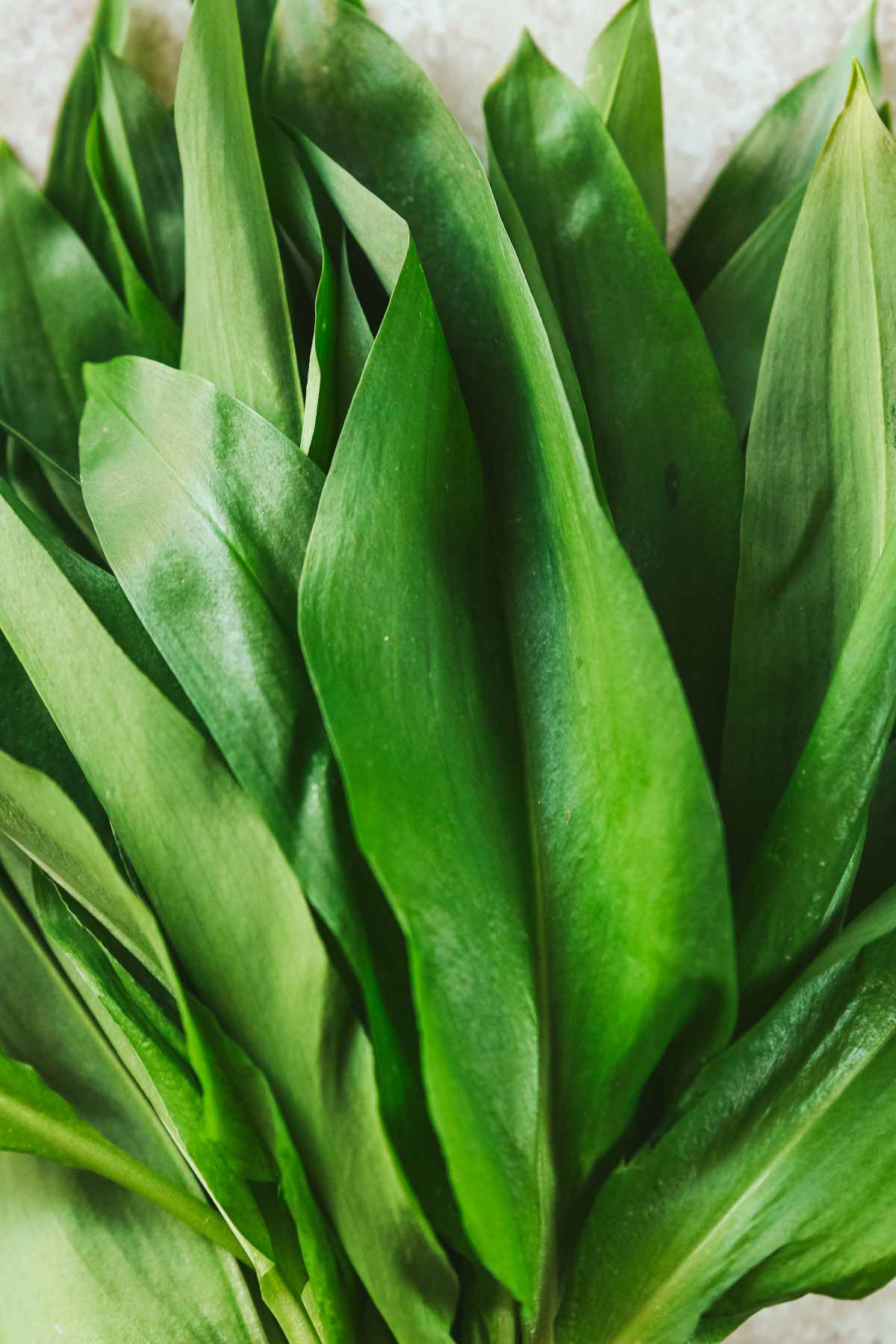 Health benefits
Wild garlic is a nutrient-dense plant used for its medicinal properties for centuries.
Here are some potential health benefits of consuming the plant:
Boosts immune system – It is rich in antioxidants, which help to protect cells from free radicals. It also contains vitamins C and B6 beneficial for a healthy immune system.
Supports heart health – The wild plant may also help reduce cholesterol levels and lower blood pressure.
Acts as an anti-inflammatory – Moreover, wild garlic has anti-inflammatory properties, which may help to reduce inflammation in the body.
Supports digestion – It has been used traditionally to aid digestion and relieve stomach ailments such as bloating and constipation.
Supports bone health – The pungent-tasting plant is also a good source of vitamin K. The vitamin supports bone health and may help reduce the risk of osteoporosis.
It's important to note that while wild garlic has many potential health benefits, it should not be used as a substitute for medical treatment. If you have any health concerns, it's always best to consult with a healthcare professional.
Harvesting wild garlic
Harvesting ramsons can be a fun and rewarding activity but do it safely. Because it is often mistaken for the similar-looking lily of the valley.
Since I have been harvesting wild garlic for years now, I have a few helpful tips for you:
Identifying wild garlic – Make sure you know how to recognize the plant. Look for its characteristic broad, flat leaves and garlicky aroma.
Choose a location – Look for areas where wild garlic is known to grow, such as woodlands, fields, or damp meadows. Avoid harvesting it from areas that may have been contaminated by pollution or pesticides.
Harvest at the right time – Harvest it only in the spring, when its leaves are young and tender. In most areas, it grows between February and early May.
How to harvest – Cut the leaves with scissors close to the ground. But leave a few inches to allow the plant to regrow. Be careful not to damage the bulbs, as this prevents the plant from growing back.
Don't take too much – Only take what you need and leave enough for the plant to regrow. Over-harvesting can deplete the population.
How to preserve wild garlic
Wild garlic can be preserved in several ways, depending on how you plan to use it. Before you process it further, always wash the leaves thoroughly and pat them dry.
Storing – If you use the wild garlic within a week, store it in the refrigerator. Wrap the leaves loosely in paper towels and place them in a plastic bag or airtight container.
Drying – Spread the leaves out in a single layer on a baking sheet. Then place them in a warm, dry place for several days until completely dry. Lastly, store them in an airtight container in a cool, dry place.
Pickling – The plant can also be pickled for a tangy, flavorful addition to sandwiches and more. To pickle wild garlic, place them in a jar with vinegar, salt, and other flavorings such as mustard seeds or peppercorns. Allow the garlic to pickle in the refrigerator for several days before using.
Infusing – To infuse the leaves, place them in a jar with oil or vinegar and let them sit for several days to infuse the flavor. Strain out the leaves before using them in dressing, marinades, and sauces.
FAQs
Is wild garlic poisonous?
No, it is generally safe for human consumption and is not considered poisonous. However, it is important to identify the plant properly and not confuse it with other similar-looking plants, such as lily of the valley, which is highly toxic.
Which part of wild garlic do you eat?
The entire plant is edible, but the most commonly consumed parts are the leaves and bulbs. They can be used fresh in salads, pestos, and sauces or cooked in soups, stews, and sautés.
Can you freeze wild garlic?
Yes, wild garlic can be frozen for later use. Wash the leaves thoroughly in cold water to remove dirt or debris, and pat them dry. Finely chop them using a sharp knife or food processor. Then place them in a freezer-safe container or plastic bag. Remove as much air as possible from the container or bag to prevent freezer burn. Put the container or bag in the freezer and store for up to 6 months.
Wild garlic recipes
The pungent plant is a versatile ingredient that can be used in many dishes. Here are some ways to use and eat wild garlic:
Wild Garlic and Potato Soup (Vegan)
The perfect way to harness all that wild garlic growing in Spring? This vegan wild garlic and potato soup. Spicy and full of flavor, this nutritious showstopper is ready in 30 minutes.
Make this recipe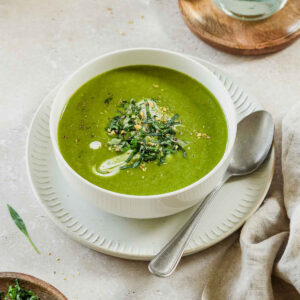 Easy Wild Garlic Pesto (Vegan)
If you love pesto, my easy wild garlic pesto is the perfect version to make in spring. The best part? It is vegan, gluten-free, keto-friendly, and ready in 10 minutes.
Make this recipe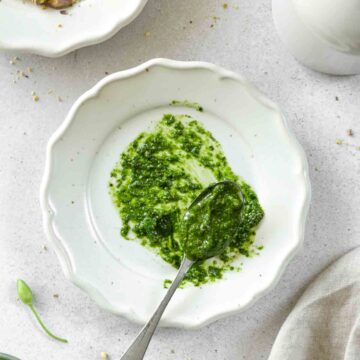 New Potatoes, Wild Garlic and Spring Greens
It doesn't get any more Spring than this delicious and nutritious side kick packed with seasonal produce. Serve next to your favourite roasted or grilled meat, fish or meatless option as a fresh and flavourful side dish.
Make this recipe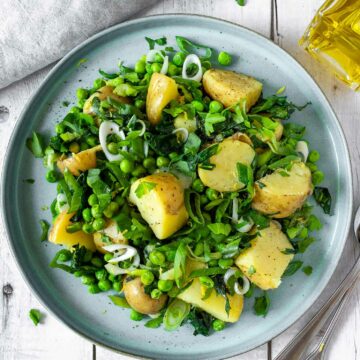 Related spring recipes
Looking for more spring recipes? Try these:
Did you try one or more of these recipes?
Leave a ⭐️ review below and tag @encore_more on Instagram & Facebook!