Creamy and flavourful, this White Wine Celery Root Soup is for when you need a comforting bowl. The vegan soup comes with lots of flavour and nourishes from within.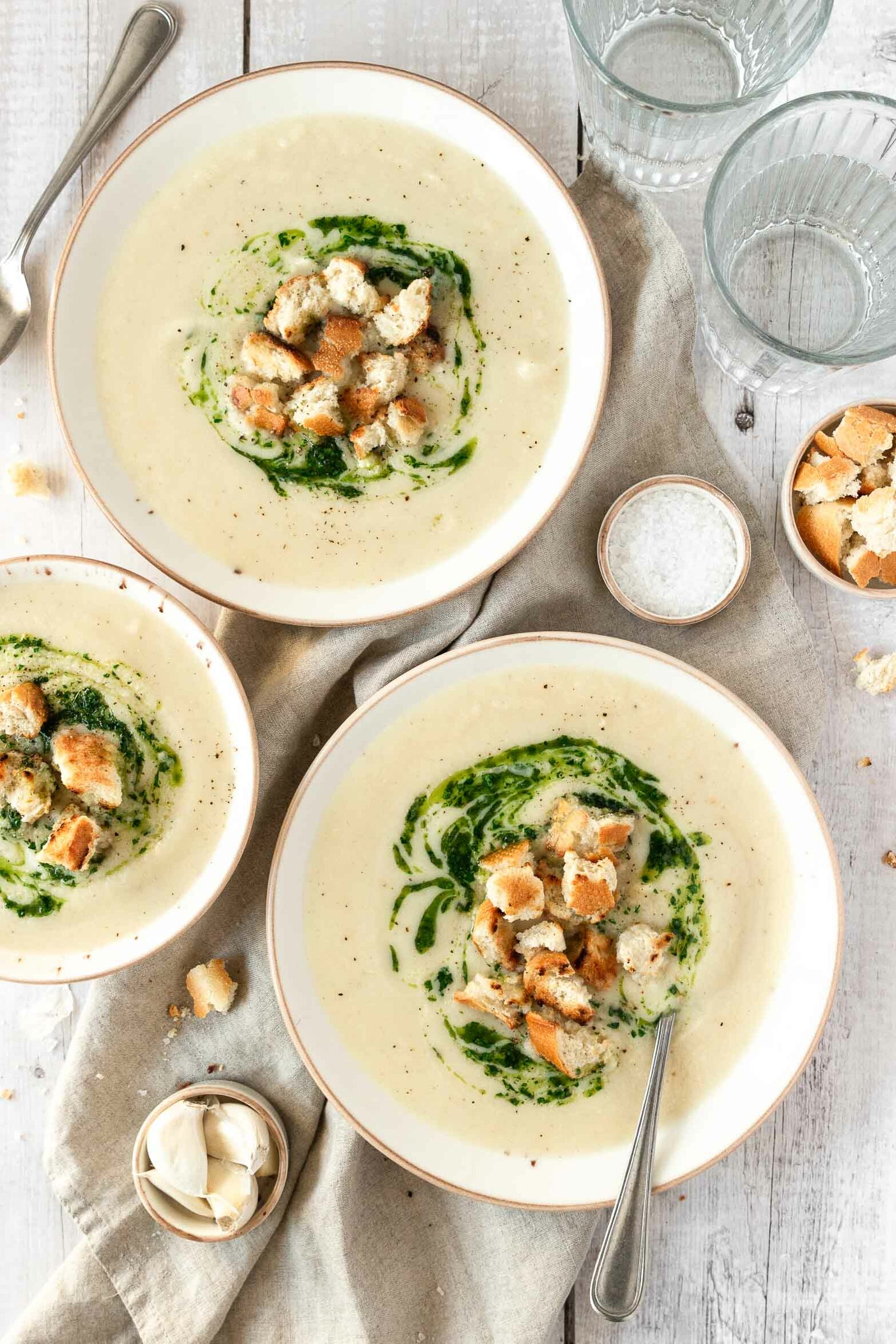 White Wine Celery Root Soup
Don't you love the flavour of a hearty and comforting bowl of soup? I do, no matter the season. That's why I'm coming in hot with this bowl of nourishing soup, sure to make your savoury heart jump.
Celery root (aka celeriac) is a vegetable that is often overlooked compared to other root vegetables. That's why I created a delicious and decadent soup using celeriac to make a nutrient-dense meal that can be served as a light lunch and dinner or exciting starter to fuel your tastebuds. So if you struggle with using up a whole celery root and want to avoid food waste, this is the perfect recipe for you.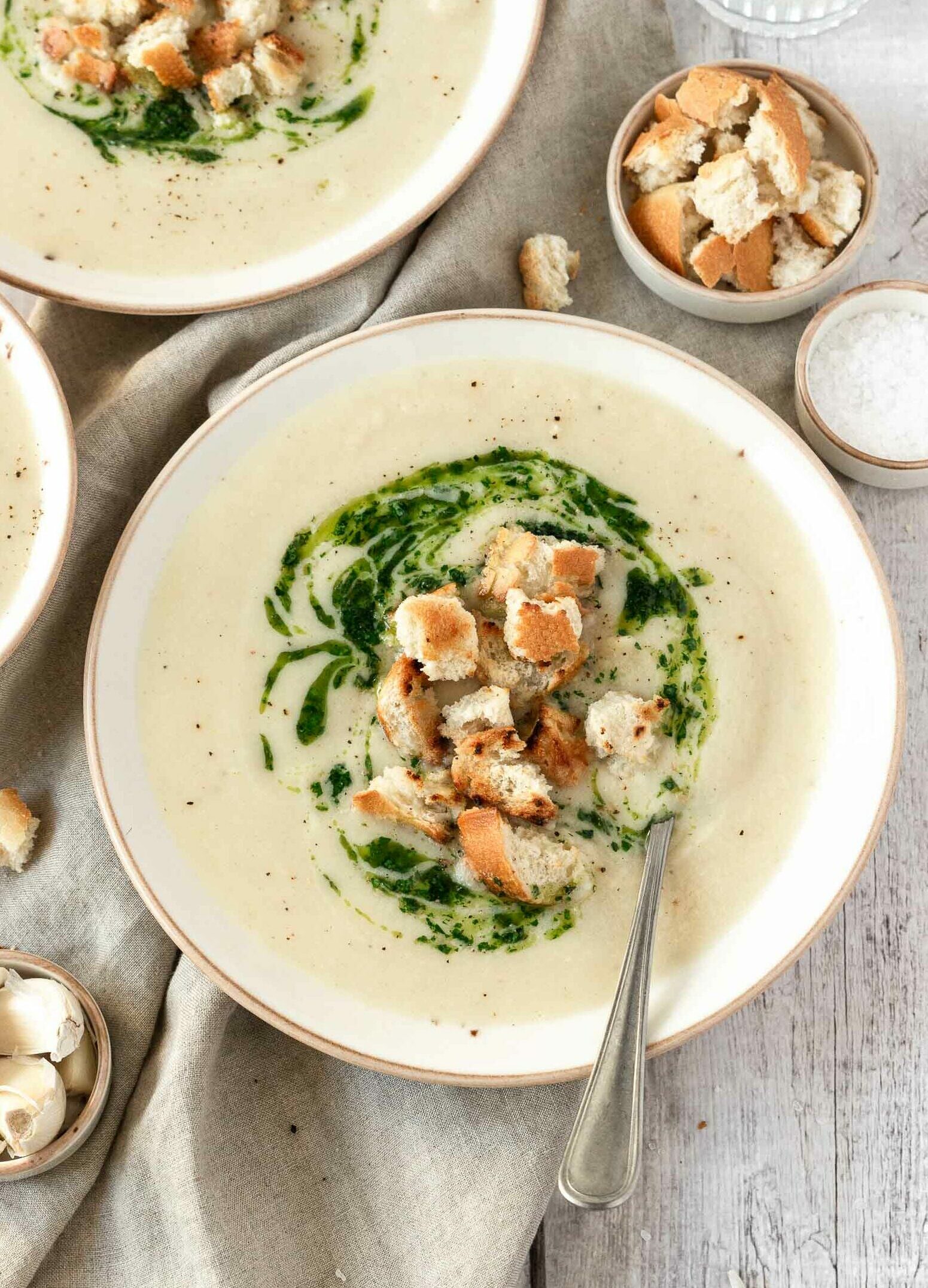 What you need for this White Wine Celery Root Soup
This soup is easy to make and done in 35 minutes. The best part? Besides the celery root, you can use up ingredients you probably already have sitting in your kitchen. Put them to good use by whipping up this delicious and hearty dish, perfect to meal-prep and eat during the week. Here is what you'll need:
Celery Root: The winter vegetable, also known as celeriac, comes with an earthy flavour perfect for a comforting soup.

Onions: In this soup, it brings in a touch of sweetness and a hearty flavour.

Garlic: This root vegetable is a frequent addition to complement other ingredients and acts as a savoury base flavour.

White Wine: A dry wine, like Grüner Veltliner or Sauvignon Blanc, works best when cooking with vegetables.

Vegetable Stock: Use homemade, store-bought or organic stock cubes as a cooking liquid.

Caraway: A mainstay in a lot of Austrian dishes, it pairs wonderfully with all root vegetables.

Nutmeg: This is also true for nutmeg, which pairs well with root vegetables like potatoes, parsnips, carrots and of course, celery root.
Tips for making these celery root soup
Cut the celery root in half first, then peel with a vegetable peeler and chop.

Roast the onion first, then put in the celery root and spices. Add the garlic last to prevent it from turning bitter.

This soup needs no heavy cream to reach the right consistency. The ideal ratio from celery root to vegetable stock will do the trick. If you like the soup to be thinner, add more vegetable stock and vice versa.

If not eaten right away, store in the fridge for up to three days or freeze for up to 3 months.
In the mood for more soup?
Try these comforting recipes:
📖 Recipe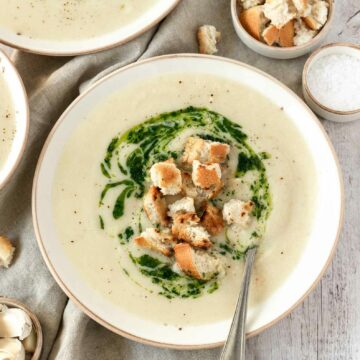 White Wine Celery Root Soup
Creamy and flavourful, this White Wine Celery Root Soup is for when you need a comforting bowl. The vegan soup comes with lots of flavour and nourishes from within.
Ingredients
1

celery root (about 450g/1lb)

1

yellow onion

1

garlic clove

2

tablespoon

olive oil

extra virgin

100

ml

dry white wine (3.4 oz)

800

ml

vegetable stock (27 oz)

½

teaspoon

ground caraway

¼

teaspoon

ground nutmeg

salt and pepper to taste
Topping:
parsley oil

(see recipe notes)

croûtons
Instructions
Peel and dice celery root in about 2,5 cm (1 inch) sqaures as well as onion and garlic.

Heat olive oil in a large pot. Put in onions and roast over medium heat for about a minute. Add celery root, garlic and spices and sauté for a couple minutes, stirring regularly.

Pour in the white wine and let cook shortly over high heat. Add the vegetable stock, bring to a boil again and let cook on low heat for about 20 minutes, until the celery root is tender.

Remove from heat and use an immersion blender to purée the soup. If it is too thick, pour more vegetable stock in and blend again. Season to taste.

Serve with parsley oil, crunchy croutons and enjoy.
Notes
How to make parsley oil: Take a handful of parsley and roughly chop. Blend with extra virgin olive oil until combined.

This is a great recipe for meal prep. If not eaten right away it keeps in the fridge for up to 3 days. You can also freeze and reheat it for a quick lunch or dinner.
Nutrition
Serving:
1
bowl
Calories:
153
kcal
Nutritional values are estimates only calculated with the recipe calorie and nutrition calculator provided by verywellfit.com. The author of this website is not a nutritionist nor a doctor. All nutritional data provided in the recipes and correspondent blog posts are for informational purposes only. Do not use the information as nutritional or medical advice.