Delicious crossover! This BLT shakshuka combines the Middle Eastern dish with the ingredients of the classic American sandwich. Perfect for breakfast, brunch and basically any time of the day.
BLT Shakshuka
On weekends I like to go big when it comes to breakfast. After all, it is my favourite meal of the day, so on weekends, I celebrate it with dishes that make me feel like going out for brunch. You might think that this means standing in the kitchen for a long time preparing such elaborate, right? Think again! Because I'm all for easy and quick to prepare meals that always deliver.
Like this BLT Shakshuka, combining the Middle Eastern with the American cuisine by elevating it with the idea of a classic BLT sandwich. The result: A hearty and nourishing dish that comes with lots of flavour and textures that melt into each other.
This BLT Shakshuka comes with nourishing ingredients, lots of flavour and satisfies every hearty craving. The best part? It is easy to make and takes under 30 minutes. Winner!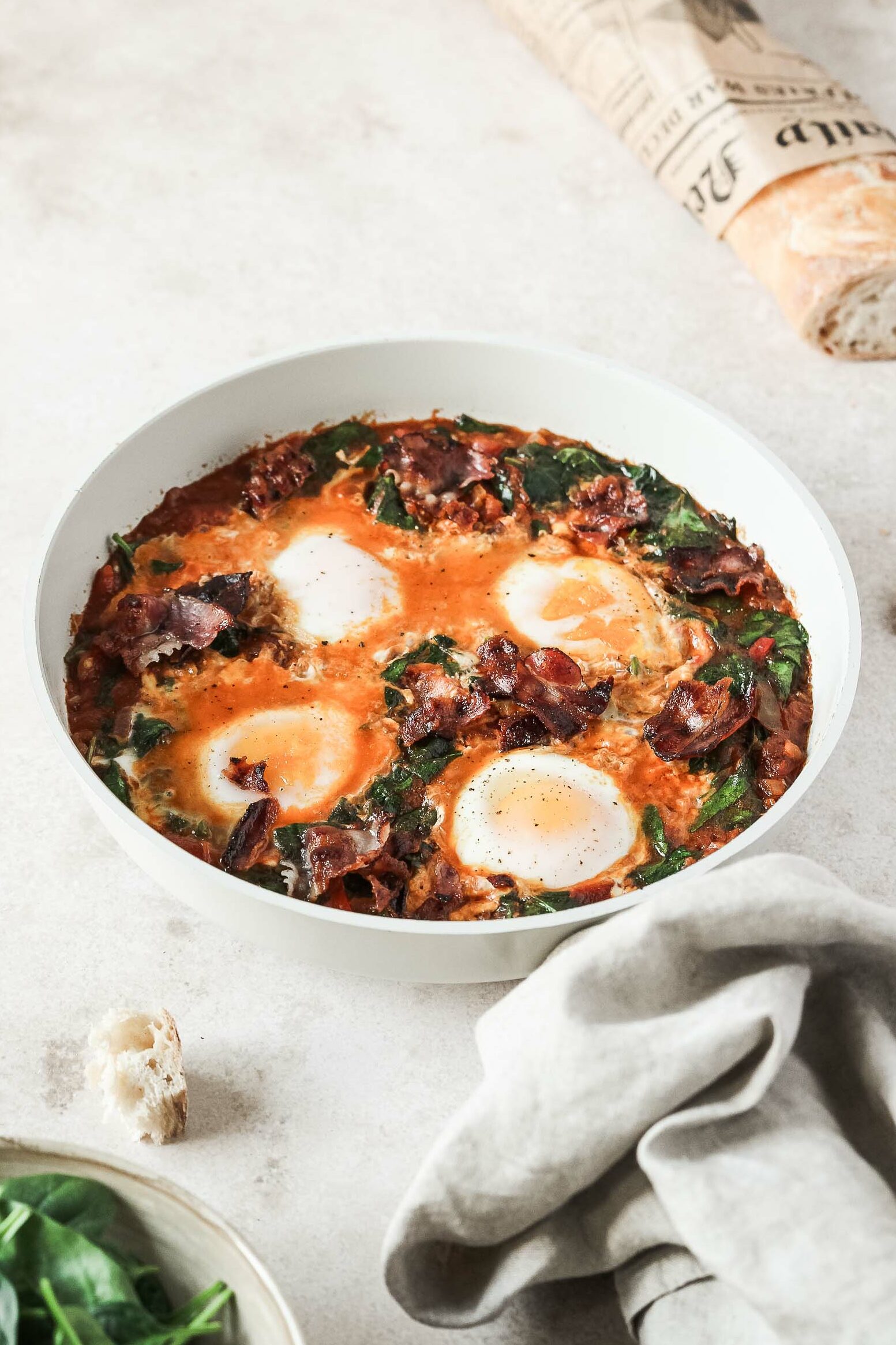 What is BLT shakshuka?
This rustic breakfast meal combines the best of both worlds. A classic BLT sandwich, consisting of bacon, lettuce and tomatoes, incorporated into the Middle Eastern breakfast treat. A shakshuka is a rustic pan dish where eggs a poached in tomatoes roasted with onion, garlic and spices. It is often served for breakfast or brunch but a nourishing meal for any time of the day.
Here is what you need:
Red onion: I'm using red onion in this recipe because it comes with a touch of sweetness, enhancing the tomato flavour. But this dish also works with yellow or white onions.
Garlic: A flavour-driven dish needs some garlic to give it some depth. Be generous and reap all the flavour of this nourishing and anti-bacterial produce.
Tomatoes: Fresh tomatoes sizzled in olive oil, onion, garlic, and some spices are all you need to create a delicious base to work with. I used a smaller tomato variety for this recipe. They come with more flavour because they contain less water than their bigger counterparts.
Spices: It doesn't take much to give this dish a depth of flavour. The Middle Eastern classic cumin, hot paprika and a pinch of salt and pepper make the right combination to enhance the taste of the other ingredients.
Eggs: The classic shakshuka comes with some runny eggs completing this tomato dish. Use organic eggs for the best taste and leave them runny. Then dip in some crunchy bread and indulge.
Spinach: Now comes to green part to resemble the lettuce from the classic BLT sandwich. Add just before cracking in the eggs as spinach cooks very fast.
Bacon: Representing the B in BLT, a few slices of bacon take this breakfast to another hearty level. Making the shakshuka in the same pan after roasting the bacon infuses the dish with the flavour. The crunchy roasted bacon sprinkled over just before eating brings another delicious texture to the shakshuka.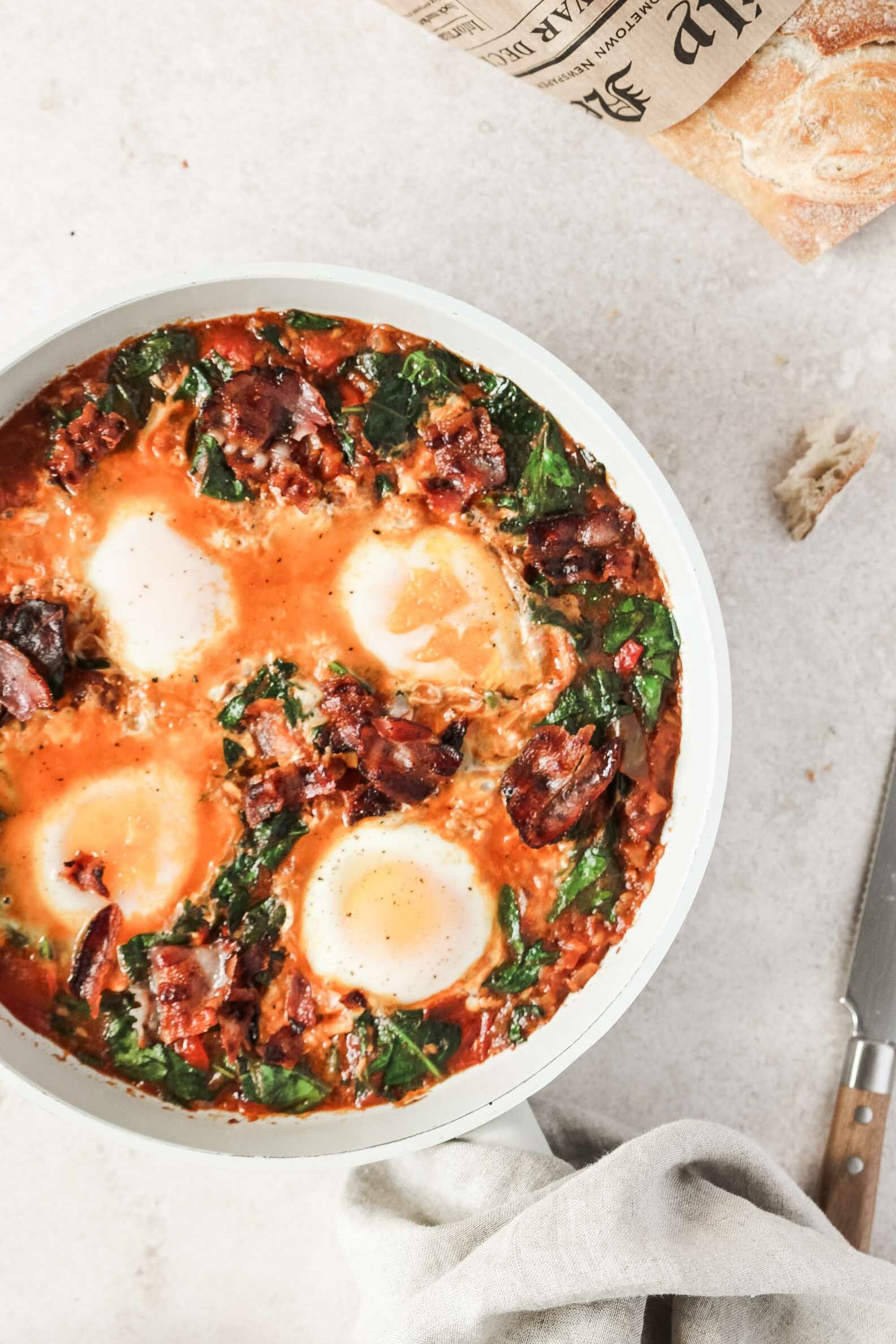 More eggcellent breakfast recipes
Spicy Herb and Greens Omelette
Spinach, Hummus & Egg Breakfast Bread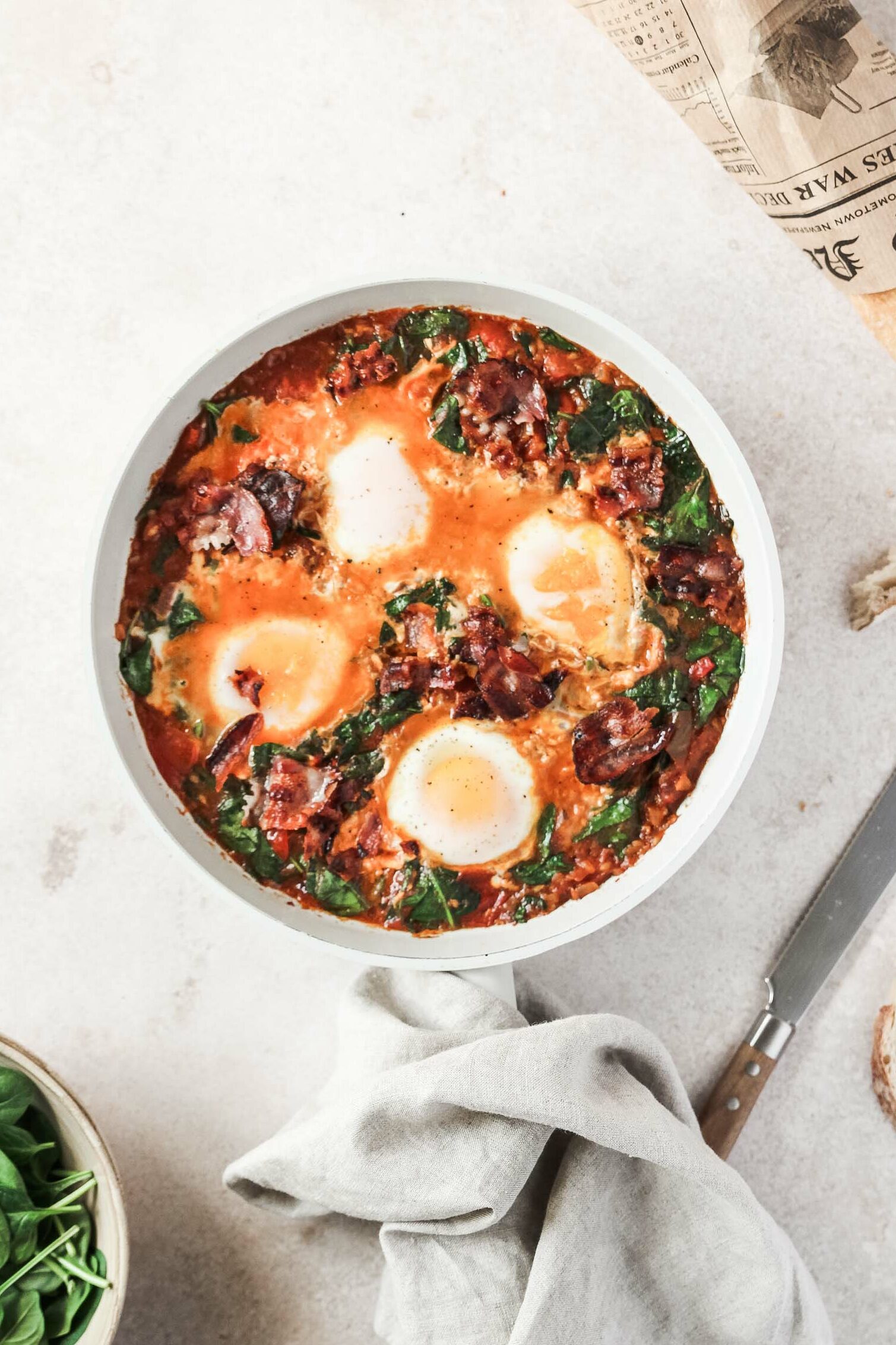 📖 Recipe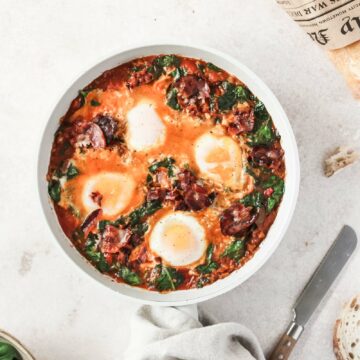 BLT Shakshuka
Delicious crossover! This BLT shakshuka combines the Middle Eastern dish with the ingredients of the classic American sandwich. Perfect for breakfast, brunch and basically any time of the day.
Ingredients
1

red onion

2

garlic cloves

4

bacon slices

350

g

cherry tomatoes (2 cups)

50

g

spinach (¼ cup)

4

(medium) eggs

2

tablespoon

olive oil

1

teaspoon

hot paprika powder

1

teaspoon

ground cumin

¼

teaspoon

salt

pepper to taste
Instructions
Peel and finely chop onion and garlic. Roughly chop tomatoes and spinach, and set them aside.

Heat a non-stick pan on medium to high heat. Arrange bacon slices next to each other and roast for about 2 minutes until crispy, flipping halfway through. Remove from pan and set aside on a paper towel to get rid of excess fat.

Add olive oil to the same pan and roast onion on medium heat for about 2 minutes. Add hot paprika, cumin and garlic, and roast for a couple of seconds. Add chopped tomatoes and 100ml (½ cup) water and cook on high for about 5 minutes, stirring occasionally. Turn down the heat to low, add spinach and stir.

Make four holes into the tomato sauce and crack in the eggs. Cover the pan with a lid and let steep for about 5 minutes until eggs are slightly cooked but still runny. Remove pan from heat.

Break up the roasted bacon into pieces, sprinkle over the shakshuka and serve with bread of choice.
Nutrition
Serving:
1
serving
Calories:
227
kcal
Nutritional values are estimates only calculated with the recipe calorie and nutrition calculator provided by verywellfit.com. The author of this website is not a nutritionist nor a doctor. All nutritional data provided in the recipes and correspondent blog posts are for informational purposes only. Do not use the information as nutritional or medical advice.