This Grain-Free Orange Cake With Cardamom Frosting is bursting with citrus flavour and comes with a tangy and healthier cream cheese topping. Perfect for serving as a birthday cake and party dessert to wow your guests.
Cardamon and orange = a love story
When it comes to my favourite flavour for sweets, it is definitely an orange flavour. I love the fresh citrus taste, which is a welcoming distraction from grey wintery days in the form of food. Since discovering cardamom and experimenting with it in the kitchen some time ago, a flavour combination that stuck with me was orange and cardamom. But why does the spice go so well with the citrus fruit? Let's dive in.
Oranges are bursting with fresh citrus flavour and have a tangy feel. Cardamon also comes with a zesty flavour and touch of freshness. Combined, they enhance each other and intensify the desired flavour. Magical, right?
The intensely aromatic spice, often used in Middle Eastern and Indian cuisine, also pairs well with other citrus fruits. Think of combining it with mandarines, lemons, grapefruits and even summer fruits like in this Watermelon Cardamom Granita. A little goes a long way with this spice, so test with a small amount and see which intensity you like.
Grain-Free Orange Cake With Cardamon Frosting
This cake recipe is dear to my heart because I developed it for my birthday and love the outcome. To make an otherwise simple carb and sugar-loaded dessert more balanced, I opted for healthier ingredients without taking away from the richness and flavour.
For the cake batter, I mixed almond flour with ground almonds. The nutty ingredients are rich in complex carbs and healthy fats without having an overpowering nut flavour. Bonus: This makes the cake also naturally gluten-free. To give the orange cake the right sweetness, I used maple syrup instead of refined sugar and less as in traditional sugar-loaded recipes. It brings just the right sweetness and keeps the sugar intake low. Last but not least, I also opted for just a little bit of maple syrup when making the cream cheese frosting. The cardamom does its part and creates a healthier frosting with lots of flavour.
So let's get down to business with some tips for making this tangy cake and get the recipe.
Tips for making this Grain-Free Orange Cake
When using the zest from an orange, be sure to buy organic produce with eatable skin.

Non-organic citrus fruits are often sprayed with pesticides and toxic substances to ensure longer shelf life.

Mix the dry ingredients and the wet ingredients separately before mixing them together. This ensures the cake batter is mixed well without lumps.

Let the cake cool completely before coating it with the cardamom frosting. Otherwise, the frosting would lose its texture and melt off the cake.

You can also turn this grain-free orange cake into a lemon cake. Just use the zest of one lemon and juice of two lemons to turn it into a lemony sweet treat.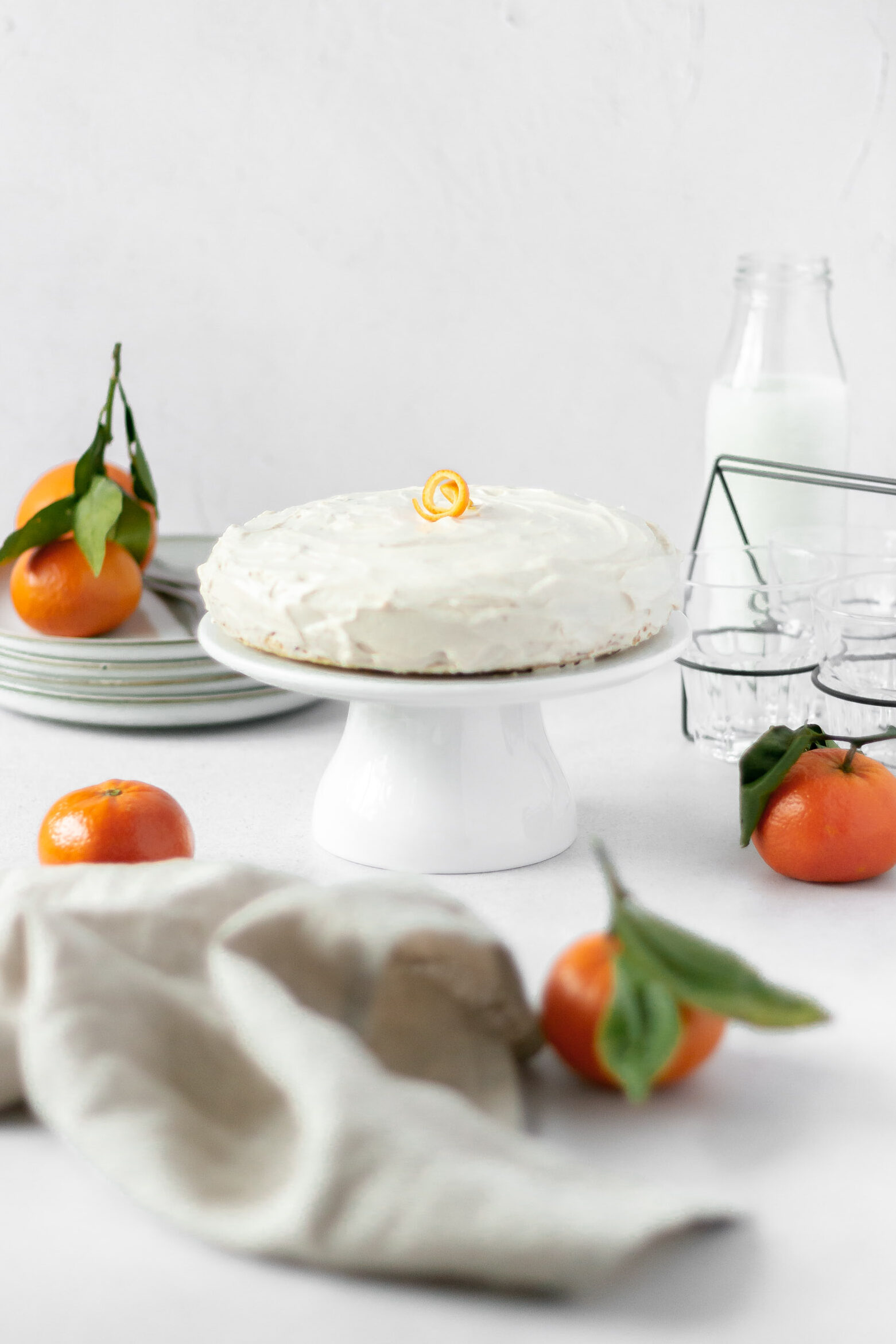 Craving more grain-free orange desserts?
Try these flavourful muffin recipes to satisfy your cravings in a balanced way:
Grain-Free Orange Chocolate Chip Muffins
📖 Recipe
Grain-Free Orange Cake with Cardamom Frosting
This Grain-Free Orange Cake With Cardamom Frosting is bursting with citrus flavour and comes with a tangy and healthier cream cheese topping. Perfect for serving as a birthday cake and party dessert to wow your guests.
Ingredients
For the orange cake
100

g

almond flour (1 cup)

100

g

ground almonds (1 cup)

4

large

eggs

room temperature

60

ml

coconut oil (¼ cup)

melted

80

ml

maple syrup (⅓ cup)

1

teaspoon

baking powder

½

teaspoon

baking soda

1

orange

(juice and zest)

pinch of salt
For the cardamom frosting
250

g

cream cheese (7 oz)

full fat

1 ½

tablespoon

maple syrup

½

teaspoon

ground cardamom
Instructions
Preheat the oven to 160°C (325°F). Grease a round 20cm (8 inch) cake pan with a little coconut oil and line the bottom with parchment paper. Zest and juice the orange.

In a big bowl, mix together all the dry ingredients (almond flour, baking powder, baking soda and pinch of salt). In a different bowl, mix all the wet ingredients (eggs, coconut oil, maple syrup, orange juice and orange zest).

Pour the wet ingredients into the almond flour mixture and whisk/mix until combined and smooth with no lumps.

Transfer the batter into the cake pan and bake for 40 to 45 minutes until a toothpick inserted into the dough comes out mostly clean.

Meanwhile, mix cream cheese, cardamom and maple syrup in a bowl with a whisk. Cover and store in the fridge until the cake is ready.

Take the cake out of the oven, let it cool completely and remove it from the pan. Coat with the cream cheese frosting, slice and serve.
Nutrition
Serving:
1
slice
Calories:
267
kcal
Nutritional values are estimates only calculated with the recipe calorie and nutrition calculator provided by verywellfit.com. The author of this website is not a nutritionist nor a doctor. All nutritional data provided in the recipes and correspondent blog posts are for informational purposes only. Do not use the information as nutritional or medical advice.