One of the fruits getting me excited when Fall rolls around are plums. The seasonal produce is a mainstay in popular Austrian dishes, very versatile and delivers some decent health benefits.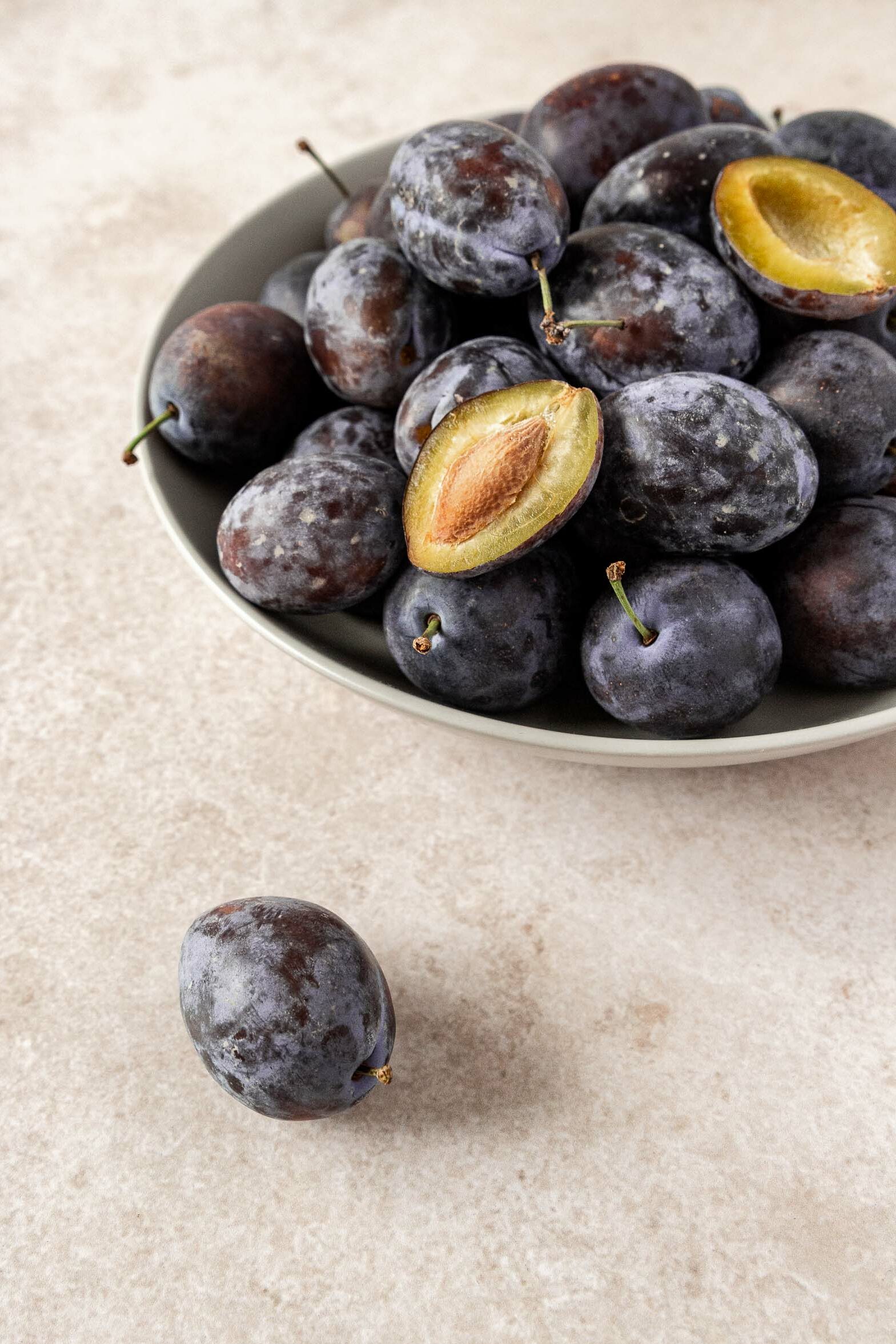 Falling for fall fruits
Although I am more of a Spring and Summer kind of person, I get excited for the colder months because of the fruits and vegetables in season now. In Austria, that means getting fresh and delicious plums all around town because it is a beloved fruit here and harvested from late Summer to Fall.
Plums
The stone fruit grows in many species, which vary in colour and taste. The colour can be anything from red and orange to yellow and blue when looking at the skin and flesh. The same is true for the taste. Plums can range from very sour to sweet, depending on the type of plum and ripeness of the fruit. Perfectly ripe fruits are sweet and juicy with a slightly sour note.
While there are many plum species, one that is most know over here is the European plum (Prunus domestica), which belongs to the prune-type plums. It comes in a slightly oval shape and has bluish-purple skin. The taste can vary from sour to sweet, depending on how ripe it is. When ripe, they are a sweet and juicy delight. The firmer the fruit, the sourer it will be and vice versa.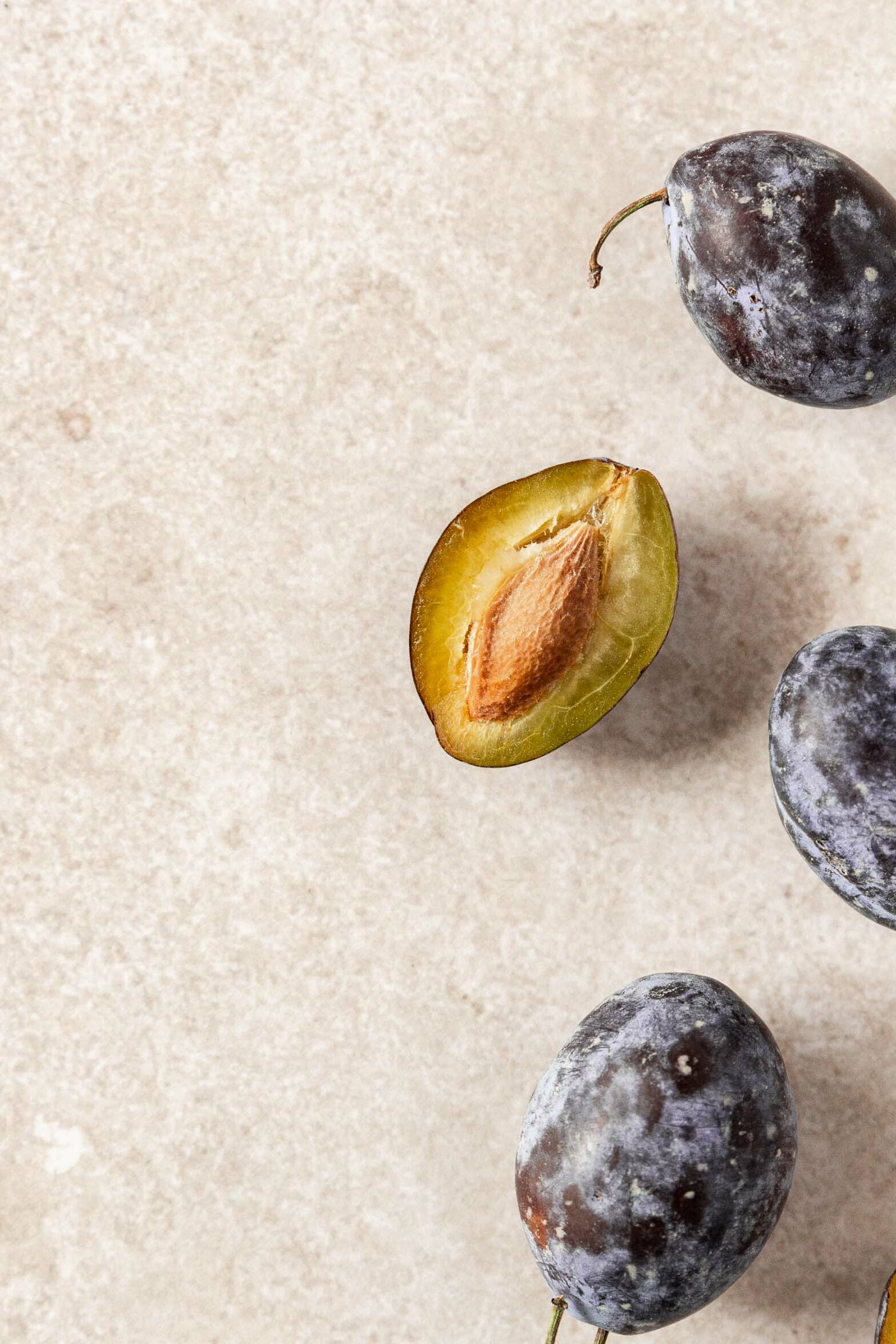 Nourishing fall fruit
Let's get down to the nutrients of this delicious stone fruit. Plums not only are delicious, but they also pack a punch of vitamins and minerals. The Fall fruit is a good source of vitamins K, A and B and also delivers potassium. Moreover, they contain iron, which helps produce red blood cells. If you lack iron, you may feel fatigued and irritated often and need to increase your iron intake.
Read more about the health benefits of plums nutritional overview by Healthline.
Buying and storing plums
Buy plums locally at farmers markets or directly from farmers if you get the chance. They taste much better than the mass-produced fruits, and you get organic produce. A win-win situation!
When buying plums, look for fruits that have smooth skin and firm flesh. They are best stored in a cool dark place and will hold up in the refrigerator for a couple of days. It is best to use ripe plums right away because they will rot fast.
What to make with plums
Plums are a staple here in Austria and used extensively in Fall to make all kinds of delicious dishes. Some of the most traditional sweet recipes here contain plums. I'm thinking of Zwetschkenknödel (plum dumplings), served with sweet breadcrumbs and Kaiserschmarren, a thick cut pancake traditionally paired with a plum compote. Get the recipe for my Healthy Plum Compote (Zwetschkenröster) here. And don't forget all kinds of delicious plum cakes, which you get in Austrian bakeries and cafés this time of the year and the most traditional sweet treat, plum jam.
But plums are not only a delight in sweet dishes but also a great addition to savoury recipes. They go well with roast or grilled meat when turned into a sauce or chutney. Also, incorporate them into all kinds of salads for a fruity twist.
Finally, plums are also great to drink. They make a flavourful addition to cocktails when puréed and are delicious and nourishing when turned into a fresh juice. What's not to love?
Want to read more about fall produce?
I wrote a blog post about my most used vegetables, onion and garlic.