Want to know how to make the quickest nut milk (no soaking)? With this easy method, you can make dairy-free milk in no time. The best part? No soaking the nuts for hours involved. The ingredients of this plant-based make it naturally vegan, dairy-free and gluten-free.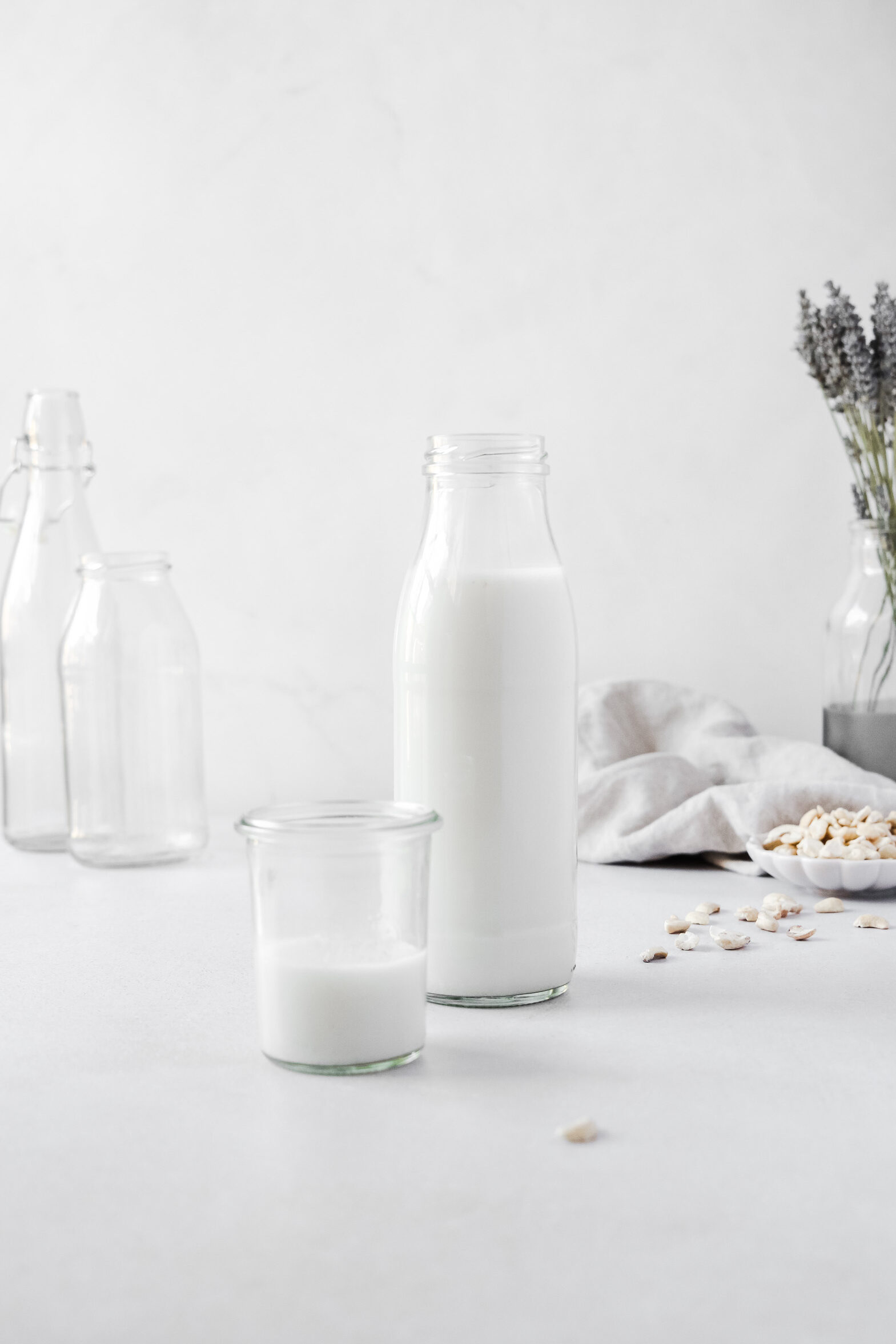 How To Make The Quickest Nut Milk (No Soaking)
I wanted to make nut milk at home for a while now, but there was always a problem. I either had not soaked the nuts long enough beforehand or did not have enough nuts at home to make the dairy-free milk. You may ask yourself: How do you make nut milk without whole nuts and without soaking? Let me explain.
Instead of whole nuts, I used nut butter to take a shortcut here. To make nut milk at home, you must usually soak the nut for several hours. That makes them softer and blendable. But why wait a couple hours to soak the nuts if you can have basically the same result within seconds? Exactly! I will show you how you can easily make this nut milk within two minutes and just a few ingredients.
Also, this is the perfect homemade nut milk recipe if you do not have a strong blender. Because nut butter is way easier to blend than any whole nuts.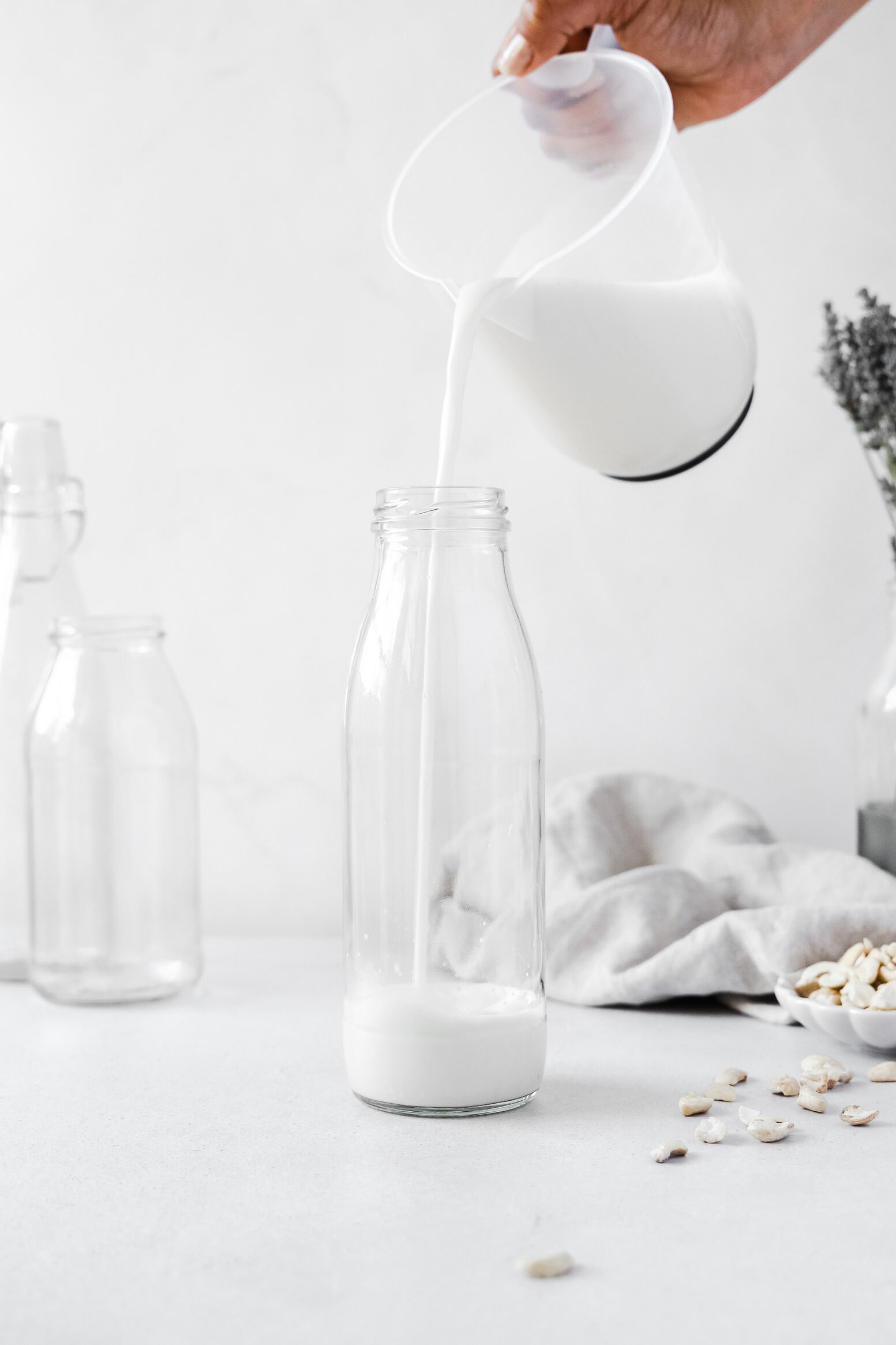 Why is nut milk good for you?
Store-bought almond or other nut milk often comes with sugar and other additives to extend its shelf life. This homemade version comes with only simple and nourishing ingredients. To up the flavour, you can add different spices and a bit of natural sweetener.
Quick nut milk ingredients
This recipe comes together with just a few simple ingredients. Here is what you'll need:
Nut butter – almond butter, cashew butter, hazelnut butter, and pistachio butter are all great to make this dairy-free milk.
Water – Mixed with the nut butter, the water turns into creamy milk.
Vanilla extract (optional) - I love my milk with a slight vanilla flavour, so I add a little vanilla extract while blending.
Sweetener (optional) – You can use agave syrup, maple syrup or honey for this recipe, depending on your taste.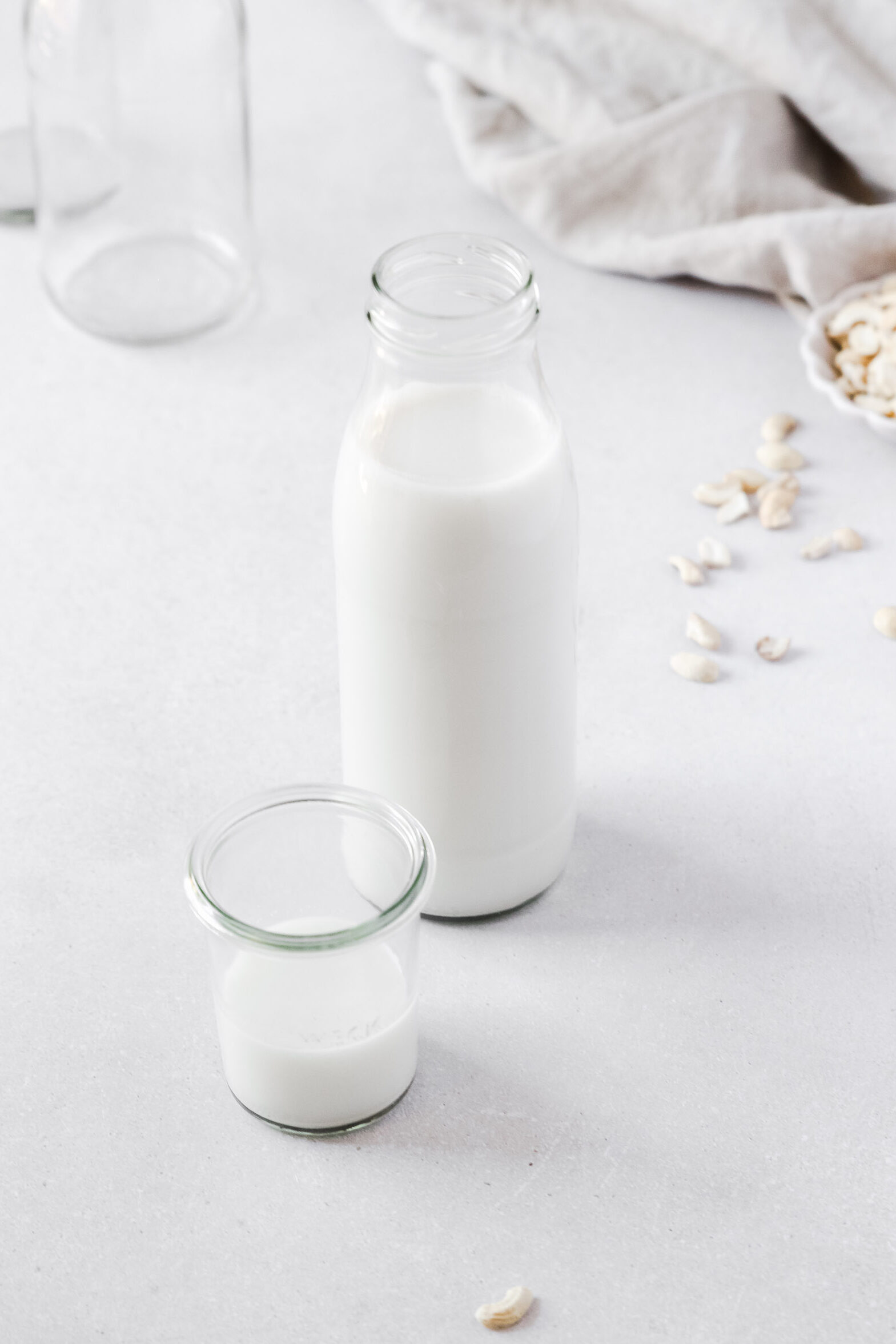 Why you'll love this quick nut milk recipe
This recipe is one of the best food hacks I know and perfect for anybody. Here is why you'll love it:
No soaking
With regular homemade nut milk recipes, you will have to soak the nuts for hours or overnight to make them ready to blend. Using nut butter instead of whole nuts skips this process entirely.
Simple ingredients
For this homemade nut milk, you only need a few simple ingredients. All you need is your preferred nut butter and water. If you want to get a little fancier, you can add a natural sweetener like agave syrup, maple syrup, honey or dates and add some spices like vanilla, cinnamon, cardamom and much more.
Ready in 2 minutes
It is the fastest recipe in my arsenal to date because it only takes two minutes to prepare this plant-based nut milk.
No high-speed blender, no problem
Because this recipe uses nut butter and not whole nuts like most of the other dairy-free milk recipes, you don't need the most powerful blender to make it.
Customisable
You can change up the recipe to your personal preferences. I used cashew butter here, but any nut butter works. Be sure to buy pure nut butter with no added sugar to keep it healthy. You can also experiment with spices and add them while mixing the nut milk. Try vanilla, like in this recipe, cinnamon and cardamom to spice things up.
Healthy
A few simple and nourishing ingredients are all it takes to make this delicious and healthy nut milk. You can skip the agave syrup to make the nut milk even healthier.
Plant-based and diet-friendly
By ingredients, this recipe is perfect for vegans, vegetarians and people who have intolerances. Because it is naturally vegan, gluten-free, grain-free, dairy-free, and soy-free. Moreover, this quick homemade nut milk is whole 30, keto and paleo.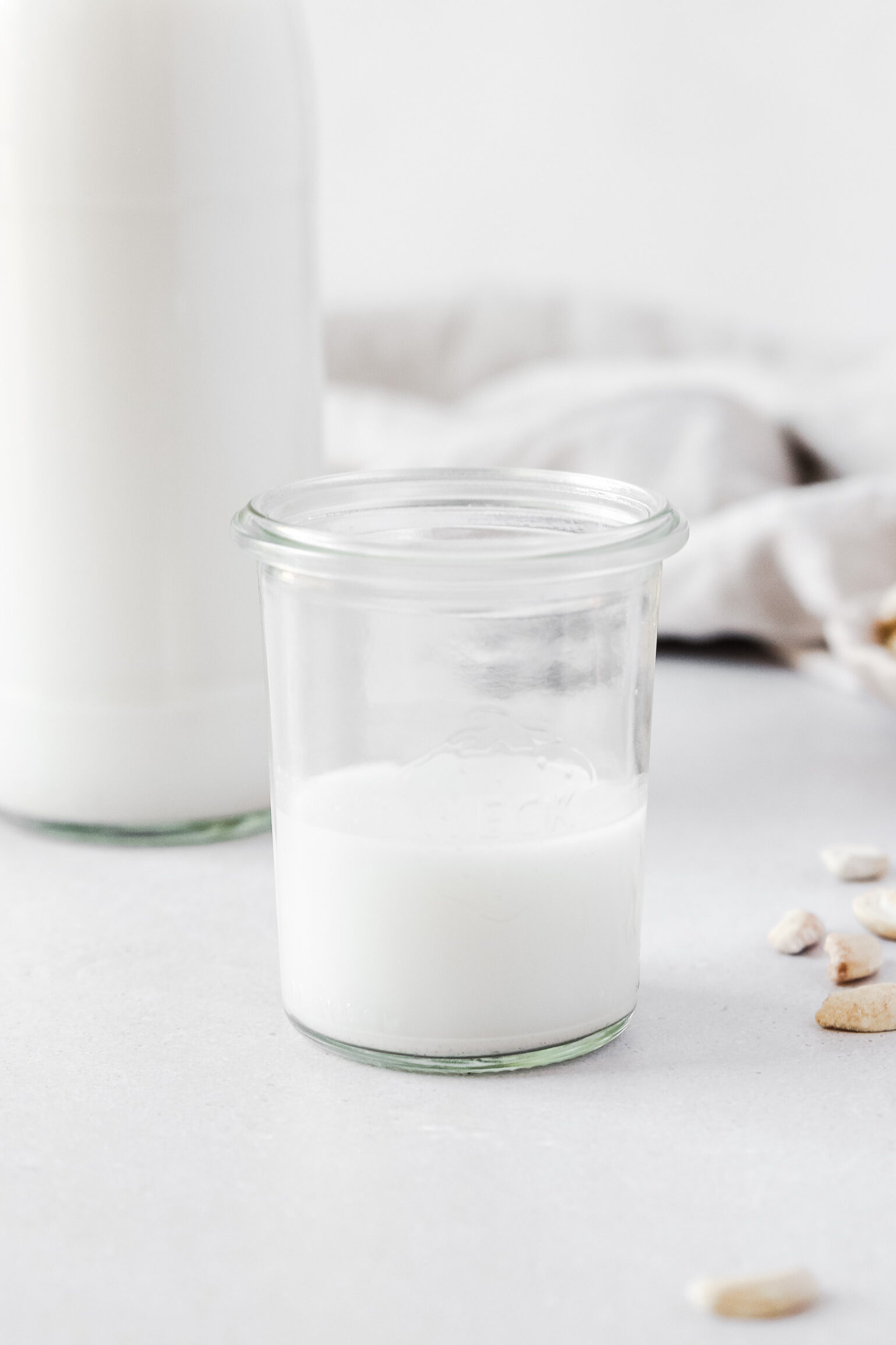 Tips for making this recipe
This quick nut milk is customisable to your liking. Instead of cashew butter, you can opt for almond, hazelnut, or even pistachio butter to make your own delicious nut milk.

The ratio of nut butter to water in this recipe resembles regular milk. For a creamier result, use more nut butter.

The sweetener in this recipe is totally optional. If you want to make this completely sugar-free, skip the agave syrup.

Instead of agave syrup, you can use maple syrup or honey instead. I used agave syrup because it doesn't come with a taste of its own. But that's a choice of mine so do however you wish because it is your preferred version of the non-dairy milk.
How long does this nut milk keep?
Store your homemade nut milk in a sealable glass bottle or metal container in the fridge. This way, it will last for a few days, but it is best enjoyed fresh after making. When you use the nut milk, shake the bottle beforehand. It will separate when standing for a longer time.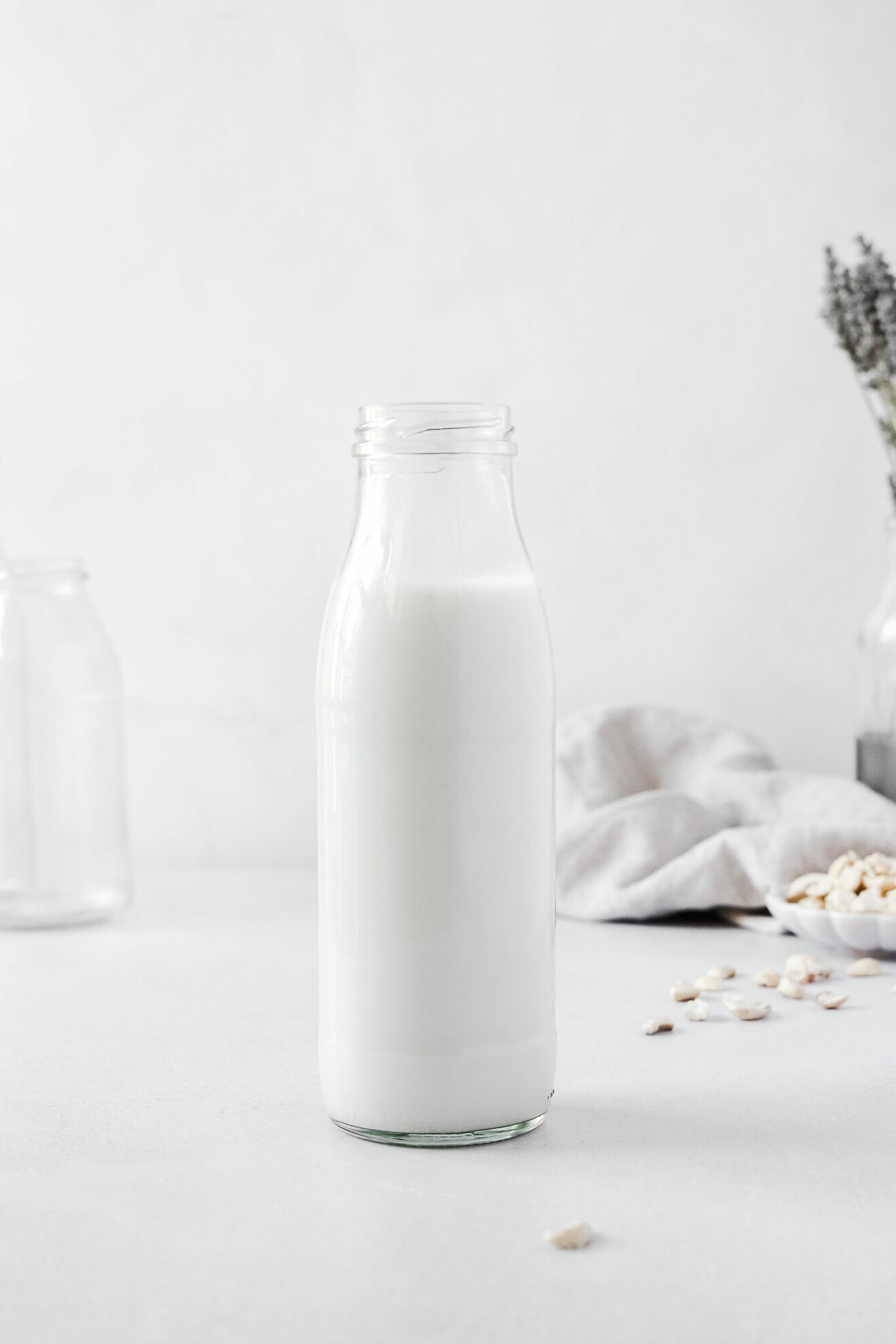 More recipes you'll love
📖 Recipe
Hot To Make The Quickest Nut Milk (No Soaking)
Homemade nut milk in 2 minutes? Yes, that is possible. With this easy method, you can make dairy-free milk in no time. The best part? No soaking the nuts for hours involved. The ingredients of this plant-based make it naturally vegan, dairy-free and gluten-free.
Ingredients
2-4

tablespoon

nut butter of choice

500

ml

water (2 cups)

1

teaspoon

agave nectar (or maple syrup, honey)

½

teaspoon

vanilla extract
Instructions
Place 2-4 tablespoon of the nut butter in the blender and add water. The more nut butter you add, the creamier the milk will be. Blend for about 30 seconds until combined. Add vanilla extract and agave syrup and blend again until creamy and smooth.

If desired you can strain the nut milk through a fine-mesh sieve, nut milk bag or cheesecloth to make it even smoother.

The homemade nut milk will separate while storing. Give it a good shake before using and enjoy pure or use for many different.

Keep in a sealable glass bottle or metal container and store in the fridge.
Nutrition
Serving:
1
serving
Calories:
112
kcal
Nutritional values are estimates only calculated with the recipe calorie and nutrition calculator provided by verywellfit.com. The author of this website is not a nutritionist nor a doctor. All nutritional data provided in the recipes and correspondent blog posts are for informational purposes only. Do not use the information as nutritional or medical advice.