The seasonal root vegetable is a mainstay in classic Austrian recipes and comes with nutritional benefits. Read all about the aromatic fall vegetable celery root (celeriac) and get some delicious recipe ideas.
I root for root vegetables!
There are vegetables that everybody loves and uses often, and then there are vegetables that are not so popular. Celeriac (aka celery root) is a very underrated vegetable. For me, it is a total underdog when it comes to root vegetables.
I get it. It is a ball that comes with weird brown skin. But if you look past its look, a beautiful and white inner flash reveals itself. That's why I wanted to shine a light on this often overlooked vegetable in the produce aisle and tell you more about it. Let's dive into it, shall we?
Celeriac vs. Celery
Celeriac is a root vegetable grown in Fall and Winter. It is often mistaken with celery because they are different parts of the same vegetable. The root is named celeriac, and the long green stems with leaves on top are called celery. Even though they are the same vegetable and taste similar, there is a slight difference. While celeriac tastes earthier and more intense, celery has a milder and fresher taste.
Celeriac, the celery root, has beige knobbly skin and quite a weight. It may not be the most beautiful vegetable, but I love it for its taste and nutritional benefits. It is rich in vitamin C, K and B6, contains fiber but is low in calories. Read more about its health benefits here.
Although I put it in the fall produce section here, it is available in supermarkets all year round. But it is best when used between September and April when it's freshly grown. When buying, make sure the celery root is firm, dry, and not discoloured with dark brown spots.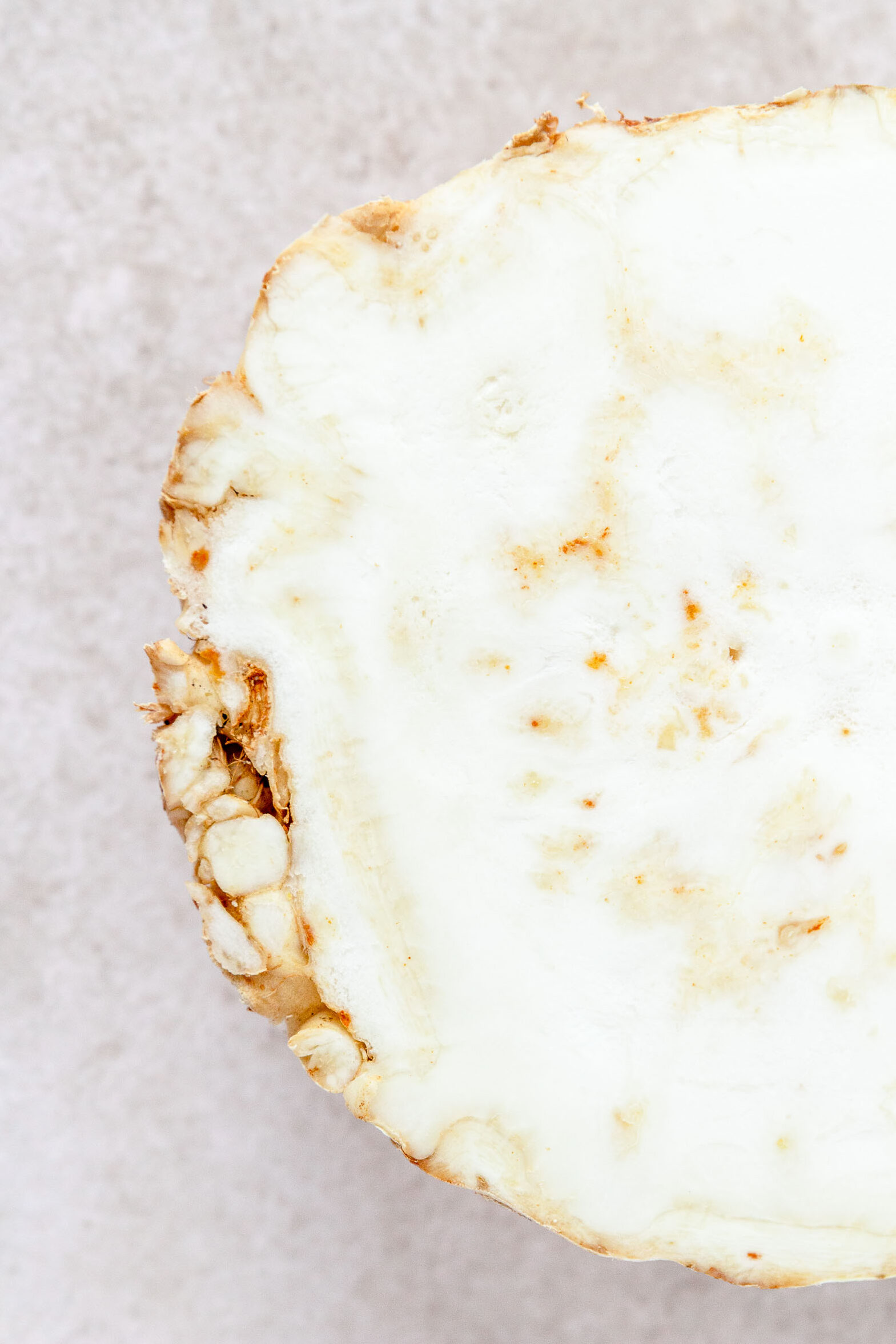 What to cook with celery root
Celeriac is a great winter vegetable to use in a variety of dishes. Its distinctive flavour is a frequently used ingredient in classic Austrian beef and chicken soup. But celeriac is also an aromatic addition to comforting stews because it adds a rich and earthy taste.
The root vegetable is also delicious to eat with your protein of choice. Creamy like mashed celeriac or roasted and crispy, the root vegetable makes a flavourful and balanced side. When peeled and cut into rough chunks, it boils in about 20 minutes and roasts in the oven in 30 to 40 minutes. You can try a roasted version of my Quick Herb Roasted Butternut Squash recipe with celery root. Just replace the butternut squash with celeriac, and you'll have a delicious and balanced side in under 30 minutes.
I also tried myself on a soup recipe that is different from the classic soups you associate with celery root. I wanted to shine a light on this root vegetable and make it the main star in this White Wine Celery Root Soup. So I paired it with white wine and some delicious spices to create a decadent and comforting soup. Even though it may sound decadent, the recipe is super easy. Try it yourself and let me know what you think.
The best part? Celeriac, like celery, can be eaten raw too. Finely chop or grate it and put it in salads and bowls for a nourishing dish. The aromatic vegetable has an intense flavour when eaten raw. Pair it with other vegetables and fruits strong in flavours like beets, onions, cabbage, and turnips.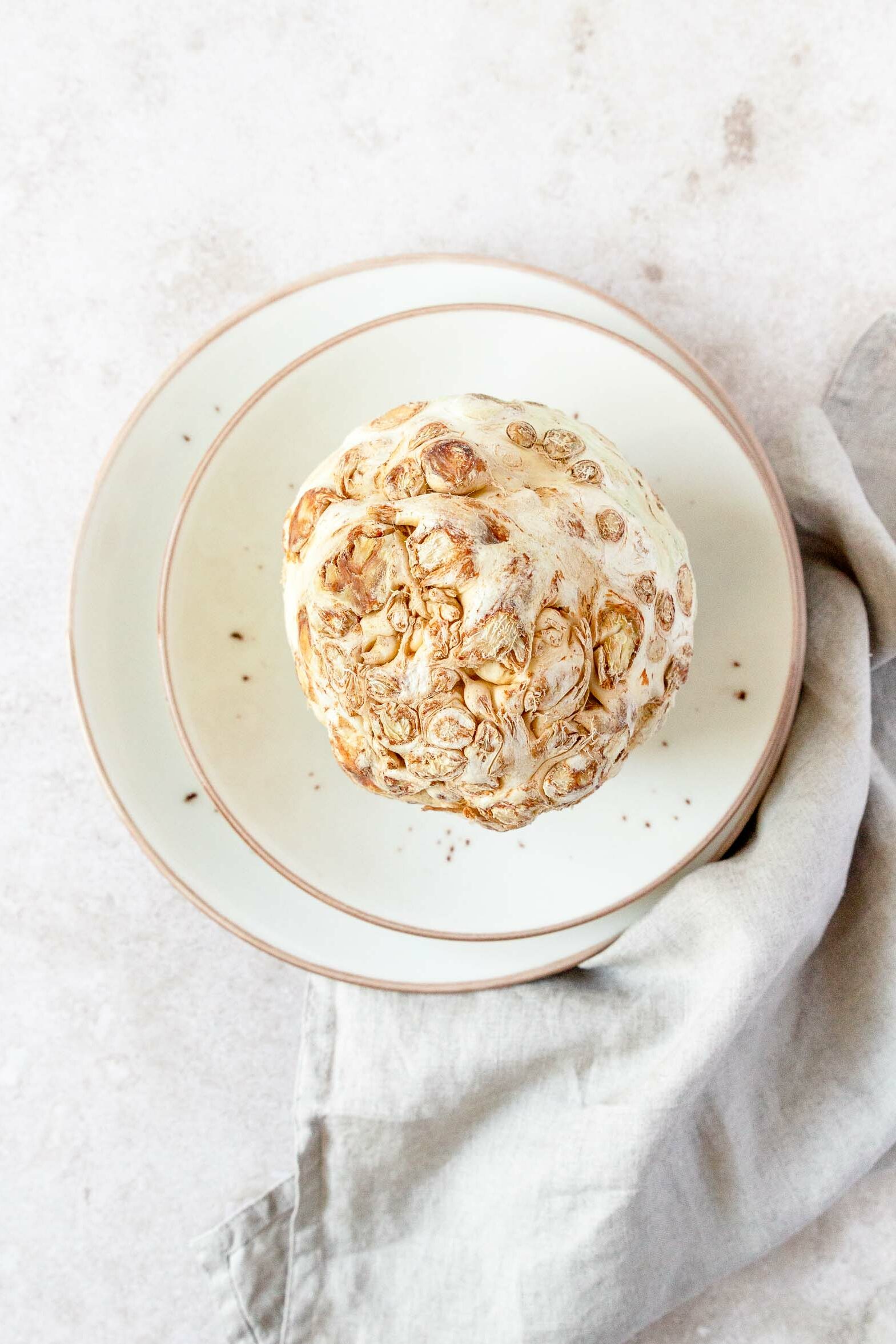 How to store celeriac
The root vegetable is great for buying in bulk. It keeps for several months in a dark, cool and dry place. When cut, store in the fridge for about a week, but the white flesh will turn brown. It is like an apple turning brown when cut. To avoid the celeriac flesh turning brown, wrap the cut root in household film or sprinkle with lemon juice.
Did you like this post?
If you found this information in this post useful, it means the world to me if you leave a review below.