The orange seasonal produce with its distinctive shape is the ultimate fall ingredient for comforting dishes. Read all about pumpkin here and try some balanced dishes, perfect for the colder season.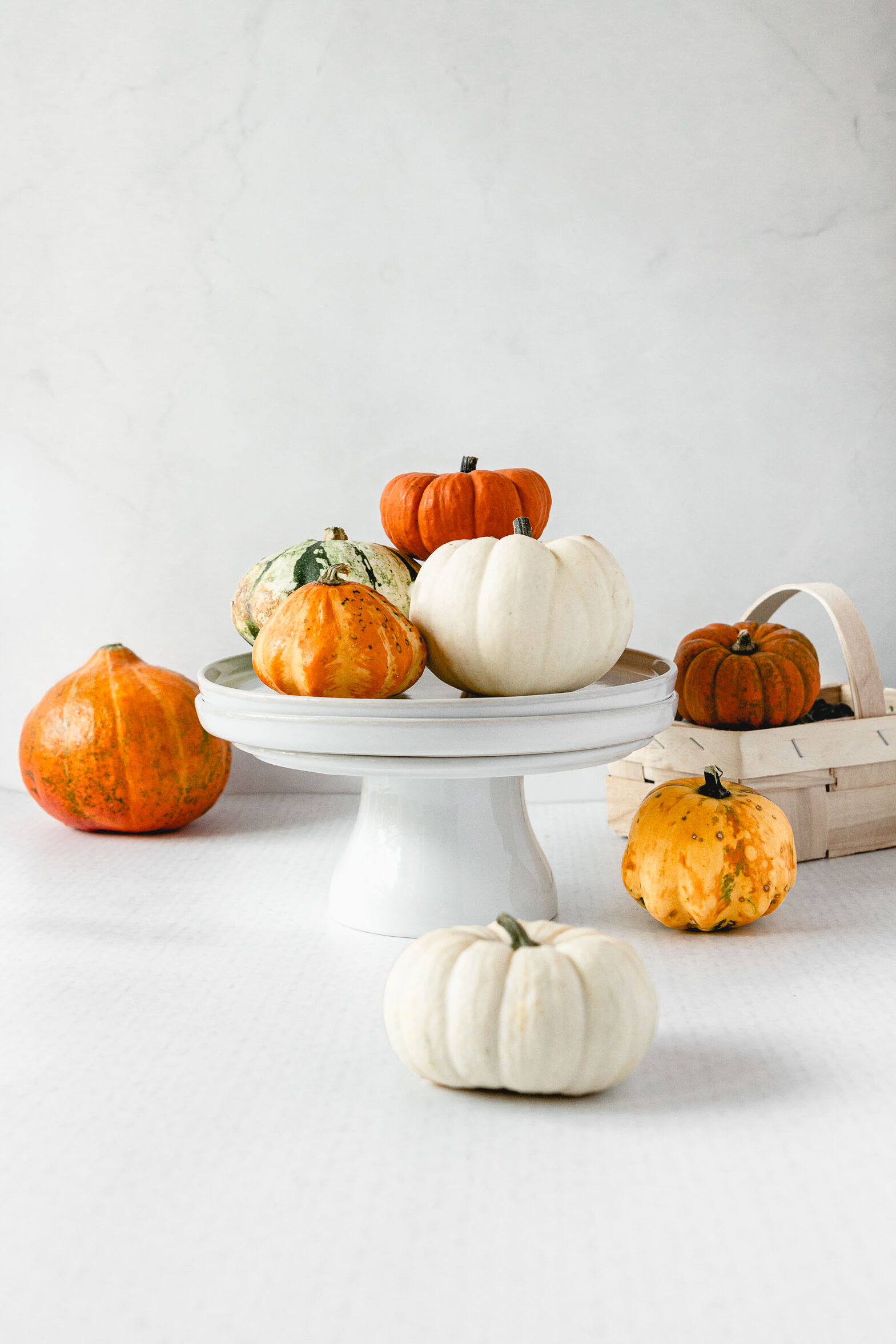 Vegetable or fruit?
Even though I am more of a warm-weather person, I am excited when fall rolls around because of the vegetables and fruits in season. The ultimate seasonal produce pumpkin has a special place in my heart.
Pumpkin, a type of winter squash, comes with bright orange coloured skin and orange flesh. It usually is referred to as a vegetable, but that is not entirely true. Pumpkins are technically fruits because they contain seeds. They are in the same plant family as melons and cucumbers. But looking at their nutritional value, squash is more a vegetable. It is technically a fruit vegetable because it holds the best of both worlds. Pretty cool, right?
Pumpkin or squash?
Squash comes in a lot of varieties, pumpkin being a type of squash. The different species vary in colour, shape and slightly in taste, with some sweeter and others more savoury. Moreover, the texture of the flesh varies, and there are also squash types that are only for decoration.
We love to eat squash here in Austria and are lucky to get organically grown squash all over the country this time of the year. You can buy it from September until November at local farmers markets or in the supermarket. It keeps well for several months when stored in a dark and cool place.
In Austria, farmers in the southern part of the country turn pumpkin seeds into delicious oil. Styria is known for making high-quality pumpkin seed oil, with one being better than the other. The oil has a dark green colour and a nutty flavour. It is used as a salad dressing, soup topping or even eaten with vanilla ice cream, an unexpected but delicious combination. But even before turning them into oil, the pumpkin seeds are a deliciously crunchy snack when dried and seasoned.
T

ypes of squash and what to cook with

them
Squash is such a versatile vegetable, and you can incorporate it into many savoury and sweet dishes. With a large variety of squash types to choose from, there is a squash for everything you want to cook.
The types of squash most often found in the kitchen here are:
Red Kuri squash, also known as Hokkaido pumpkin or Japanese squash, is bright to dark orange coloured and has a juicy but firm flesh. It is delicious in sweet and savoury dishes and comes with eatable skin. It is delicious when made into pumpkin soup, mashed pumpkin and pumpkin pie.
Butternut squash has a lighter orange colour and comes in a longer shape. It is slightly sweeter in flavour and used for making pasta and soup but also roasted in the oven. You shouldn't eat the skin of this one, so peel it off when using it.
Spaghetti squash is light yellow, almost cream coloured and comes with shredded flesh. It is ideal to use as a healthy and low-carb pasta substitute instead of zucchini noodles.
Acorn squash has a green, often speckled, skin and yellow-orange flesh. This squash type has a shape like an acorn with non-eatable skin. Fill with seasoned minced meat, quinoa or vegetables and bake in the oven for an easy and delicious meal.
Delicata squash is long shaped and comes with a striped light orange and green shaped skin, which is eatable. It is delicious when roasted or baked in the oven. Make as a healthy side dish or as a nourishing ingredient for bowls and salads.
Overall, pumpkin is a very versatile no-waste fruit vegetable. The flesh, skin and seeds are delicious in a variety of dishes. Pro tip: No matter how you use it, every squash loves a generous amount of spices and herbs. Read on to get some delicious and balanced pumpkin recipes to make this season.
Read more about the types of squash here and here.
Healthy seasonal produce
Beyond being a delicious ingredient for all kinds of dishes, pumpkin comes with a ton of nutrients. The orange fruit vegetable is rich in vitamins, minerals and fibre, which nourish the body.
Pumpkin contains beta-carotene (turned into vitamin A), alpha-carotene and others. It provides the body with a dose of antioxidants, helping it fight free radicals and be more resistant to infections. The best part? It is not only full of nutrients but also low in calories, containing over 90% of water.
Moreover, the pumpkin seeds are an excellent source of plant-based fat, making them a crunchy and nutritious snack or topping for salads and soups.
Read more abour this nutritional powerhouse here and here.
Pumpkin recipes to try
Quick Herb Roasted Butternut Squash
The perfect nourishing side dish for fall! This Quick Herb Roasted Butternut Squash delivers a mouth-watering flavour combination of herbs and spices you want to make again and again. 
Make this recipe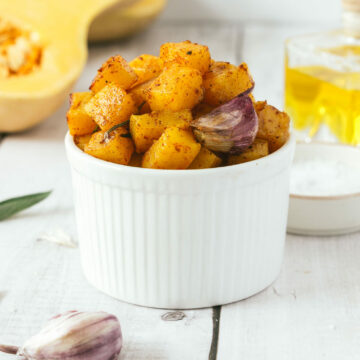 Savory Pumpkin Soup Without Cream
This savory pumpkin soup without cream transforms the season's favorite vegetable into an aromatic and creamy bowl of goodness, perfect for celebrating fall.
Make this recipe