This Cranberry Cashew Chocolate Bark is the food gift that keeps on giving. Made of just three ingredients and easy to prepare, it is the perfect last-minute food gift for the holiday season.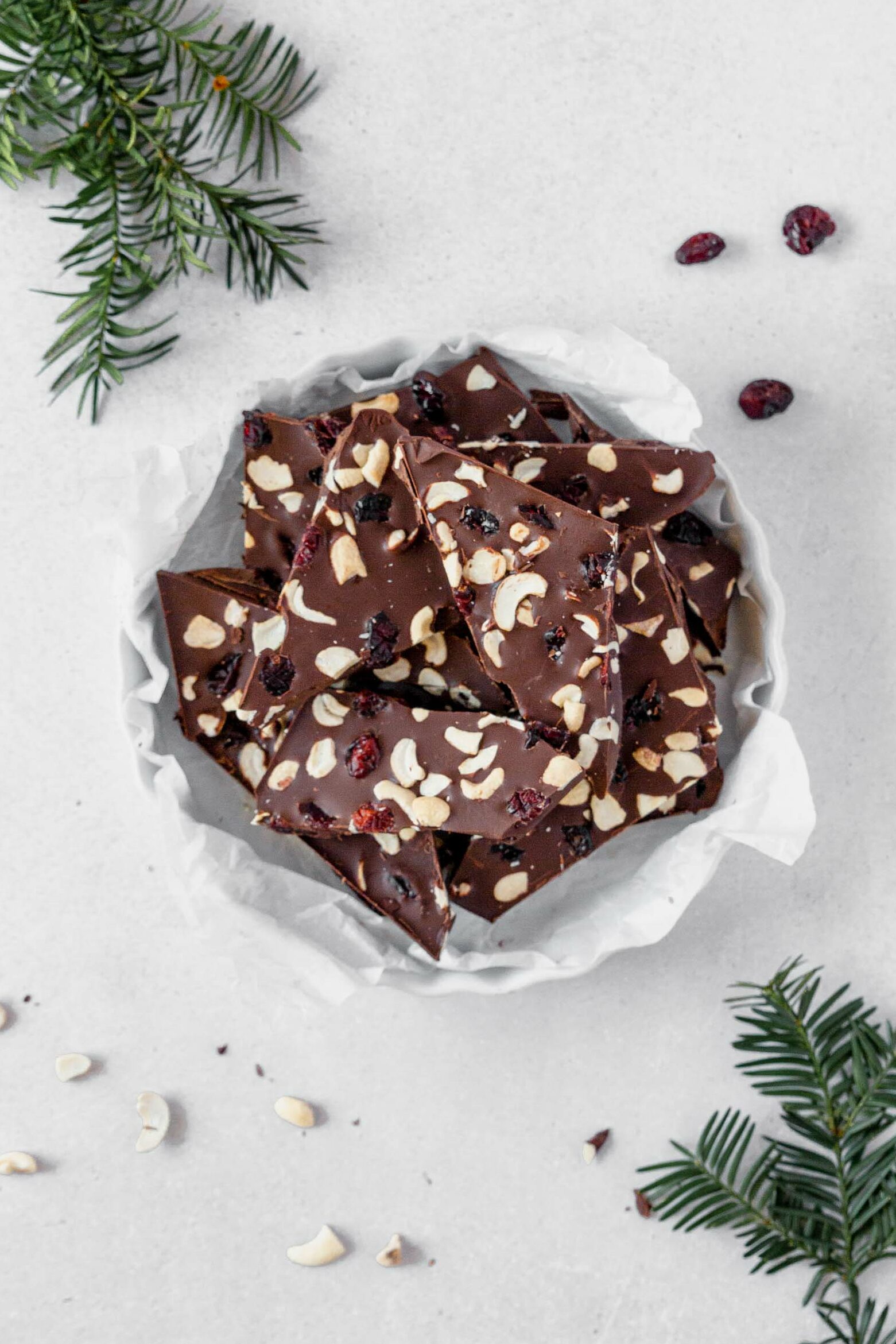 Cranberry Cashew Chocolate Bark
Food gifts are the best gifts, at least in my opinion. Because you can eat it (duh) and customize it for the person who receives the gift. My strongest memories always involve food, and even though I forget things about a situation I was in years ago, I always remember what food I had and how it tasted.
So, I wanted to make a food gift that is delicious, versatile and memorable. Use the nuts, spices, dried fruits and more that your loved ones like and make a delicious chocolate bark out of it. This sweet and flavourful treat will surely deliver and put a smile on the face of the person who gets it. The best part? These pretty chocolate shards look like you spent a long time in the kitchen but only take 10 minutes to prepare and a bit of cooling time.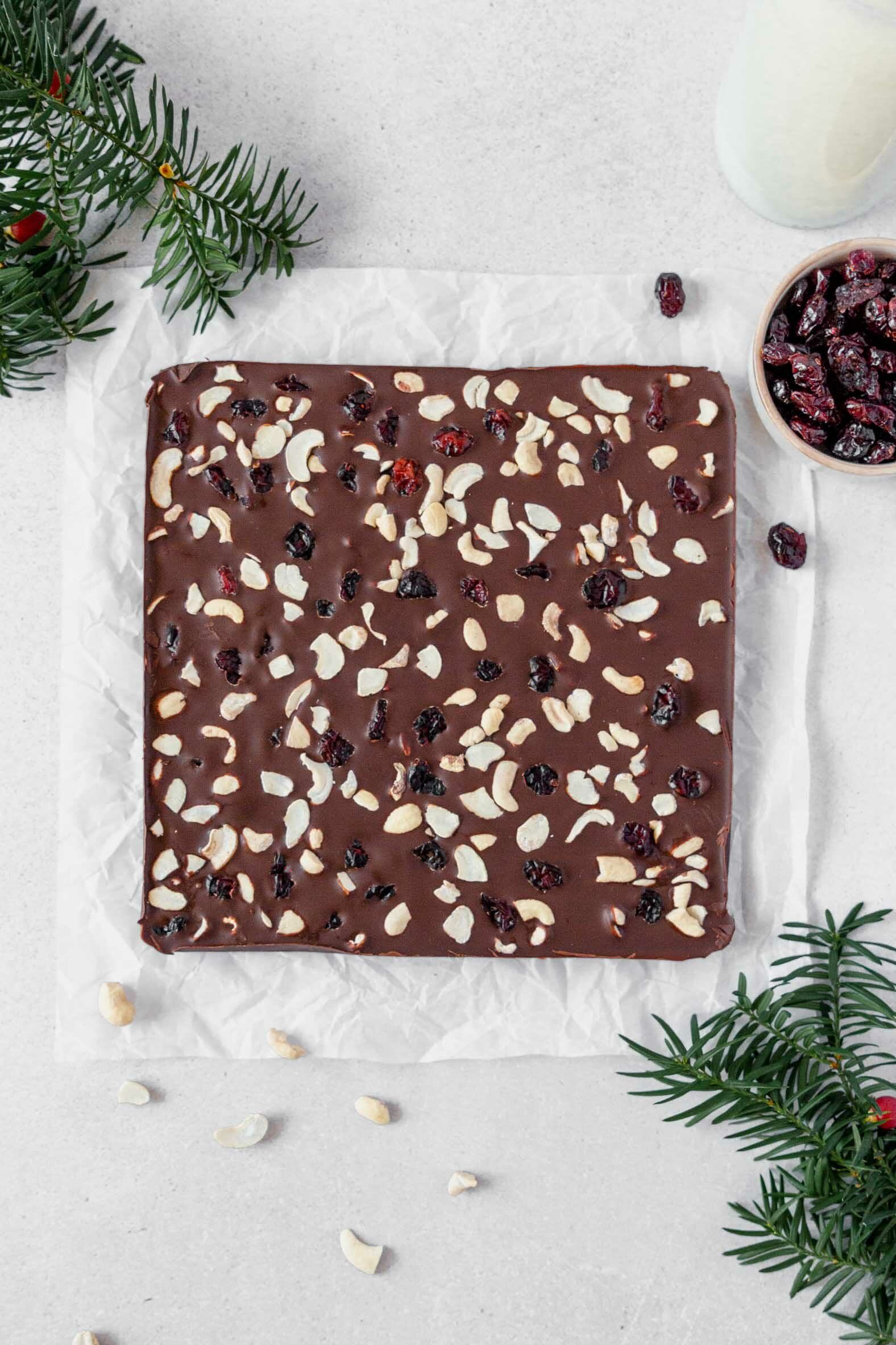 Tips for making this recipe
This recipe is super easy to make and very versatile. Here are some tips and tricks to get the best result:
I used 70% dark chocolate for this recipe, but you can also use a darker or lighter variety.

Substitute for other nuts or dried fruits, depending on your taste. Other great additions are nuts like almonds, walnuts, hazelnuts and dried fruits like pomegranate, raspberries, raisins, mangos. Let your creativity run wild.

For this recipe, I used a 20x20cm (8x8 inches) baking tray and got a chocolate bark that was similar in thickness to store-bought chocolate. You can also use a bigger or smaller baking tray. Keep in mind that the chocolate will be thicker or thinner when doing so.

Sprinkle the other ingredients on the chocolate right after pouring it into the baking tray. Otherwise, the chocolate will begin to harden, and the other ingredients just sit on the chocolate without holding onto it.

Cut the chocolate with a sharp knife to get beautiful chocolate shards without some parts chipping away.
More chocolate food gift ideas
Dark Chocolate Raspberry Cookie Bars
No-Bake Stracciatella Energy Bites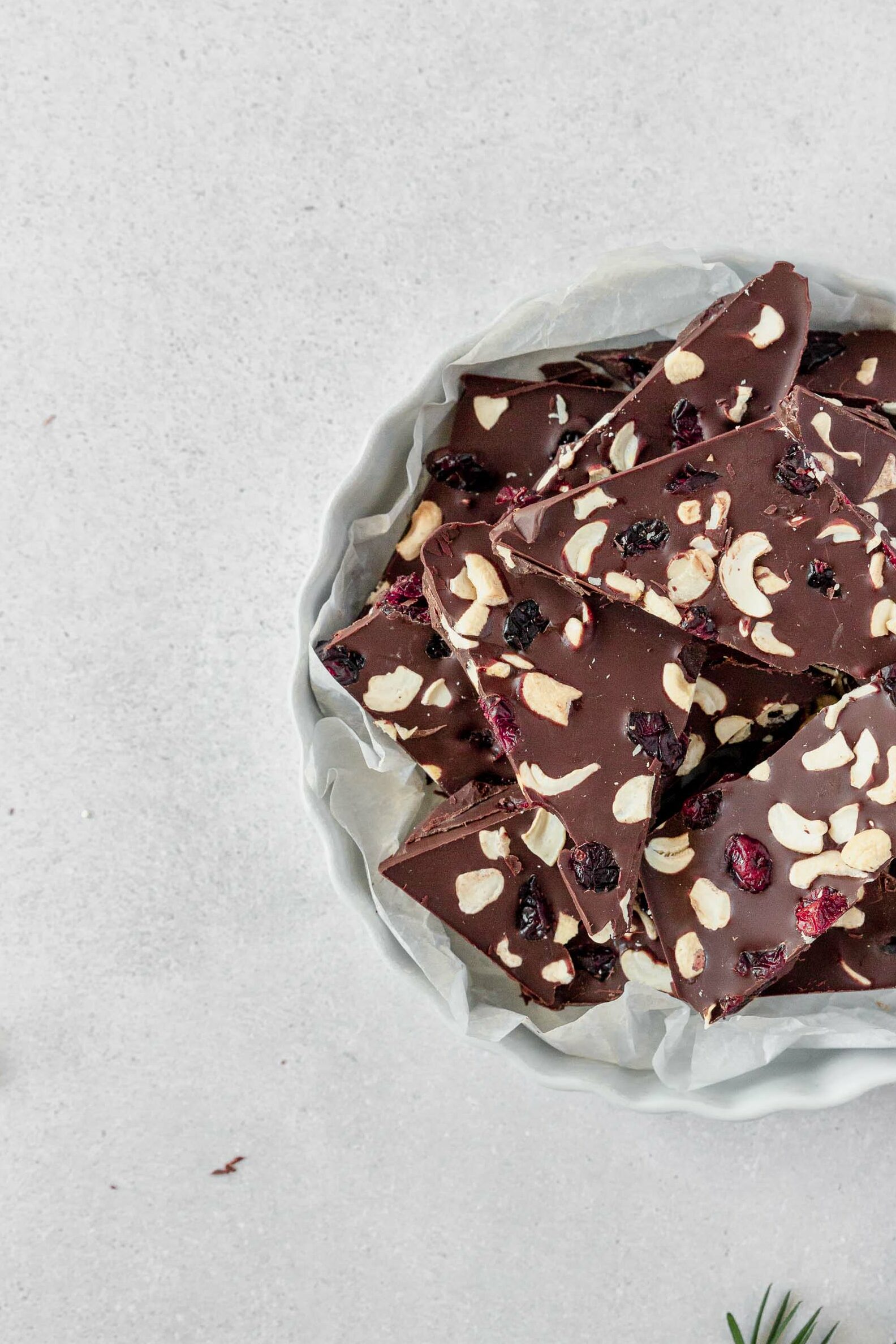 Cranberry Cashew Chocolate Bark
This Cranberry Cashew Dark Chocolate Bark is the food gift that keeps on giving. Made of just three ingredients and easy to prepare, it is the perfect last-minute food gift for the holiday season.
Ingredients
300

g

70% dark chocolate (10 oz)

50

g

raw, unsalted cashews (⅓ cup)

50

g

dried cranberries (⅓ cup)
Instructions
Coarsely chop cashews and break up the chocolate into pieces.

Melt chocolate in a heatproof bowl over a saucepan or pot with simmering water. Make sure the water doesn't touch the bowl when melting the chocolate. Meanwhile, line a 20x20cm (8x8 inches) baking pan with parchment paper.

Once melted, pour the chocolate into the baking pan or onto a sheet pan and sprinkle with cashews and dried cranberries. Refrigerate for about 2 hours until set.

Cut into irregular pieces and serve or wrap the pieces and gift them.
Nutrition
Nutritional values are estimates only calculated with online tools. The author of this website is not a nutritionist nor a doctor. All the nutritional data provided in the recipes and correspondent blog posts are for informational purposes only. Do not use the information as nutritional or medical advice. Since the nutritional value can vary depending on the products used, it is recommended to calculate it based on the actual type of ingredients used.