Not your typical Linzer cookies! These creamy low sugar Cashew Butter Linzer Cookies are filled with spiced cashew butter for a balanced twist that is oh so delicious.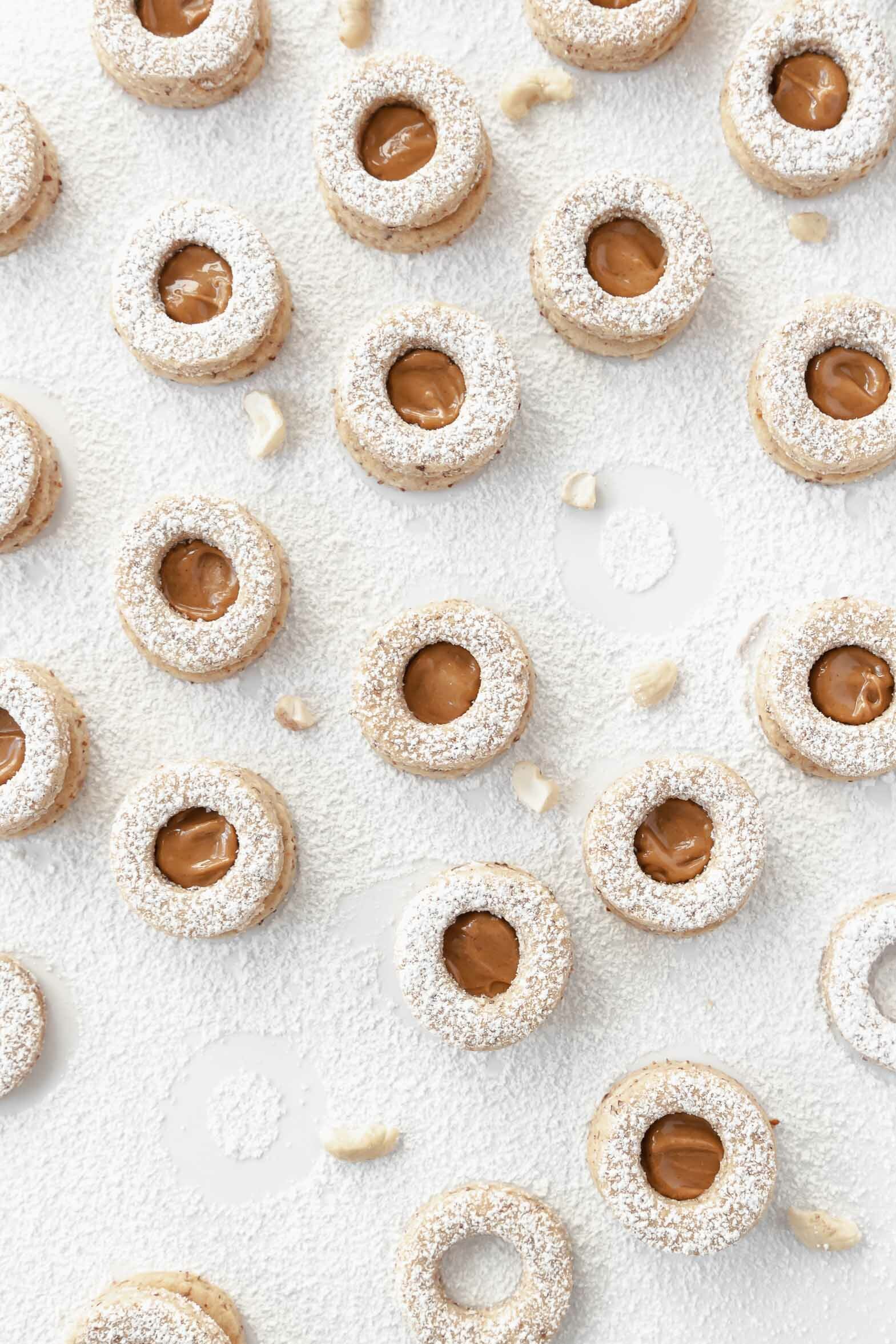 Cashew Butter Linzer Cookies (Low-Sugar)
When the Christmas season arrives, I am always most excited about the delicious cookies it has to offer. But I don't like their carb and sugar-loaded ingredients. That was enough reason to finally develop a healthier version of the traditional Austrian Christmas cookie. So I dared to try on a healthier version and added in an unexpected filling, combining two cookie flavours. Winner!
What goes into these Cashew Butter Linzer cookies
I used a mix of spelt flour and ground almonds for the dough. This mix brings in some complex carbs, healthy fats and reduces the simple carbs. Instead of refined sugar, I used mild maple syrup and reduced the amount. This way, the cookies still have a sweetness to them without going overboard with the sugar. Moreover, maple syrup adds a subtle caramel flavour into the mix. Because the maple syrup comes in liquid form and regular sugar does not, it also changed the texture of the dough, so I was able to use less butter too.
Last but not least, I thought out of the box when I created the filling for these creamy Linzer cookies. Instead of sugar-loaded marmalade, I used homemade gingerbread cashew butter (recipe in notes) for a delicious twist. Are you intrigued? Read on to get some tips for this recipe and bake this Christmas dessert for a more balanced sweet treat.
Tips for making this recipe
When adding the butter, make sure you use cold butter directly from the fridge. Cold butter helps you crumble it evenly into the dough before kneading.

Use kitchen or disposable gloves when kneading the dough to avoid dirty hands.

Depending on the size of your cookie cutter, you can end up with more or fewer cookies than stated in the recipe below. I used a 4cm (2 inch) cookie cutter to make 30 cookies.

You can also use other nut butter instead of cashew butter to make this recipe. Try hazelnut, almond or walnut butter to change it up.

Skip the powdered sugar to dust over the cookies if you want the keep the sugar amount even lower for this recipe.

Store the cookies in an airtight container in a cool place for up to 1 month.
More festive recipes to try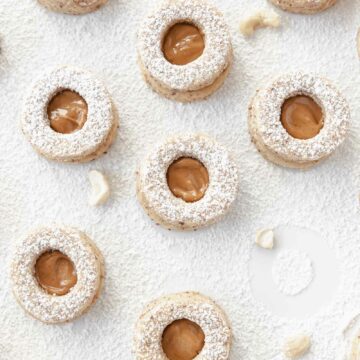 Cashew Butter Linzer Cookies (Low Sugar)
Not your typical Linzer cookies! These creamy low sugar Cashew Butter Linzer Cookies are filled with spiced cashew butter for a balanced twist that is oh so delicious.
Ingredients
For the dough
150

g

spelt flour (1 cup)

100

g

ground almonds (1 cup)

50

g

maple syrup (⅓ cup)

100

g

cold butter (7 tbsp)

1

egg yolk

1

tablespoon

vanilla extract

pinch of salt
Instructions
Preheat oven to 180°C and line two baking sheets with parchment paper. Separate egg white from egg yolk and set aside.

In a big bowl, mix spelt flour, ground almonds and a pinch of salt. Add cold chopped butter, maple syrup, egg yolk and vanilla extract. Crumble wet and dry ingredients together and knead to a dough with your hands. Wrap the dough into a plastic wrap and chill in the fridge for an hour.

Take the dough out of the fridge and cut it in half. On a floured surface, roll out one half around 0,5 cm (0,2"). Cut out cookies with a cookie cutter. Roll discard dough again and cut out cookies until you have 30 cookies. Continue with the other half of the dough and cut out cookies with holes.

Transfer the first batch of cookies onto the baking sheet and bake for 10 minutes. Let cool and transfer the second batch of cookies onto the baking sheet. Bake for 10 minutes and let cool completely.

Once cookies are cool add the spiced cashew butter to the base of the cookie and place another cookie on top. Sprinkle with confectioners sugar and enjoy.
Nutrition
Serving:
1
cookie
Calories:
74
kcal
Nutritional values are estimates only calculated with online tools. The author of this website is not a nutritionist nor a doctor. All the nutritional data provided in the recipes and correspondent blog posts are for informational purposes only. Do not use the information as nutritional or medical advice. Since the nutritional value can vary depending on the products used, it is recommended to calculate it based on the actual type of ingredients used.