Hydrate with taste! These 3 Healthy Infused Water Ideas come with delicious fruits and herbs to make hydrating a breeze.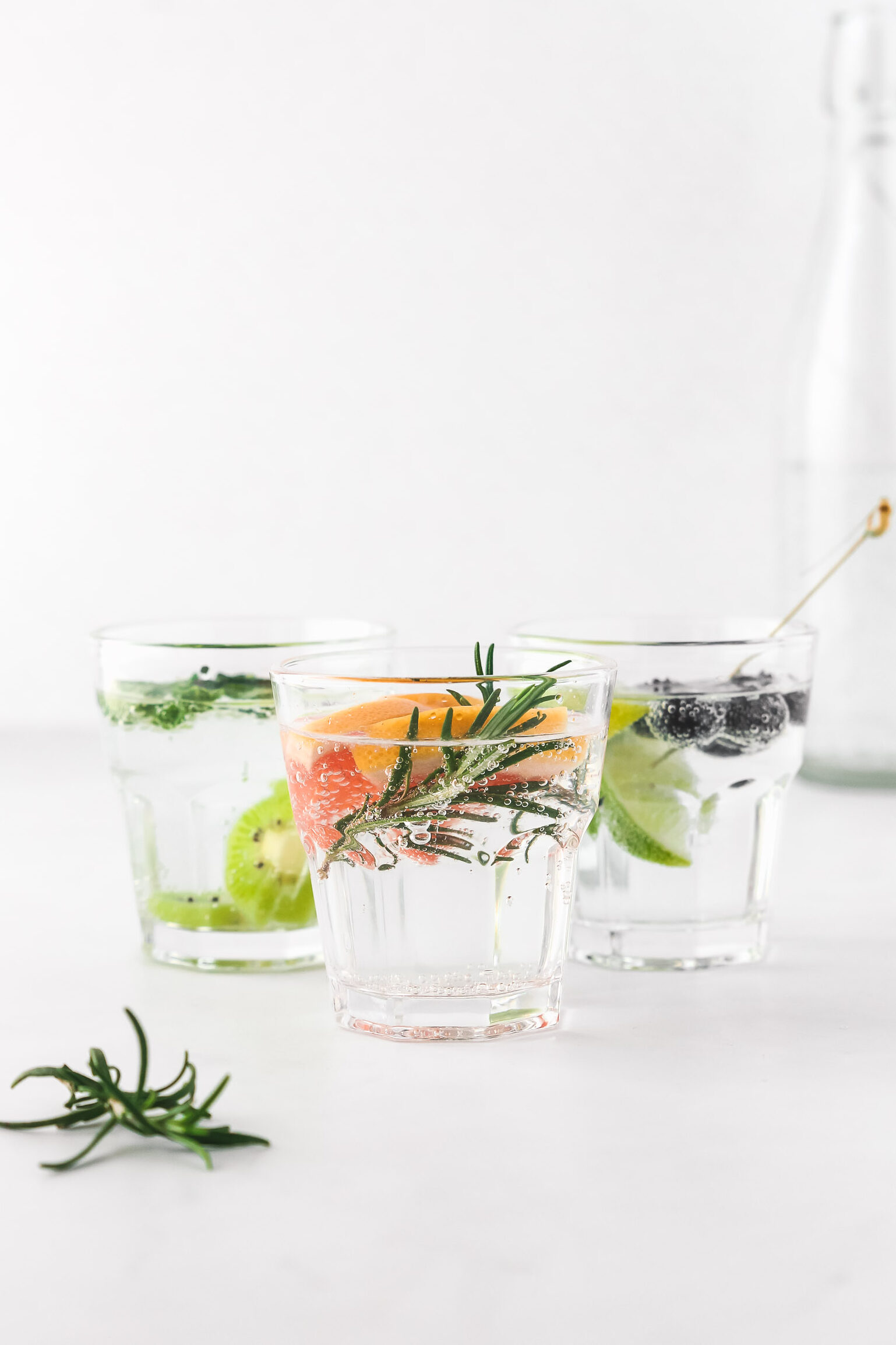 Healthy hydrating with infused water
Hydrate, hydrate, hydrate! Even if you're tired of hearing it, it is a big part of the fuel that keeps our system running. Drinking at least 2 litres (68 oz) of water a day is the healthiest way to do so. Although this number can vary a bit, depending on gender, weight and activity level.
I don't know about you, but drinking plain water is a little boring to me. So I mostly opt for tea or infused water as a healthy option to stay hydrated. My favourite ones have a fruity and herby touch, with a fresh flavour keeping me excited throughout the day to drink enough water. The fruit at the bottom of the glass, when you have finished, is the cherry on top (pun intended!).
How long does infused water keep?
When kept in the fridge, infused water lasts for up to 4 days. Check the fruit for any spoilage before drinking, just to be sure. If you want to eat the infused fruits, I would recommend eating them the day same day or latest the day after.
Tips for making infused water
Always buy organic fruits and herbs when infusing them. Non-organic produce is often sprayed with pesticides and other additives that don't wash off the skin at home.

The longer you let the fruit and herbs infuse in the water, the stronger the taste gets. I usually leave the fruit in the water for one to four hours to get the desired flavour.

I use sparkling water when infusing water most of the time because I like it more, but these infused water recipes are also delicious with still water.
3 Healthy Infused Water Ideas
Grapefruit & Rosemary Infused Water
Citrus fruits are a great way to add a fresh taste to your water. Instead of the usual lemon water, grapefruit and rosemary are a tangy combination to change things up.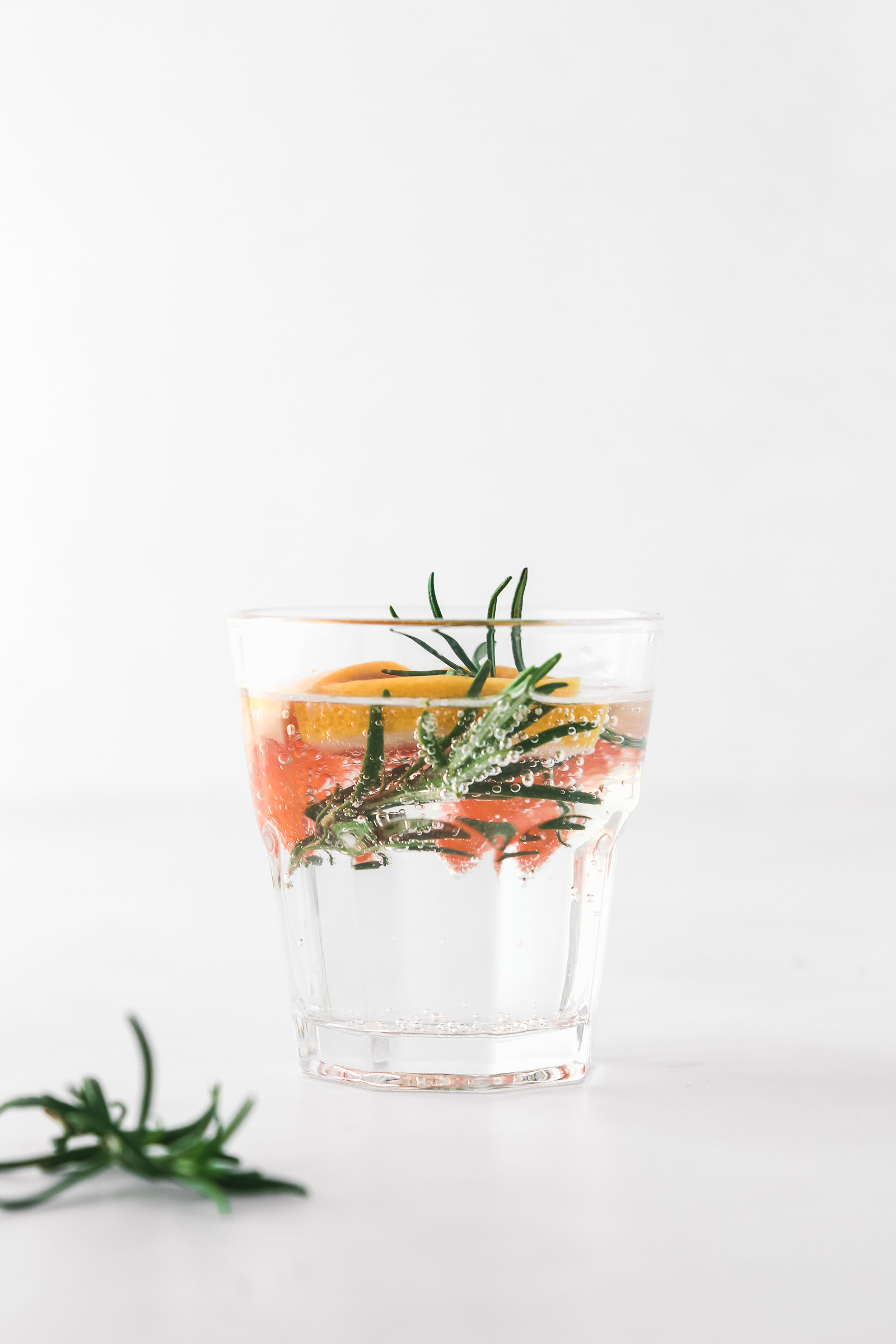 Kiwi & Mint Infused Water
The tropical fruit gets enhanced by the minty herb for a refreshing combination.
Blueberry & Lime Infused Water
Berries with a touch of citrus? Yes, please! This blueberry and lime infused water deliciously combine these two flavours.
More healthy drink recipes
📖 Recipe
3 Healthy Infused Water Ideas
Hydrate with taste! These 3 Healthy Infused Water Ideas make hydrating a breeze.
Ingredients
Grapefruit & Rosemary
½

grapefruit

2

sprigs

rosemary

500

ml

water (16 oz)
Kiwi & Mint
1

kiwi

(peeled)

2

sprigs

mint

500

ml

water (16 oz)
Blueberry & Lime
50

g

blueberries

1

lime

500

ml

water (16 oz)
Instructions
Cut fruits and put them in a glass or bottle alongside the herbs.

Fill with sparkling or plain water and let infuse for up to 4 hours. The longer the fruits and herbs sit in the water, the more prominent the taste gets.

Enjoy your healthy hydrator!
Nutritional values are estimates only calculated with the recipe calorie and nutrition calculator provided by verywellfit.com. The author of this website is not a nutritionist nor a doctor. All nutritional data provided in the recipes and correspondent blog posts are for informational purposes only. Do not use the information as nutritional or medical advice.