On the hunt for food photography props without breaking the bank? I got you covered with my Affordable Props For Food Photography And Hosting guide. Read all about what to look for when buying dinner- and serveware plus affordable options to shop.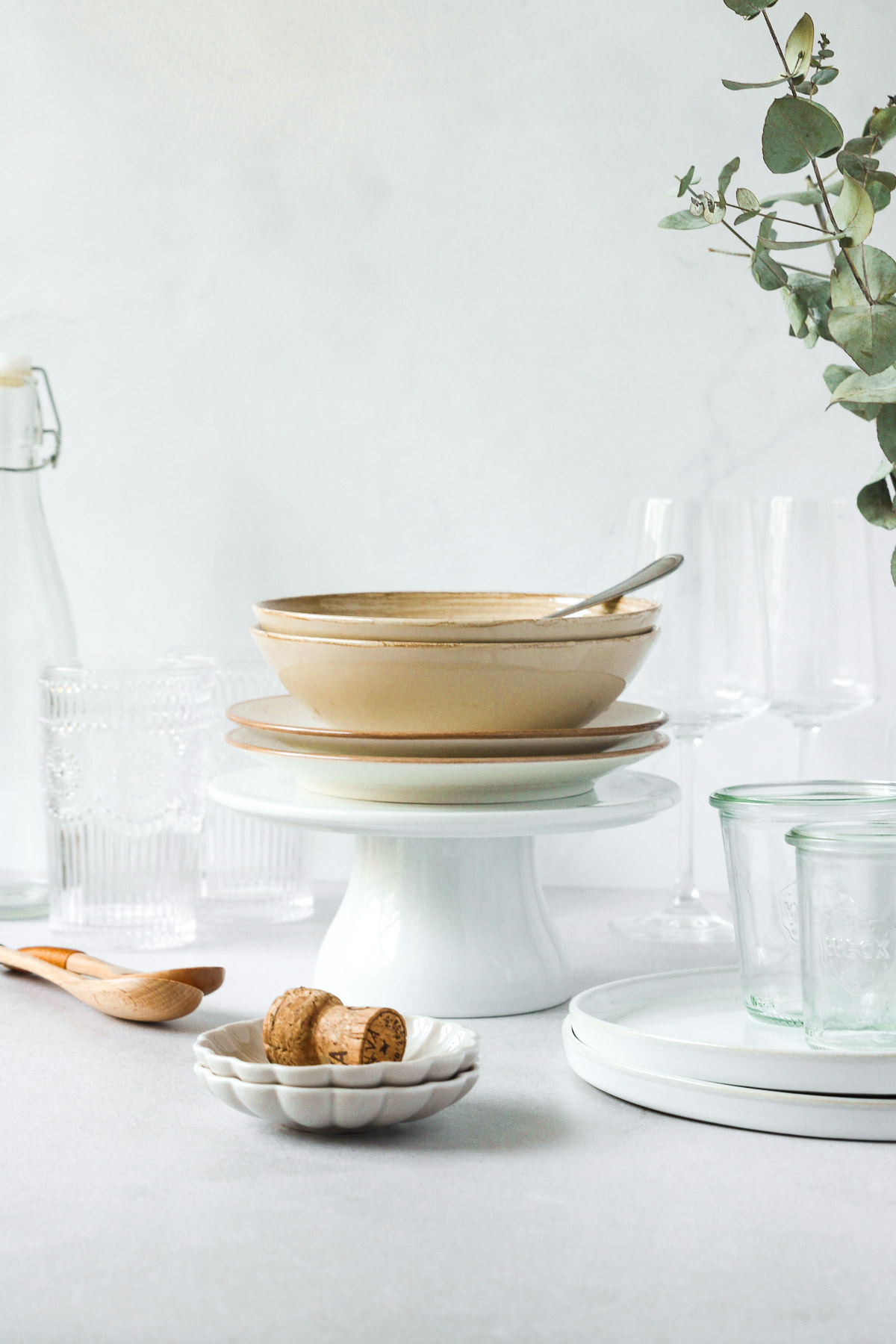 When I started this food photography journey for my food blog over a year ago, I had to learn a lot of things. How to handle my camera in manual mode, shoot in different light situations, and style various types of food. That journey also involves creating a prop collection.
Building a prop collection is a marathon, not a sprint. So don't think that you have to buy everything at once to take great photos. Start with things you already have at home and look for affordable options along the way to expand the collection over time.
This post is not sponsored or includes affiliate links. I truly love the shops I buy from, and I'm sure you'll love them too.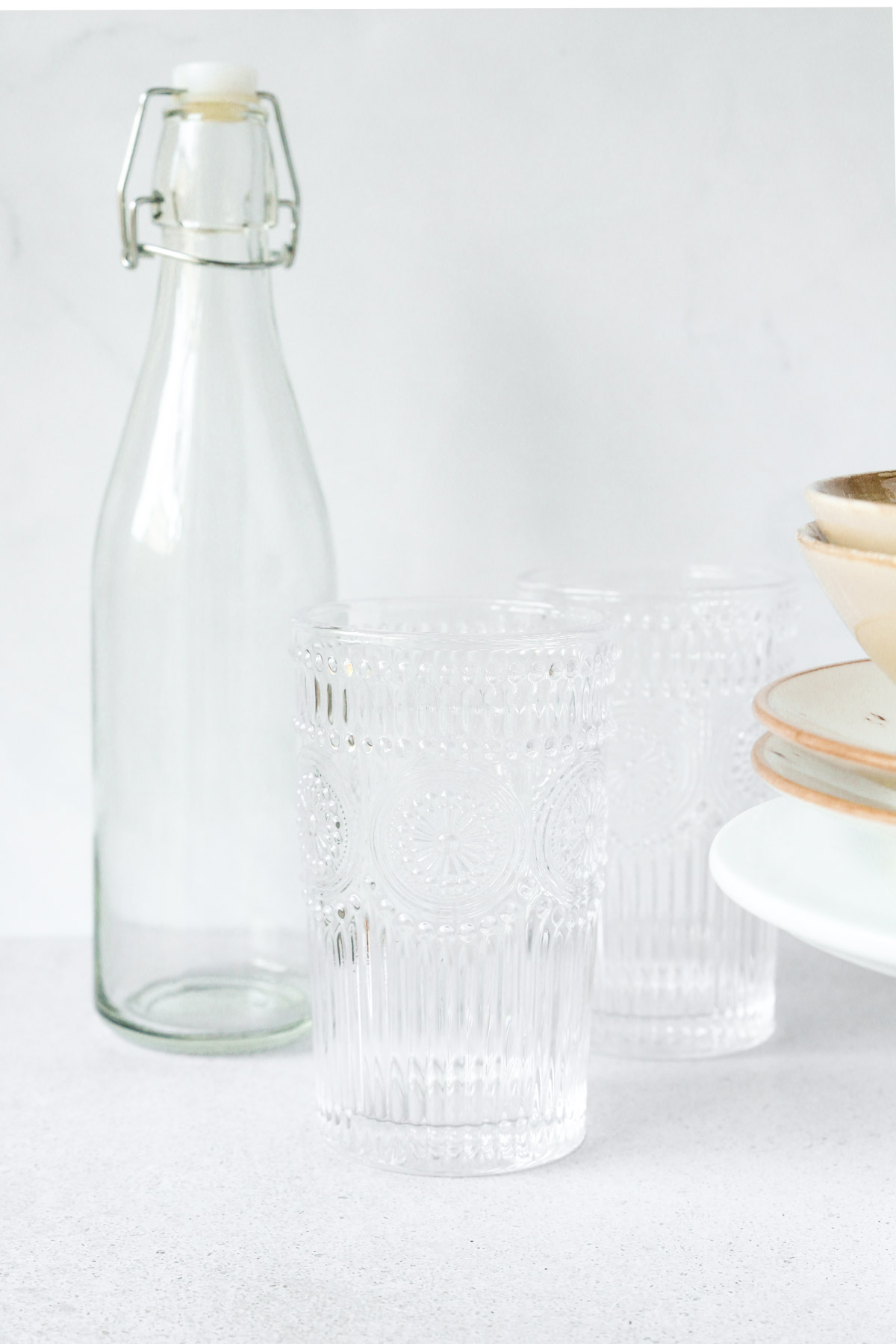 Favourite props for Food Photography and Hosting
When styling food, three elements make a good food photo. The food (obviously), the food photography backdrop and the props. These props hold the food and tell a story.
When I started out, I was overwhelmed with all the dishware, glasses, cutlery, and special utensils I needed to make beautiful food photos without using the same props in every shoot. I went on the hunt for some fitting food photography props I liked and wanted to shoot my recipes with. But it is impossible. I don't have unlimited funds or the space to store all these props.
Of course, beautiful props are not only for food photography. So if you want to update your serving ware and get everyone talking about your stunning dinner- and serveware when hosting, this blog post is also for you.
When I started to get into searching for props online, I created some criteria to choose plates, bowls, cutlery and more for food photography. Read on to get all the details on how I choose props and where to get the most beautiful and affordable ones.
What to look for in food photography props
Plates and bowls
My first mistake when buying plates and bowls for food photography was to buy regular-sized ones. But when shooting a scene, these can often look too big. You won't want to load your plate with so much food to fill it out because it won't look good. Search for dessert plates and smaller bowls to showcase the right amount of food for the photo.
Although I shoot on dishware with a subtle shine, it is best to look for a matte finish. Shiny objects often catch and reflect light. So opt for a matte finish or subtle shine to get the best result when shooting.
Think about what kind of texture and colours you like but pick a more subtle design so it won't take away from the dish. This is also true for the colours. Keep them more neutral and add colour with other props, the backdrop and the food itself. If you're choosing a plate or bowl, think about how you can use it and which dishes it fits. If you can use it in multiple photoshoots, then go for it.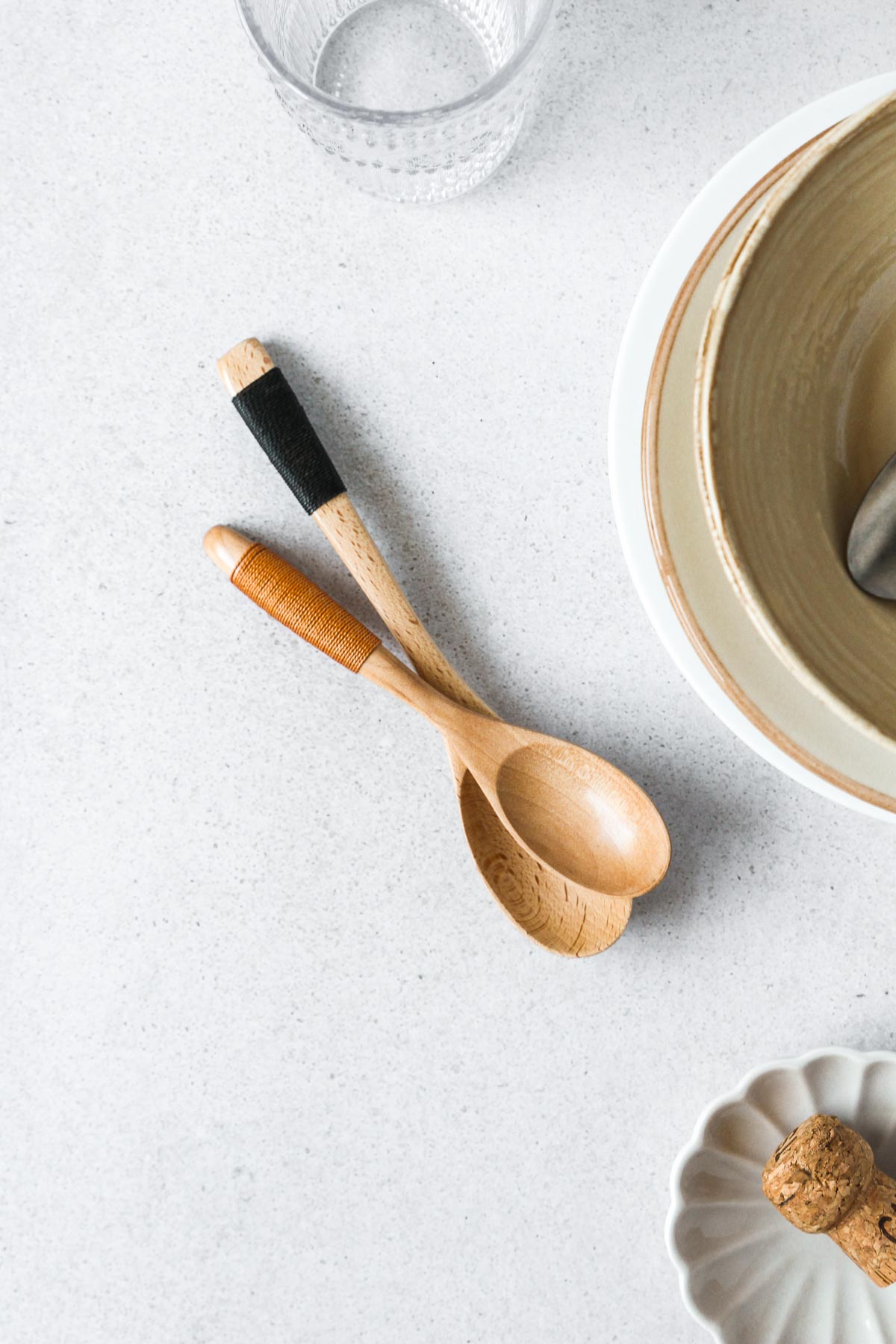 Serving ware and special props
Big plates or serving dishes are harder to shoot with because you need to fit them into the screen. If you use serving plates, look for the finish. As with plates and bowls, matte dishware is much easier to shoot with because there are no reflections.
When I talk about special props, I mean graters, whisks, cake stands, vases, baking tins, wooden boards and more you can use in food photography to tell a story. Look for special items that you can use with multiple recipes.
Cutlery
Regular cutlery will not cut it (pun intended!) for food photography. It is way too shiny to get a beautiful result when shooting with it. That does not mean you have to buy multiple sets. I have been working with the same set of unpolished vintage-looking cutlery for a long time now because it is very versatile.
I also fell in love with wooden cutlery lately. It is so beautiful and affordable. You can get a set of wooden spoons for under 10 Euros on Amazon.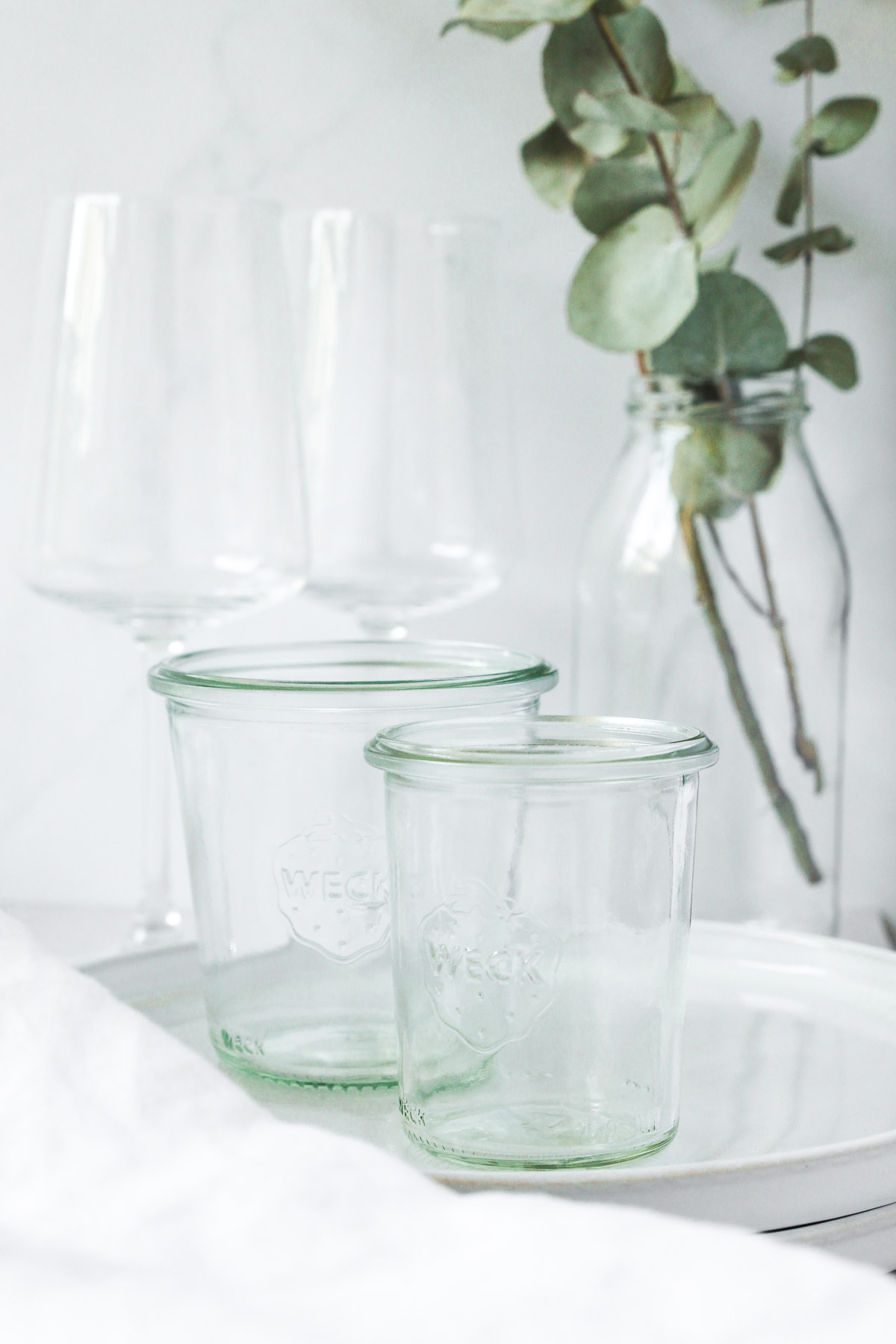 Glassware
I never thought how much I would love to find beautiful glassware to shoot delicious drinks. The patterns and the silhouettes get me going. I like to buy glasses sets of 2, 3 or 4 to create repetition when shooting drinks.
Also, think about the shadows it will cast when being photographed. I love to shoot drinks in hard light lately, so having a textured glass makes beautiful shadows. Be careful when choosing patterned glasses. They can take away from the drink you are shooting because they are too overpowering.
Linens and napkins
It can be hard to choose the right linens and napkins for food photography. The first ones I bought were not really suitable because I had no idea what to look for. They were either too big (Hello kitchen towel!) or not the right texture to move beautifully.
When photographing with fabrics, use napkins and linens rather than kitchen towels. They are smaller and usually have a more delicate fabric. Opt for natural materials because it tends to move more organic and is not as stiff as other materials.
Also, keep an eye on the colour and patterns. While it is beautiful adding colour with linens, patterns are a different story. Napkins and linens with strong patterns often take away from the food, so keep it subtle and choose a light pattern which enhances your scene.
Where to find affordable food photography props
The problem I often ran into when searching for props is the shipping costs. Either it is a shop than only delivers to US addresses, or the shipping was more expensive than the props I wanted to buy. So this list specifically applies to prop shoppers in Europe.
Online Shops
Pro Tip 1: I am a sucker for good deals and buy almost all my props on sale. How? I browse through online shops regularly and bookmark items I really like. As soon as they go on sale, I buy them. Of course, not everything I want is still available when it is on sale. But with having an eye on similar props I like in different shops, I will get what I want eventually.
Pro Tip 2: Subscribe to the newsletters! I always do this to get the best deals. Not only do you often get a discount on your first order for subscribing and great deals over time.
Offline
Thrift Stores
Flea markets
Free Props
Sometimes things you already have at home can act as a beautiful prop. Think of glass jars and bottles you can buy yoghurt and milk in. I always keep them, remove the labels, and use them for shoots. Other great items are newspapers, wooden cutting boards, corks from champagne bottles or even packaging you can use as a prop. Get creative to create your prop collection affordably.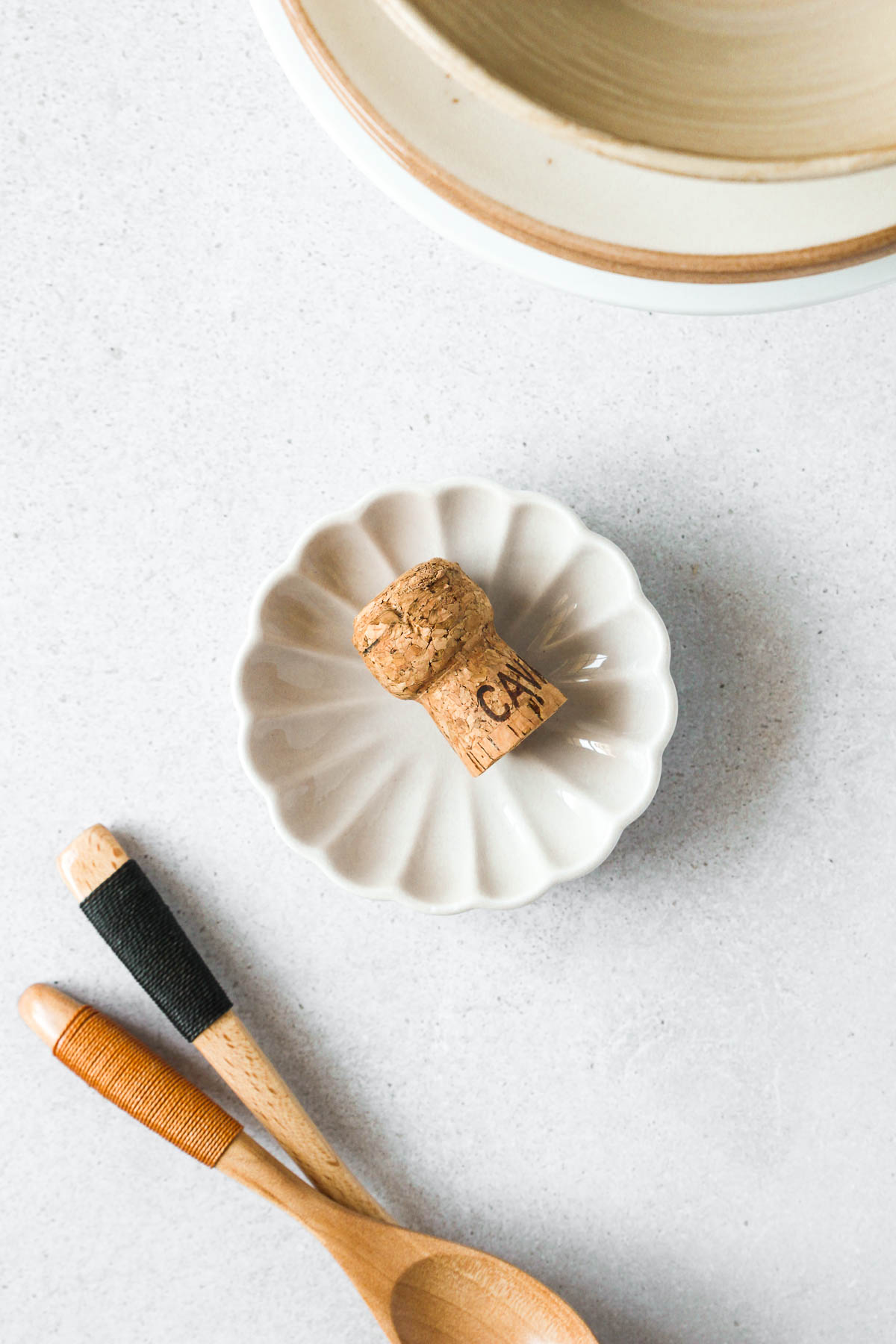 Affordable Food Photography Backdrops
The backdrops I use are all made of vinyl. They are light and durable, with design options for every style. If you spill something, which happens often, you can easily wipe it off without a stain. This makes them easy to use and also great for small spaces. Because when you are done with photographing your scene, you can just roll them up and store them or hang them up with pants hangers.
My favourite backgrounds for food photography are all from small shops in Europe. Made by food photographers, you know their backdrops are beautiful and perfect for any mood you want to create. The best part? You can get all these backdrops if you live in Europe without high shipping costs.
My favourite food photography backdrop shops:
I hope you liked this blog post about affordable food photography props. If you have any questions or feedback, leave a comment below or drop me a message on Instagram, and I will get back to you!