Excited for the new season? Celebrate it with 20 healthy and vibrant Spring recipes to benefit from all the delicious seasonal produce. These veggie and fruit-forward dishes come with a punch of vitamins and minerals while being deliciously indulgent.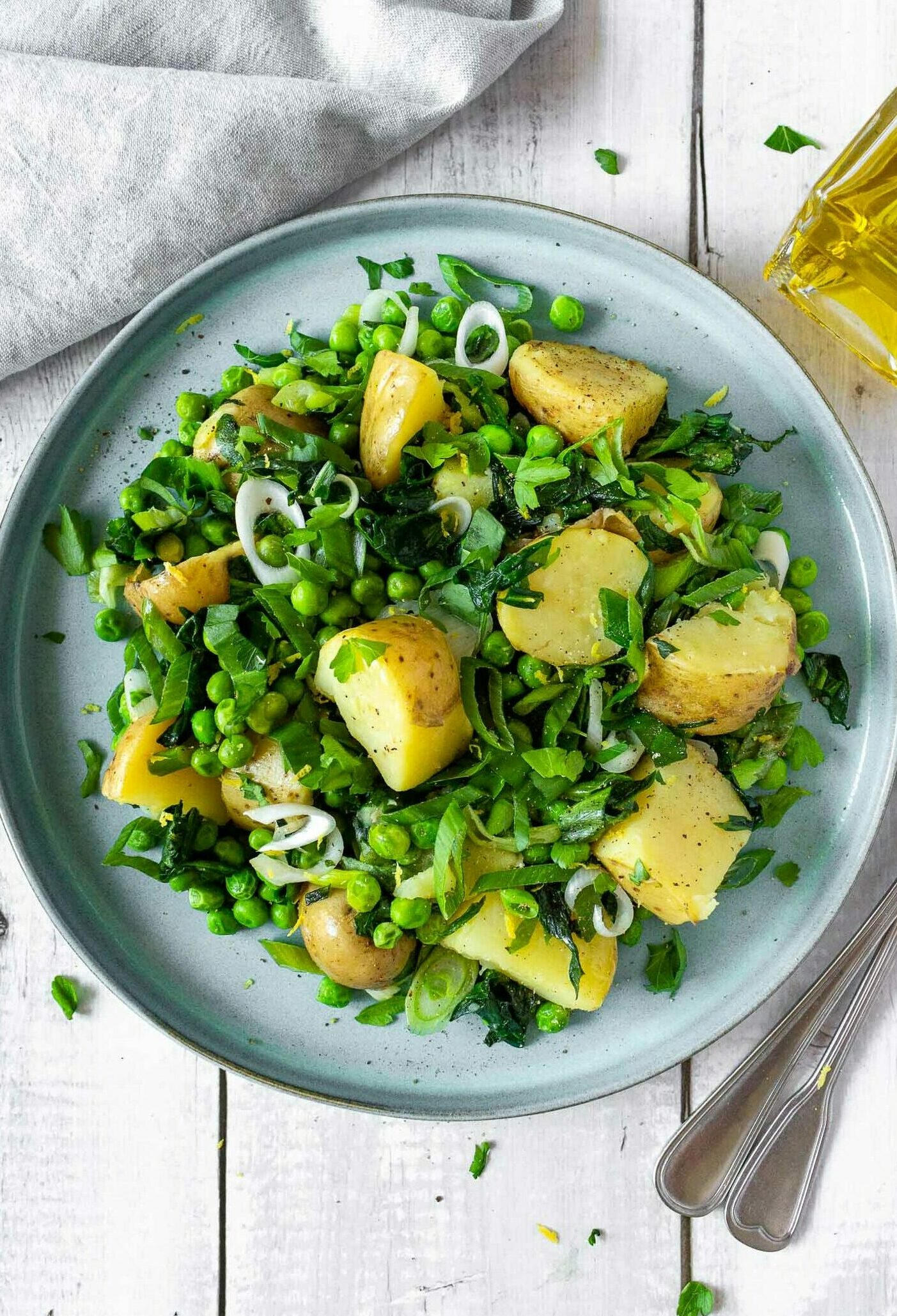 What's in season in Spring?
My favourite season is by far Spring. Nature wakes up from hibernation, everything starts to bloom again, temperatures are rising, and Summer is still to come. What's not to love? I'm always excited about all the fresh crops ready to forage in Spring. So before I go into the delicious recipes, let's look at what fruits and vegetables are in season now.
Seasonal Produce Spring
VEGETABLES
carrots

new potatoes

wild garlic (ramps)

champignons

spring onions

cauliflower

lettuce

leeks

chard

radish
FRUITS
mangoes

grapefruit

lemons

strawberries

rhubarb
Although nowadays most seasonal fruits and vegetables are available all year round, it's always better to buy them when they are in season. Then they have the best flavour, and you usually get a better deal. So it's a win-win situation!
Of course, it depends where you live in the world if it is still more wintery or already full-on Spring. No matter where you live, I have some healthy Spring recipes for every weather. From warming Spring soup recipes and Spring dinner ideas to indulgent and healthy Spring appetizers, salads, sweet treats and even drinks. Read on to get all the delicious Spring meal recipes.
20 Healthy and Vibrant Spring Recipes
These indulgent but healthy Spring recipes are easy to make and don't take hours to prepare. Perfect for a balanced meal plan, even if you are short on time.
Whether you are searching for Spring inspired breakfasts, lunches, dinners, desserts, snacks, sides or drinks, I have a seasonal recipe for every meal of the day.
Spring Breakfast Recipes
Spicy Herb and Greens Omelette
This spicy omelette reaps all the healthy and flavourful benefits of the herbs in season now. Perfect for Sunday brunch or as an easy and quick lunch.
Spring produce used: scallions, parsley, chives, dill
Spinach, Hummus and Egg Breakfast Bread
Elevate your mornings with this delicious vegetarian breakfast bread. Loaded with creamy hummus, nourishing greens and an extra dose of protein, this delicious treat will fuel you for the day.
Spring produced used: spinach
Delicious crossover! This BLT shakshuka combines the Middle Eastern dish with the ingredients of the classic American sandwich. Perfect for breakfast, brunch and basically any time of the day.
Spring produce used: spinach
Spring Soup Recipes
Comforting and nourishing! This Immune Boosting Chicken Soup is made with nutrient-dense vegetables and anti-inflammatory spices to boost your immune system.
Spring produce used: leeks, carrots, parsley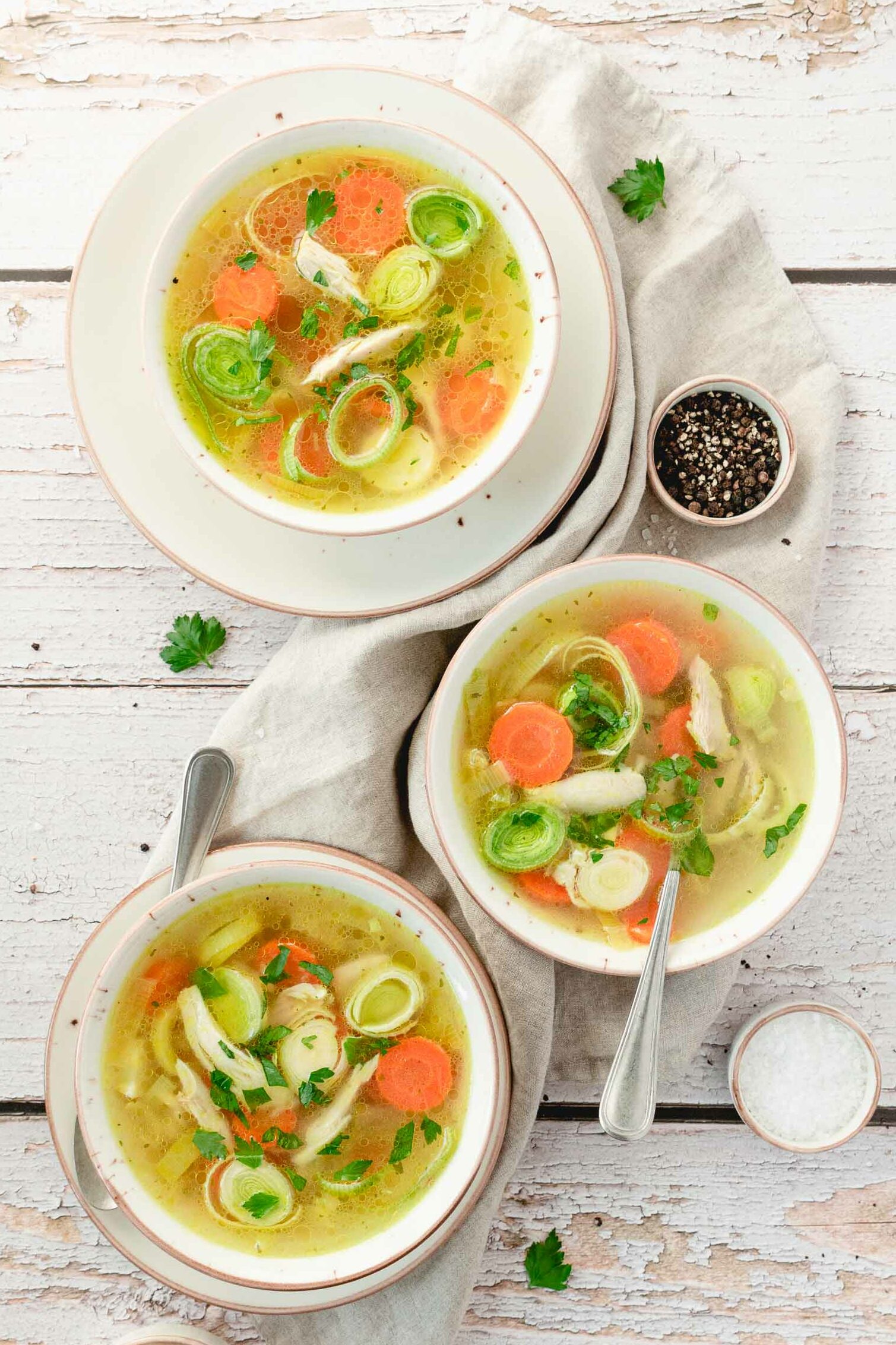 Creamy Wild Garlic Potato Soup
The perfect way to harness all that wild garlic growing in Spring? A deliciously Creamy Wild Garlic Potato Soup. Spicy and full of flavour, this vegan treat is a nutritious showstopper and oh so comforting.
Spring produce used: wild garlic
Creamy Cauliflower Soup with Crispy Chorizo Chips
This creamy cauliflower soup is the ideal healthy lunch when hunger strikes. Crispy chorizo chips give this mellow dish the right oomph you can't get enough of.
Spring produce used: cauliflower
This Spicy Coconut Carrot Soup delivers a dose of nourishing Spring produce and is the ideal comforting meal on cold Spring days.
Spring produce used: carrots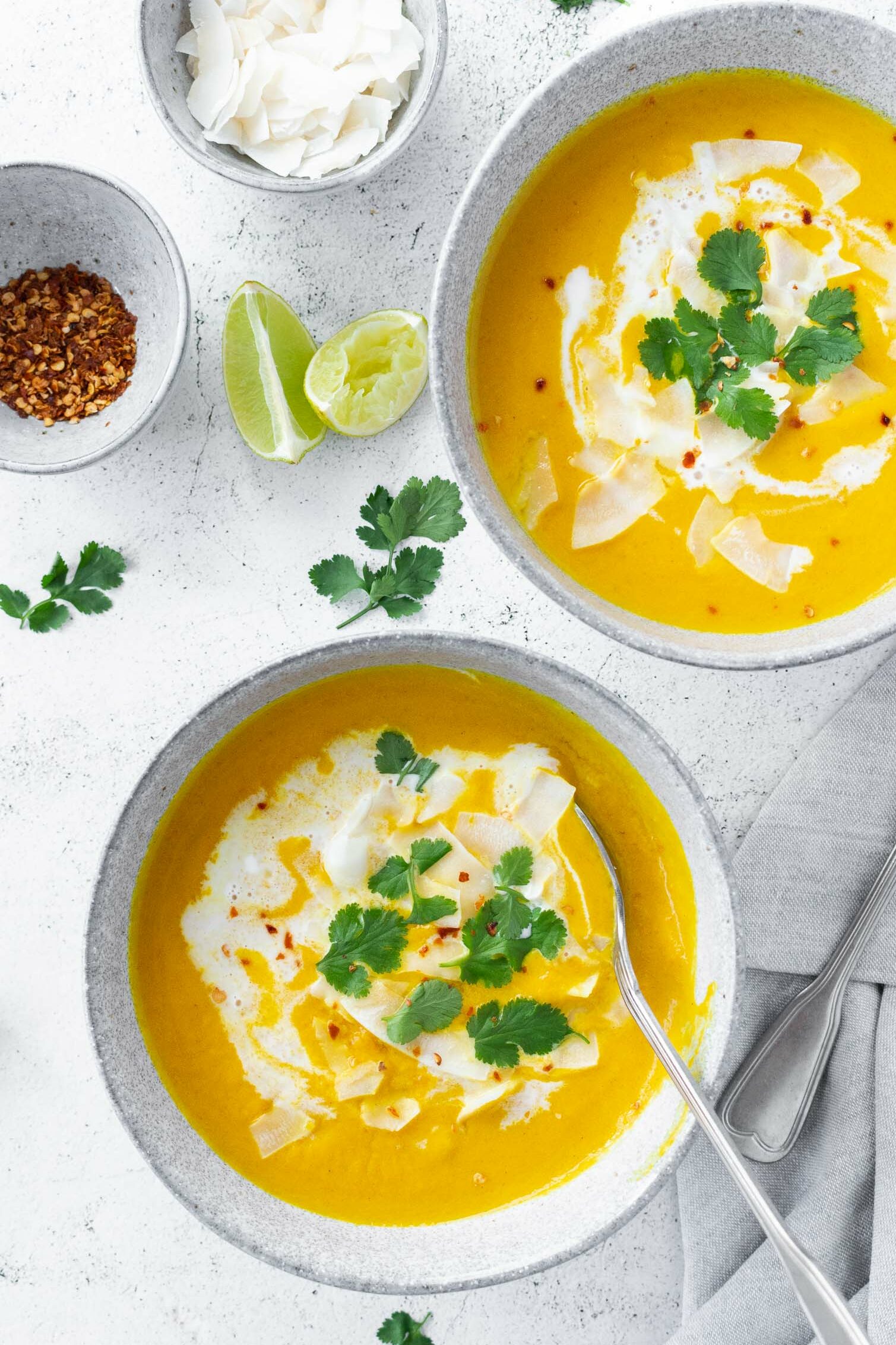 Spring Lunch & Dinner Recipes
Smoked Salmon Salad with Herb Vinaigrette
This Spring forward Smoked Salmon Salad is full of flavour and done in just 10 minutes. Serve with whole wheat bread for a balanced and filling lunch or dinner.
Spring produce used: parsley, chives, dill
Quick Yellow Vegetable Curry (Without Curry Paste)
This Spring-forward Yellow Vegetable Curry is deliciously easy and does without a curry paste. Eat for lunch or dinner and meal-prep this vegan and comforting dish for the week.
Spring produce used: cauliflower, parsley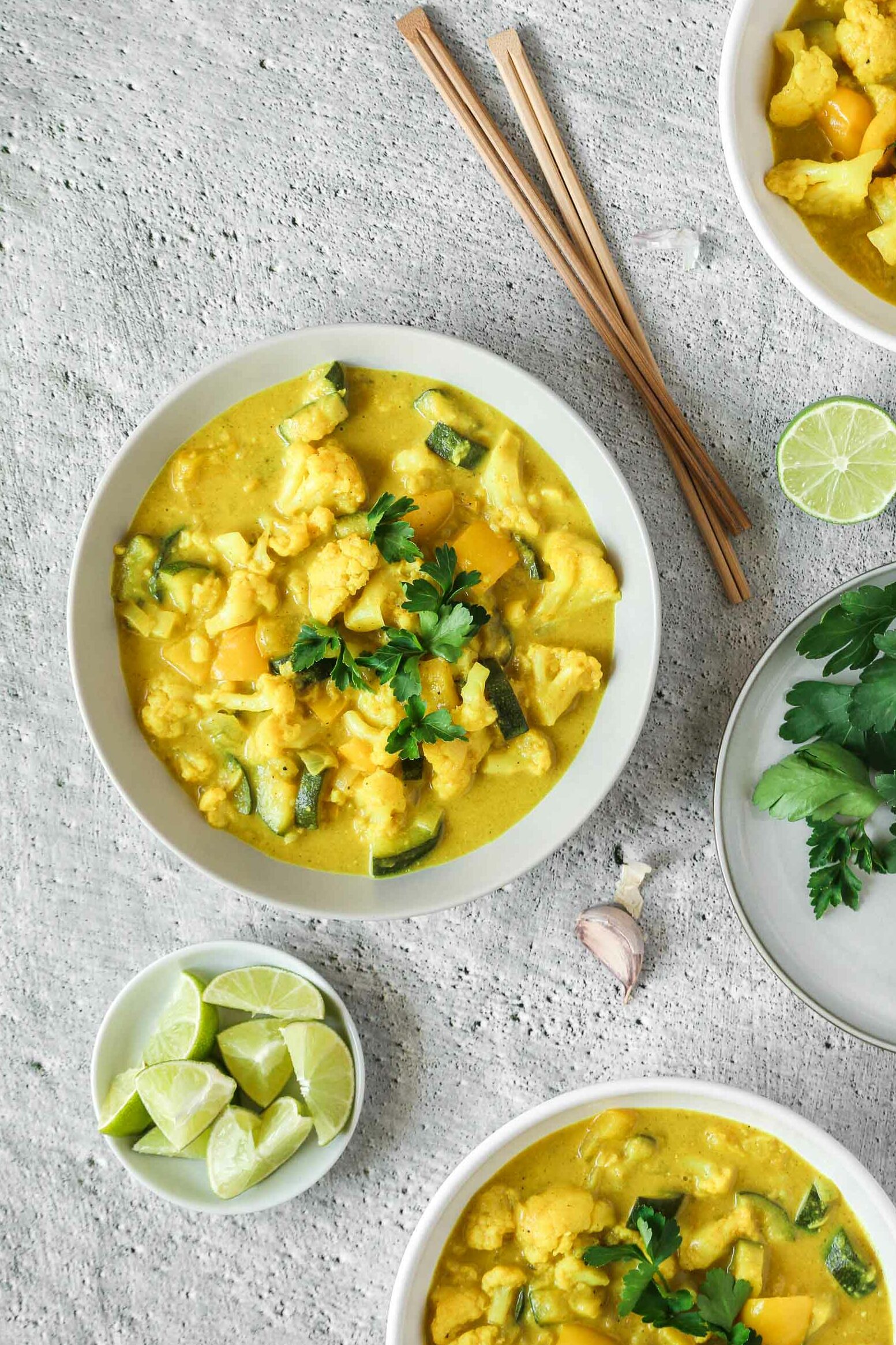 Whole Wheat Mushroom Bacon Pasta
Winner winner, healthy pasta dinner! This Whole Mushroom Bacon Pasta is ready in 20 minutes and is a delicious way to satisfy your noodle cravings.
Spring produce used: champignons, parsley
Winner winner, chicken dinner! Poaching is easier than you think, and this easy Coconut Curry Poached Chicken proves it. Ready in 25 minutes, the flavourful dish with tangy notes is perfect when you are short on time but still want a decadent dish.
Spring produce used: scallions
Wild Garlic Pistachio Pesto Zoodles
If you love pesto, this flavourful Wild Garlic Pesto is for you. You only need a few ingredients to whip up this deliciously easy pesto made of wholesome ingredients. Served with zucchini noodles, it is also a perfect low carb meal. The best part? It is vegan, gluten-free, keto-friendly, and ready in under 30 minutes.
Spring produce used: wild garlic, lemon
Spring Snack & Side Recipes
Citrusy and vibrant! This Spicy Mango Jalapeño Sauce will rock your boat. Made with only six ingredients and ready in 15 minutes, it will be your new favourite delicious sidekick.
Spring produce used: mango
Crispy Zucchini Scallion Fritters
These Crispy Zucchini Scallion Fritters are the best of both worlds. Crunchy on the outside, fluffy on the inside and some flavourful herbs and spices, making them irresistible.
Spring produce used: scallions
Summertime is salad time! Looking for a flavourful and easy dressing to drizzle over? I got you covered with this Simple Herb Vinaigrette, sure to elevate your next salad.
Spring produce used: parsley, chives, dill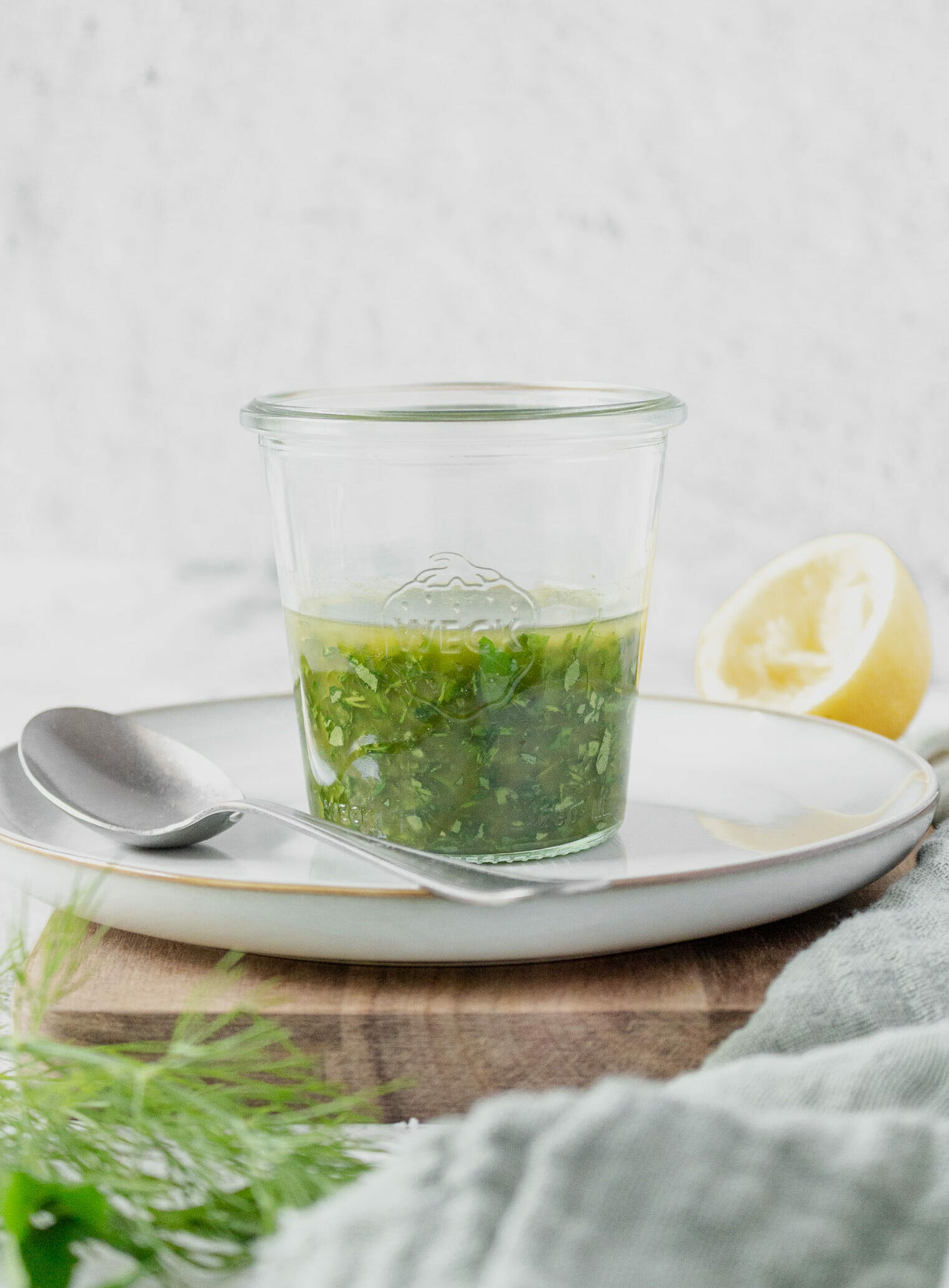 New Potatoes, Wild Garlic and Spring Greens
It doesn't get any more Spring than this delicious and nutritious sidekick packed with seasonal produce. Serve next to your favourite roasted or grilled meat, fish or meatless option as a seasonal side dish.
Spring produce used: new potatoes, wild garlic, scallions
Spring Dessert Recipes
Healthyish Carrot Cake Cinnamon Cupcakes
Carrot cake meets cupcake with a healthy twist. These Healthyish Carrot Cake Cinnamon Cupcakes are fluffy, come with a heavenly cinnamon flavour and are the perfect sweet treat to serve a crowd.
Spring produce used: carrots
Spring Drink Recipes
Drop it like it's hot! This fresh and bright cocktail combines Cointreau, lemon juice and honey simple syrup to create a cocktail sure to rock your boat.
Spring produce used: lemon
Packed with fruits, veggies and immune-boosting spices, this Good Morning Vitamin Juice is the ideal morning drink to get you going. Juice a bigger batch on the weekend and have a dose of vitamins in your fridge for the week ahead.
Spring produce used: carrots, lemon
Tropical Mango Banana Smoothie
When the weather is less than springy (Looking at you April weather!), I opt for a tropical and healthy smoothie to brighten my day. This Tropical Mango Smoothie is refreshing, creamy and perfect for breakfast, snack and post-workout protein fuel.
Spring produce used: mango